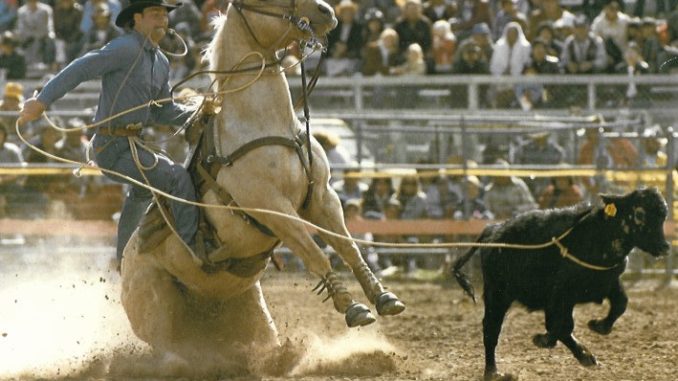 By Linda Clark
Ben Johnson, Jr. of Pawhuska, Oklahoma was a 'cowboy's cowboy'. Ben Johnson, Sr., made sure that young Ben was proficient in ranching, roping, and riding skills for use in everyday ranch life. Ben, Jr., however, was a natural with a rope and went on to join the Rodeo Cowboys Association winning the world's champion team roping title in 1953. That same year he would also act in his first movie. An opportunity presented itself for Ben, Jr. to provide horses for a Hollywood movie company filming a western, which was the preferred movie genre of the era. He had a mild demeanor, an easy going way of speaking and excellent horsemanship skills and was hired on for the movie as – you guessed it – a cowboy. He would go on to star in a multitude of movies and even win an Academy Award.
Ben's outstanding character in and out of the rodeo arena did not go unnoticed. The establishment of an award titled after the cowboy, was created. The first recipient, Clem McSpadden, earned the Ben Johnson Award in 1998. According to the National Cowboy and Western Heritage Museum which presents and displays those earning the tribute, it reads, "presented to a living person who has contributed to the development of rodeo sport, been involved in community and youth activities, and whose life reflects the integrity and character of Ben Johnson."
The Rodeo Historical Society is a division of the National Cowboy and Western Heritage Museum in Oklahoma City, Okla. Their annual gala presents honorees representing several categories who are inducted into the RHS's Hall of Fame. A special committee convenes annually to select an outstanding individual to receive the Ben Johnson Award. This year's recipient is Doug Clark, of Wayne, Okla.
Doug and his family had the pleasure of knowing Ben Johnson personally, and felt the same way about the man as the award's criteria reflects. The recognition for Doug is the best tribute the quiet cowboy could have ever received. Doug commented about being chosen for the Ben Johnson Award, "I've always enjoyed roping, rodeoing, and the western life, never thinking I would be recognized for what I've accomplished in rodeo myself or for what I've done in helping others achieve their goals."
Clark is no newcomer to rodeo. He grew up honing his roping and horsemanship skills in the family's rodeo arena with the help of three generations of cowboys before him. He also spent many hours at his family's saddle shops, the Veach Saddlery's in Trenton, Miss., and Tulsa, Okla. Clark earned his PRCA gold card status and has spent his career competing in all timed events – tiedown, steer, and team roping. He has earned many top 20 year-end standings qualifications in tiedown roping rodeoing on a part-time basis. One of his more memorable wins was the 2005 Pendleton Roundup Steer Roping Championship. That win boosted his year-end winnings qualifying him for the National Finals Steer Roping the same year where he won reserve in the average as well as top horse of the Finals.
As one of the top horse trainers in the country Clark has earned accolades in the rodeo and horse show arena. Several of his horses have been voted on by the top cowboys annually as AQHA/PRCA Horses of the Year in tiedown and steer roping. He was part of the team winning the 1999 AQHA Super Horse Championship, riding the stallion, Look Whos Larkin. Horses that Clark has either trained, sold, or ridden for cowboys have appeared at every PRCA National Finals Rodeo or National Finals Steer Roping for over 30 years in events from tie-down roping to steer wrestling.
Earning championships in PRCA's Prairie Circuit, Clark is in the record books for tie-down roping year-end champion, all around champion, and steer roping champion. He is a past All Around Champion at the Cheyenne Frontier Days, 'the Daddy of 'em All', earning the win from money earned in two or more events, as well as setting an arena record there in 1987 in the tie-down roping. His time was a blistering 11.0 seconds across a 30 foot score, roping approximately 300 pound calves.
Many of the top contestants from the junior rodeo level to the professional ranks have spent time at Clark's horse training facility. Trevor Brazile, Tom Ferguson, Joe Beaver, and Roy Cooper are but a few of the top names in rodeo that have spent time roping with Clark or who have hired him to ride their horses to keep them 'tuned' for peak performance.
Clark will receive his award at the Hall of Fame ceremonies November 8 and 9, which will include the introductions of the Ben Johnson Award winner, the Tad Lucas Award recipient, and six living and two deceased rodeo standouts. The Tad Lucas Award is chosen by the Lucas family and given to a outstanding woman who has contributed to the betterment of rodeo and the western way of life. Cindy Rosser, of Marysville, California, will receive this year's medallion. She is a stock contractor, rodeo secretary, and barrel racer.
The final slate of inductees for 2019 are selected through membership voting. If you are an active member in the Rodeo Historical Society, you receive a ballot with 12 living and four deceased nominees. After the votes are tallied the final six living and two deceased are made part of rodeo posterity at the Museum.
Barrel racer and past WPRA Executive Secretary, Lydia Moore of Wayne, Oklahoma was the only woman voted on by the membership for induction this year. The other slate of inductees are rough stock competitors, steer wrestlers, tiedown ropers, rodeo clowns and bullfighters. They include Wacey Cathey, Frank Shepperson, Rob Smets, Buddy Cockrell, and Jack Ward. The deceased garnering the top votes were Buck LeGrand and T.J. Walters.
For more information about this year's ceremonies or to join the Rodeo Historical Society, go to www.nationalcowboymuseum.org.
Read more in the October issue of Oklahoma Farm & Ranch.