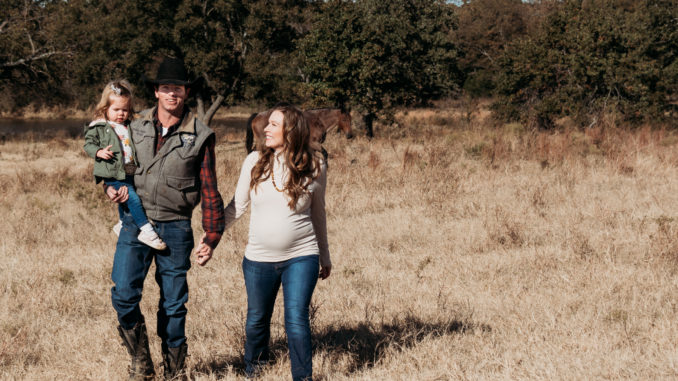 Professional Bull Rider Trevor Kastner
He's a man of few words, but his accomplishments speak for themselves.
Trevor Kastner, of Roff, Okla., wasn't planning to qualify for his fifth Wrangler National Finals Rodeo in 2019. In fact, after the birth of his daughter McKenna in early 2018, the 32-year-old was planning to rodeo close to home and move on to the second phase of his life – breaking and riding young horses and spending even more time with his growing family.
That changed in March, when Trevor was catapulted to the top of the Professional Rodeo Cowboys Association Bull Riding World Standings after winning Rodeo Houston's $50,000 top prize. That win allowed him to accomplish part of his goal of staying home, attending approximately 44 rodeos this year, as compared to his normal 80 to 100. When he sits down on his first bull in Las Vegas, he'll be riding as the number three bull rider in the world, behind fellow Oklahoman Sage Kimsey and Utah's Stetson Wright.
While he might be having a banner year, it only takes a few moments of visiting with the humble young man to realize he's not a bull rider for fame or glory. He sees his success as a way to support a family.
His victories have given him confidence, no doubt, but that has never grown to arrogance.
Trevor's path to professional rodeo began more than 27 years ago. "I wanted to ride bulls ever since I was a little kid. I started riding calves when I was around five. There was a little youth rodeo there in Sulphur, and I just kind of worked my way up from there. I went to steers, and then to junior bulls," he recalled.
Trevor grew up in Dickson, Okla., a small town about 15 miles south of Sulphur in south central Oklahoma. He doesn't recall the first time he rode a bull or a calf – it's just something he's always done. While he might have dabbled a bit with roping or bareback ponies, his focus was always riding bulls. He might have gotten his penchant for the rough stock end of the arena from his father, John, the foreman of Goddard Ranch in Sulphur, Okla., who rode saddle broncs at the amateur level.
"Growing up in this area, there are so many people who are involved in rodeo, and I grew up on the ranch, so everyone around kind of helped me out," he said.
Trevor's professional bull riding career began in 2008, when he took home a mere $6,500 in earnings. The following year he didn't compete at all, having been sidelined by a knee injury.
In 2010, he gained momentum, finishing as 37th in the world standings with a little over $30,000.
Some big wins in 2011 earned Trevor his first WNFR qualification, where he placed in two rounds and finished the year ranked 12th with more than $101,000.
WNFR trivia enthusiasts might recall Trevor's performance at the 2012 finals where he won $58,895 as the only qualified score in the "rank pen" of buckers in round nine. He actually placed in three other rounds that year, finishing fifth in the world standings with $168,553. "That was probably my favorite win of his," his wife Katie shared. "It was his first round win at the finals, and his family and really close friends were there, too. Even though we had just started dating, it was really fun to see."
Trevor returned to the finals in 2013, winning one round, tying for the win of another, and placing in a third. He finished the year in eighth place with more than $129,000.
In 2014, after a big win in San Angelo, Texas, Trevor was injured at Austin, breaking an exceptionally slow-healing bone in his hand. That year he only pocketed $22,810 in earnings.
Things picked back up in 2015, when he finished 20th in the world standings, and he followed that up in 2016 with a 16th place finish, barely missing the WNFR. In 2017 he finished 23rd in the standings.
His luck turned around in 2018, when he qualified for the WNFR. He placed in a round, but unfortunately was once again sidelined with an injury in the sixth round. "I got my shoulder hurt in the sixth round, and had to sit the rest of it out. I separated my AC joint," he explained. "It wasn't a major injury, but it was something I couldn't keep going with. I think it was six weeks I sat out. It was a pretty rough finals."
The 2019 Season
That brings us to 2019. With his baby daughter and wife at home, Kastner knew he wanted to spend more time with them and planned to cut down on his rodeo schedule. "I was planning to slow down a whole lot and go to 20 to 30 rodeos or so. I always wanted to be home quite a bit more before the baby got here, and now that she's around it makes it even harder to leave," he said. "2018 was supposed to be the last year I went to the finals. I just wanted to rodeo enough to make a decent bit. I planned to compete in the circuit rodeos and bigger winter rodeos."
Then came Rodeo Houston, a marathon of a rodeo. The rodeo is a 19-day tournament style rodeo, with riders advancing from their series to a semi-finals, and then to a short round. The top four from the short round then advance to a final-four finals, where the champion is crowned. After years of not being a PRCA sanctioned rodeo, Rodeo Houston once again became an official PRCA rodeo in 2019, with earnings counting towards the PRCA World Standings. Prior to the rodeo, Trevor was holding on to the 22nd position in the world standings.
"I had made the Short Go before, but I never made the final four round. This year I won my series and semi-finals. The bull bucked me off in the short round, but there were not enough qualified rides in the short round, so I was able to advance to the final four round and wound up winning it. I was pretty excited," Trevor said. "It's been a crazy year. I was planning to slow down a whole lot, but that win gave me so much of a jump, I went ahead and kept going. I had some decent wins and plugged away at the other ones."
Katie added, "That was kind of the bittersweet thing about him winning Houston. It jumped him so far ahead that he couldn't waste it."
In addition to the $149,100 regular season PRCA earnings he has won this year, Trevor had another huge win in 2019, winning $63,400 at the Days of '47 Rodeo. "My other favorite win he's ever had was probably Salt Lake this year. He's always really subtle about if he wins. I'll ask how he did, and he'll say, 'Not too bad. I won it.' There's no emotion about it," she said with a laugh. "He called me late at night for that one, though. He said, 'I didn't want to scare you, but thought it was worth calling. I wound up winning it.'"
Trevor's high ranking – number three – is his highest ranking ever going into the finals. "I feel good going into it, especially for no more than I rodeoed this year," he said. "Going to compete in Las Vegas never gets old. I get butterflies every time."
Katie and McKenna will also be traveling to Las Vegas to cheer him on. "We'll be out there about two weeks. We drive out and spend a couple days driving out there and we'll head home the day after the rodeo is over," Katie shared.
While Trevor doesn't have many superstitions or pre-ride rituals, you can bet there is one food item you won't see him eating those 10 days in Vegas. "He will not eat chicken on days he's riding," Katie said with a laugh. "He always says if you eat chicken, you'll ride like a chicken."
Read more in the December issue of Oklahoma Farm & Ranch.