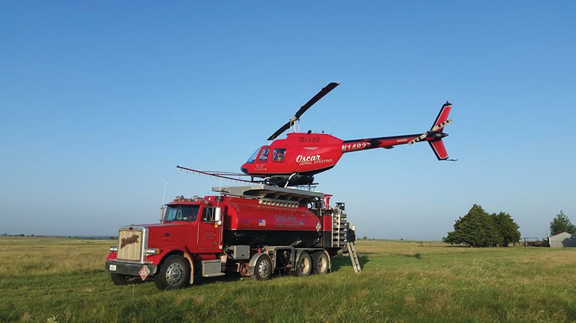 By Laci Jones
It may not be a new method of spray application, but aerial spraying can save some time. Zac Smith, owner of Oscar Aerial Spraying in Grady, Okla., began his business six years ago before he even had his pilot's license. He now has his commercial pilots license plus a 137 certificate from the FAA.
"My background is cattle," Smith explained. "It wasn't aerial at all."
With how much land he ran cattle on, Smith was looking for other alternatives to save him time and a way to save his families ranch some money.
"The way I looked at it, it made sense," he added. "Instead of paying someone else, I started my own business and now spray our family's land and neighbor's land."
So, Smith hired a pilot to teach him how to fly. He now has his pilot's license plus other certificates. In the meantime, he hired a great and experienced pilot that he felt comfortable with. Smith now uses one helicopter for his services.
"We were running two helicopters," Smith explained, "but, I got too busy too fast, and I wasn't able to tend to things like I needed to."
The helicopter he sprays from is a Bell Jet Ranger, which has been around since the late '60s. They are one of the more common and better helicopters used for spraying applications, but there are more out there.
Read more in the June issue of OKFR!