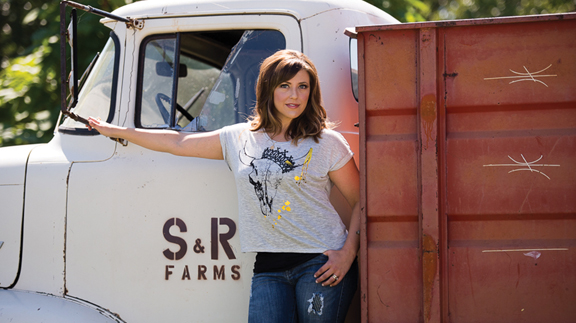 By Jan Sikes
Shawna Russell and her family have been making music in the great State of Oklahoma since she can remember. Born in Holdenville, Okla., and raised for most of her life in Woody Guthrie's hometown of Okemah, Okla., her roots run deep.
Born in 1978, growing up she never really made the connection between Okemah and Woody Guthrie until she was old enough to realize there was a huge folk festival that drew people from all around the world each year in his honor. Then, the importance of the town grew. That monumental festival will be held July 12-16 this year. So, if you're anywhere near Okemah, this four-day event is well worth attending. You can see the entire music lineup and schedule at http://www.woodyfest.com.
Russell first sang in public at the age of seven. At the age of thirteen, she and her dad formed a band and then at the age of seventeen, she joined her uncle's band and has been going strong since, eventually forming her own group.
Her first new music release in six years, Russell has recently recorded "BackAround." It is a collection of seven songs she wrote or co-wrote with her dad and guitarist, Keith Russell, and her uncle, Tim Russell, who also plays bass in her band, "The Ranch Hands."
In a recent interview, she openly shared her thoughts on this new album, family involvement and a television music show broadcast that she and her family produce.
Read the July issue to learn more about Shawna Russell.