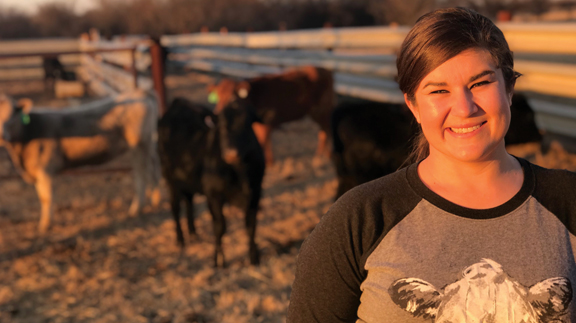 Conservation & Agriculture Reach Everyone
By Sarah Blaney
Oklahoma is home to more than 18,000 Native American, African-American, Hispanic-American and Asian-American farmers and ranchers. The majority of the minority producers in Oklahoma are Native-American and African-American, but there is a growing number of Hispanic agriculture producers. These individuals operate 12 percent of Oklahoma's farms and ranches.
The land and people of Oklahoma hold a unique spot in American history that resulted in a significant population of Native American and African-American agriculture producers. What we now call "Oklahoma" was the location of the forced resettlement of Native Americans from 1803 to 1834.
During this time period, the focus of the United States government was to remove Native Americans from the eastern part of the United States. During the Civil War, the Five Civilized Tribes (Choctaws, Chickasaws, Cherokee, Creek (Muscogee), and Seminole) fought mainly with the Confederacy. This decision would shape Oklahoma's farming and ranching history.
Following the Civil War, the focus of the U.S. government switched from removal to assimilation. In very general terms, this meant that tribes went from being seen as semi-independent and self-governed to being governed through the laws and statues of the United States.
The land mass of the Five Civilized Tribes was reduced and slavery was abolished. As a result, the newly freed slaves of the tribes began forming their own communities. Following the Civil War, African Americans came to Oklahoma to establish their own communities alongside those of the freedmen.
A significant number of African Americans participated in the land run of 1889, also establishing farms. From 1865 to 1920 more than 50 all-black communities were established. In 1910, there were more than 13,000 farms operated by African-Americans in Oklahoma.
Native Americans and African Americans have strong roots in farming/ranching in Oklahoma because of this history. However, the experience of these farmers and ranchers is a reflection of the African American and Native American experience in the United States.
That history and experience is filled with discrimination that was supported by policies of the U.S. government, which made the difficult job of farming even more cumbersome for these communities.
These policies resulted in significant amounts of land loss for African Americans and Native Americans.
Today, 1,900 farms are operated by African Americans and 14,000 operated by Native-Americans. In comparison, white producers operate more than 100,000 farms in Oklahoma.
Read the June issue to learn more!