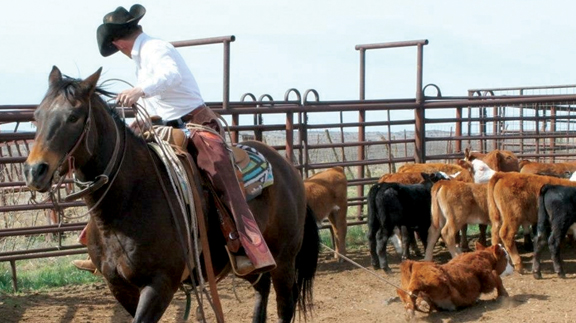 By Lanna Mills
When you think of cowboys what comes to mind? Is it the big black hat? Perhaps their boots and spurs? How about the horses that they are mounted on? All in all, a cowboy cannot do much cowboyin' without a good ranch horse under him.
Some ranches have done away with horses completely and use modern conveniences such as four wheelers, calf tables and dart guns to get done what needs to be done on the ranch.
Others choose to stick with what they know and trust, and that is working horseback. Horses are used in almost every aspect of ranch work — gathering cattle and driving them to new pasture or to the pen to be worked. They are used to ride fence and check for areas that are in need of repair and roping and dragging calves to the branding fire.
A horse can take you a lot of places you cannot get to in a vehicle. A horse can break through brush after a runaway yearling. Canyons or creeks can be ridden where a truck or four wheeler would never make it down an old cow trail.
The neighbor has some cattle that he can't pen with his four wheeler and needs them taken to the sale barn. He often calls the cowboy who saddles ol' bay, loads him in the trailer and heads to the pasture down the road.
He and his buddy unload and drive the cattle to the pen, or they catch them in the pasture, drag them in the trailer, and haul them out. All this could not have been done without a horse.
What makes a good ranch horse? We have all heard the old saying "practice makes perfect." Well, that goes for horses too. Long miles and wet saddle blankets, the more they are used and the more experience they get, the better they become.
A cowboy depends on his horse so he has to be able to trust and count on him. The days are long and the work is hard so the horse has to be able to hold up. A ranch horse listens to his cowboy and does as he is instructed. When sorting cattle, the horse has to be agile and be able to quickly cut the cow out of the herd. When tying down cattle, the horse must keep the rope tight for the cowboy. When a cowboy dismounts, the horse must stand and wait for the cowboy. You sure don't want a horse running off and leaving you to walk two miles back to the truck.
Pick up the June issue of OKFR!