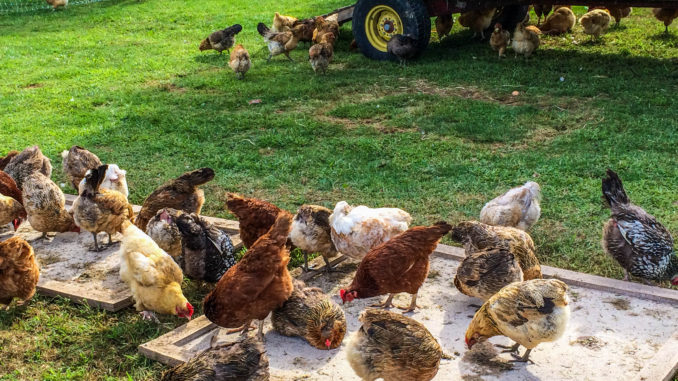 Raising chickens in the backyard has become very popular in Oklahoma. Some people desire a better understanding of how their food is produced. Others like the rewarding experience of going out in the backyard and gathering eggs. For children and young people, poultry make a good 4H or FFA project. However, many backyard producers may not be aware of diseases that might threaten their chickens as well as their own health. As the time to purchase new chicks approaches, backyard poultry enthusiasts need to keep these thoughts in mind when buying chicks.
In a review of the common causes of death in backyard poultry in the United States, Dr. Cadmus and associates found that 41% of all dead birds submitted for necropsy were diagnosed with some form of cancer. Marek's disease was the most common cause of the cancers. Bacterial infections were the next most common cause of death. Escherichia coli was the bacterium found most often followed by Mycoplasma species. Viral organisms such infectious bronchitis virus, infectious laryngotracheitis virus, and avian pox virus were the most common viruses responsible for death in some birds. Parasites only accounted for a small number of deaths (2.6%), but they were a common secondary finding. The most common parasite to cause death was coccidia and was most often found in birds less than 4 months of age.
One-way producers can avoid diseases in their flocks is to purchase birds from a National Poultry Improvement Plan (NPIP) certified hatchery. The NPIP was initially started in the 1930s to eliminate Salmonella pullorum from chicks which was highly fatal. Today, NPIP hatcheries monitor and test for a variety of diseases. Purchasing chicks from a NPIP flock will not prevent every disease but it should provide confidence that the chicks are coming from a healthy flock.
In addition to purchasing chicks from a NPIP flock, chicks should be vaccinated for certain diseases early in life. As mentioned earlier, Marek's disease is one of the leading causes of death in backyard chickens. The disease can be easily prevented by vaccinating the chicks on day 1 or in ovum prior to hatching. Most hatcheries will provide this service for a small fee. Consult with a poultry specialist and/or a veterinarian for other diseases that can be prevented with vaccinations.
Although parasites in Dr. Cadmus review did not account for a high number of deaths, routine monitoring of parasites is a good habit. Coccidia, which was the most common parasite found to cause fatalities, damages the intestine which results in digestive problems. To combat this parasite, chicks should be placed on a coccidiostat which is usually administered in the water or feed. There are a few different coccidiostats available, so consult with a poultry specialist and/or veterinarian for the best option.
Of all disease prevention options available to backyard poultry producers, biosecurity is the best. Biosecurity is a series of management practices designed to prevent the introduction and spread of disease agents on a poultry operation. Backyard poultry producers can find information on biosecurity at http://healthybirds.aphis.usda.gov. Also, Oklahoma State University Cooperative Extension has an excellent fact sheet Small Flock Biosecurity for Prevention of Avian Influenza ANSI-8301 which can be obtained at the local OSU County Extension office or at https://extension.okstate.edu/fact-sheets/small-flock-biosecurity-for-prevention-of-avian-influenza.html.
Read more in the March 2021 issue of Oklahoma Farm & Ranch.