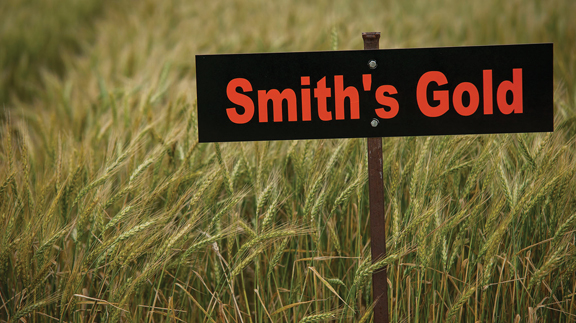 By Everett Brazil, III
Oklahoma is a leader in hard red winter wheat production, and Oklahoma State University continues that legacy yearly through the wheat breeding team, which works tirelessly to impute new traits to improve quality. Southern Plains producers now have more options for the 2017 crop, as OSU has released two new varieties, in Spirit Rider and Smith's Gold.
Brett Carver, who holds the Wheat Genetics Chair in Agriculture Wheat Breeding and Genetics, is the leader of the wheat breeding team. The varieties were officially released in February, he said.
Both varieties have parentage in previous popular varieties in Oklahoma. For Spirit Rider, it was OK Bullet, itself born out of another popular variety, Jagger. Researchers combined OK Bullet with an experimental strain to find better strength, while maintaining the high yield it offered.
"The idea of this cross was to continue the high-yield potential of and straw strength of OK Bullet, but to reduce the height of OK Bullet, to make the standability better," he said. "The high-yield potential, combined with excellent straw strength and excellent standability, I think, will carry it into high-producing areas in the Oklahoma Panhandle or North-Central Oklahoma where straw strength is needed."
Disease resistance, especially against leaf rust, was also a priority for Spirit Rider, as they saw decreased resistance to the disease in OK Bullet in its final years, Carver said.
Pick up the July issue to learn more.