July 2017 Profile: J.W. Hart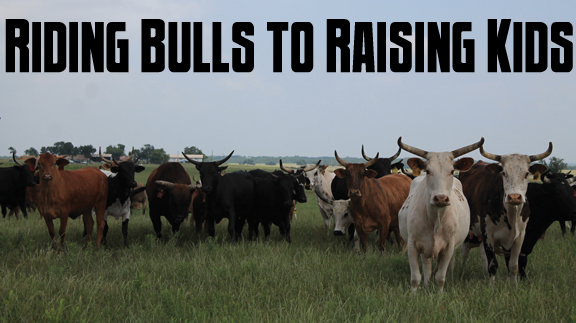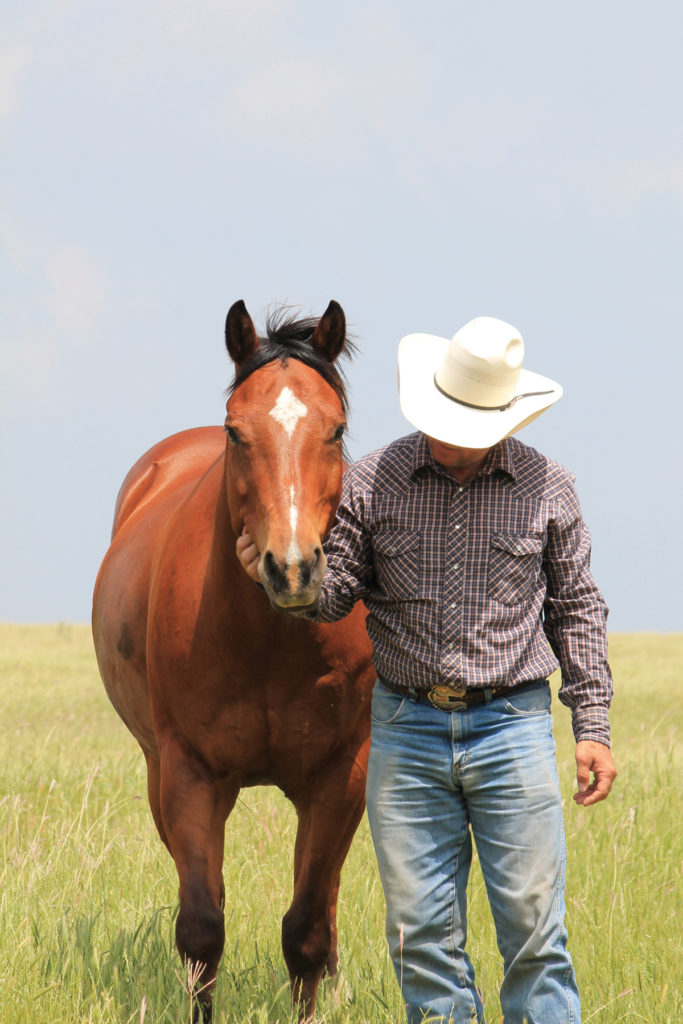 Riding Bulls to Raising Kids
By Laci Jones
With a career as a professional bull rider that spanned more than 15 years, J.W. Hart was the 1994 Professional Bull Riders Rookie of the Year, 2002 PBR World Champion and later started the J.W. Hart Challenge that takes place each year in Decatur, Texas. However, these days Hart enjoys spending time with his family and raising cattle on the 240-acre ranch in Overbrook, Okla.
"J.W.'s bull riding career is one thing, our marriage is one thing and our kids are one thing, but the connector has been God," said J.W. Hart's wife, LeAnn Hart.
The bull rider was born in Marietta, Okla., in March 1975, with rodeo in his veins. His father rode bulls before Hart was born and shortly after. His mother barrel raced, later becoming a secretary.
Hart tried his hand at calf-roping, barrel racing and goat tying in junior rodeos, but he found his passion in bull riding. Both Hart and his little brother learned how to bull ride from their father from the first time they got on calves.
"My mom and dad would say when I was a kid, 'I swear to God if somebody broke that kid's head open it'd be nothing but bucking bulls coming out of there,'" he laughed.
Hart was an athlete in the arena as well as on the field. The football coach later told Hart he needed to choose between the two sports. After choosing rodeo as his primary sport, Hart continued to hone his skill as a bull rider.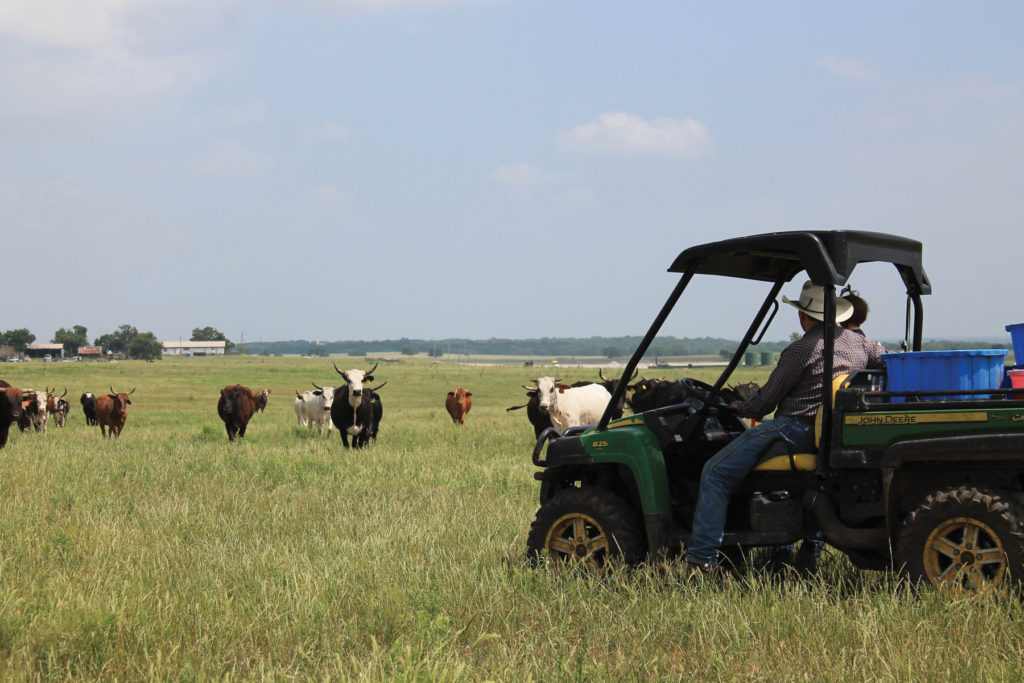 He idolized bull riders including Donnie Gaye and Lane Frost. In 1986, the young bull rider had the opportunity to practice with Frost, who became the National Finals Rodeo World Champion Bull Rider the following year.
"It was pretty cool to practice the same day that Lane Frost was," Hart recalled. "He was my hero. I looked up to him as an idol. You didn't know what he would grow into, even after his death. He's just bigger than life."
Read more about J.W. Hart in the July 2017 issue of OKFR!
Save
Save
Save
Summer Squash and Corn Chowder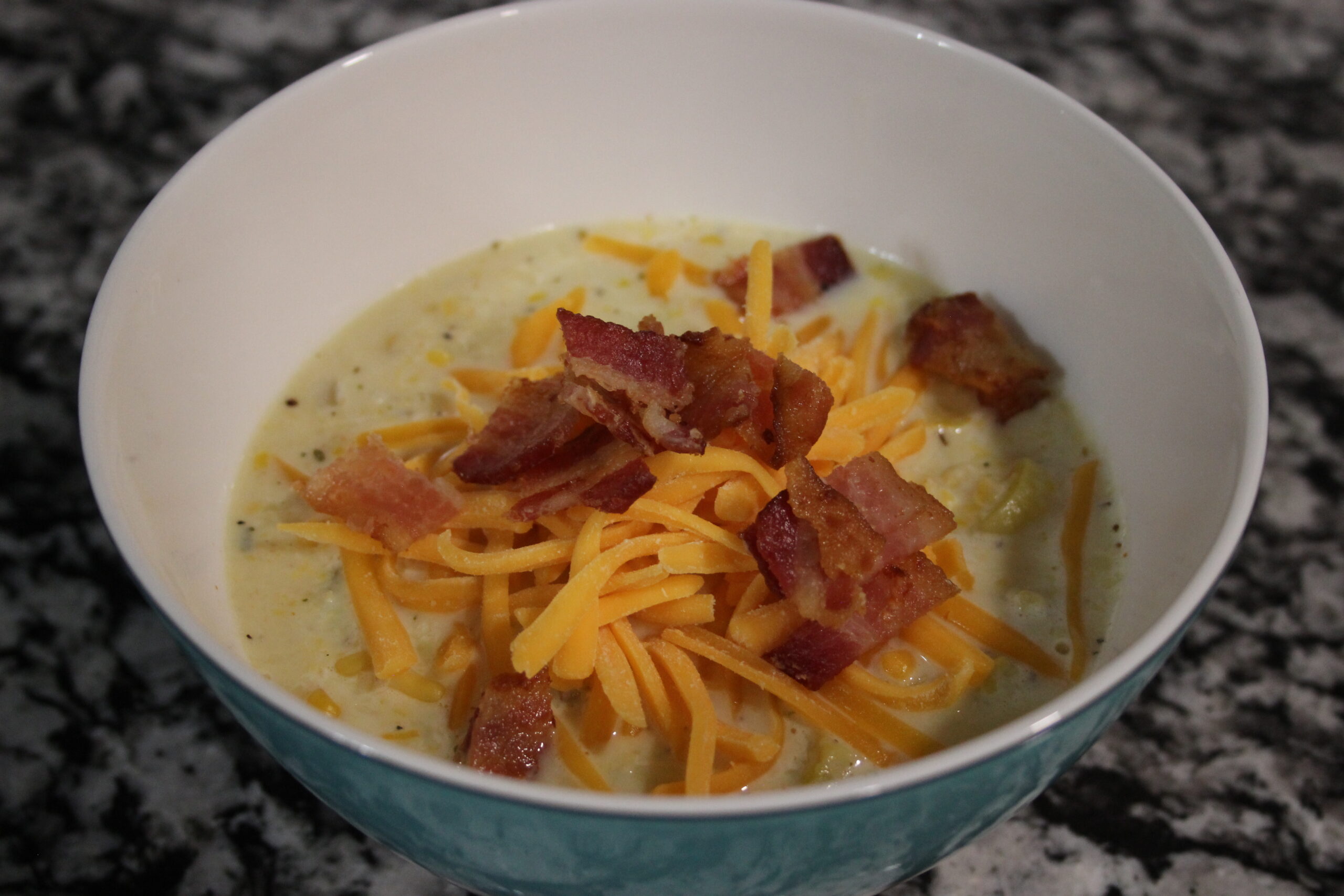 By Lacey Vilhauer
Total time: 40 minutes
Servings: 6-7
Ingredients
6 slices bacon, cooked and crumbled and 1 1/2 Tbsp rendered bacon fat reserved
1 1/2 lbs yellow squash, chopped (about 3 medium)
2/3 cup thinly sliced celery
1 cup diced onion
1 Tbsp flour
2 cloves garlic, minced
2 3/4 cup milk (I used 1%)
5 cups canned or fresh cut corn (from about 6 ears corn), divided
1/2 cup heavy cream
1 1/2 tsp chopped fresh thyme (or 1/2 tsp dried)
3/4 tsp salt, then more to taste
1/4 tsp freshly ground black pepper, then more to taste if desired
3/4 cup shredded cheddar cheese, for serving
Chopped green onion for garnish (optional)
 
Instructions
Heat 4 tsp reserved bacon fat in a large pot over medium-high heat. Add celery and onion and sauté 2 minutes then add the squash.
Saute until tender, about 6 minutes, adding in garlic and flour during last 2 minutes of sauteing. Reduce heat slightly.
Add 1 1/2 cups milk, 2 cups of the corn, thyme, salt and pepper to the sauteed veggies.
To a blender add remaining 3 cups of corn, remaining 1 1/4 cups milk and the cream. Process in blender until nearly smooth (about 30 seconds).
Add pureed mixture to pot and stir to blend. Cook until mixture reaches a light boil.
Serve warm with shredded cheese, crumbled bacon and sliced green onions if desired.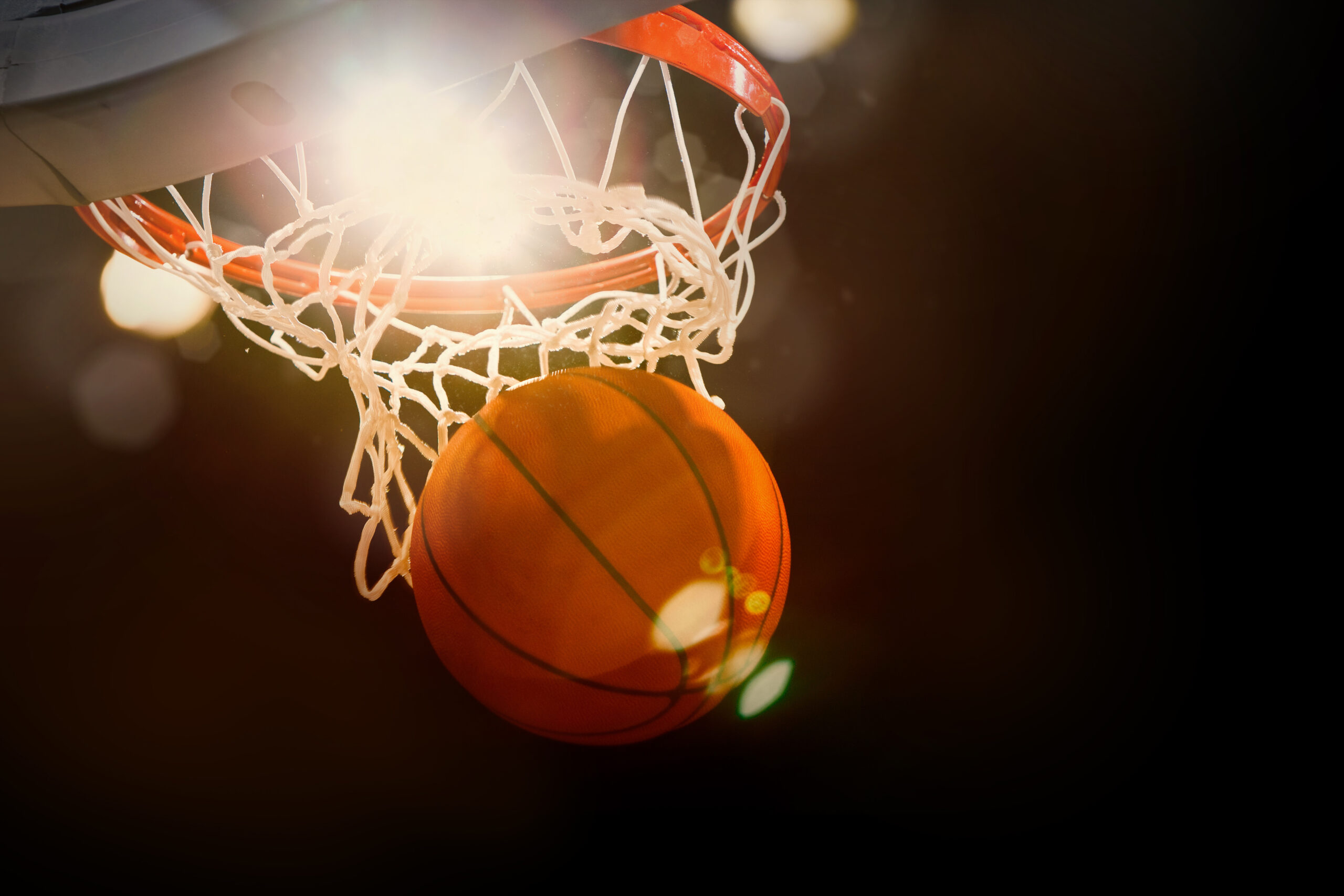 By Brandon Baumgarten
Did you play basketball in high school? Did you ever notice how some teams would hold on to the ball for extended periods of time? The strategy is to eliminate as much time off the clock as possible and close out the quarter with the lead. Some teams do this. Other teams do it more frequently than others. It's grueling to watch as a spectator as you watch the game evaporate as the team just holds possession of the ball. However, things are changing.
In fact, in Oregon, things are about to change when it comes to high school basketball. Their state just voted on adding a 35 second shot clock for the 2023-2024 season. No doubt, this move will increase the pace of the game and create more scoring opportunities.
The problem has become many people want to hold on to the ball too long without doing much with it. I could not help to think this week of how this scenario relates to our faith in God. It is one thing to have opportunity, but it is another thing to make the most of it.
There are many Christians who are holding the ball. God has literally changed them from the inside out, but instead of sharing that power and influence with others, we often don't. We allow the clock to run down and limit our chances of scoring for God. Imagine if the empowered church of God not only felt changed, but lived changed too. Have you been keeping the life changing power of Jesus Christ to yourself? I've been there before. I don't always share as much as I should, but I do know time is quickly ticking and the shot clock is counting down.
What we will do from here depends on our faith and action? Imagine if the disciples would have kept all their accounts of Jesus's life to themselves, we would have never known what happened. Instead, they shared and chose to take what God had given them to the world. Will we choose to share the life changing power of the Gospel? Will we take our shot before our time expires?
The lights are on. The game is going. The world is watching. The clock is ticking. Warriors for Christ: The ball is in your court. May we choose to make the most of it!
"Why, you do not even know what will happen tomorrow. What is your life? You are a mist that appears for a little while and then vanishes." -James 4:14 (NIV)
No Bake Reese Peanut Butter Chocolate Banana Cream Pie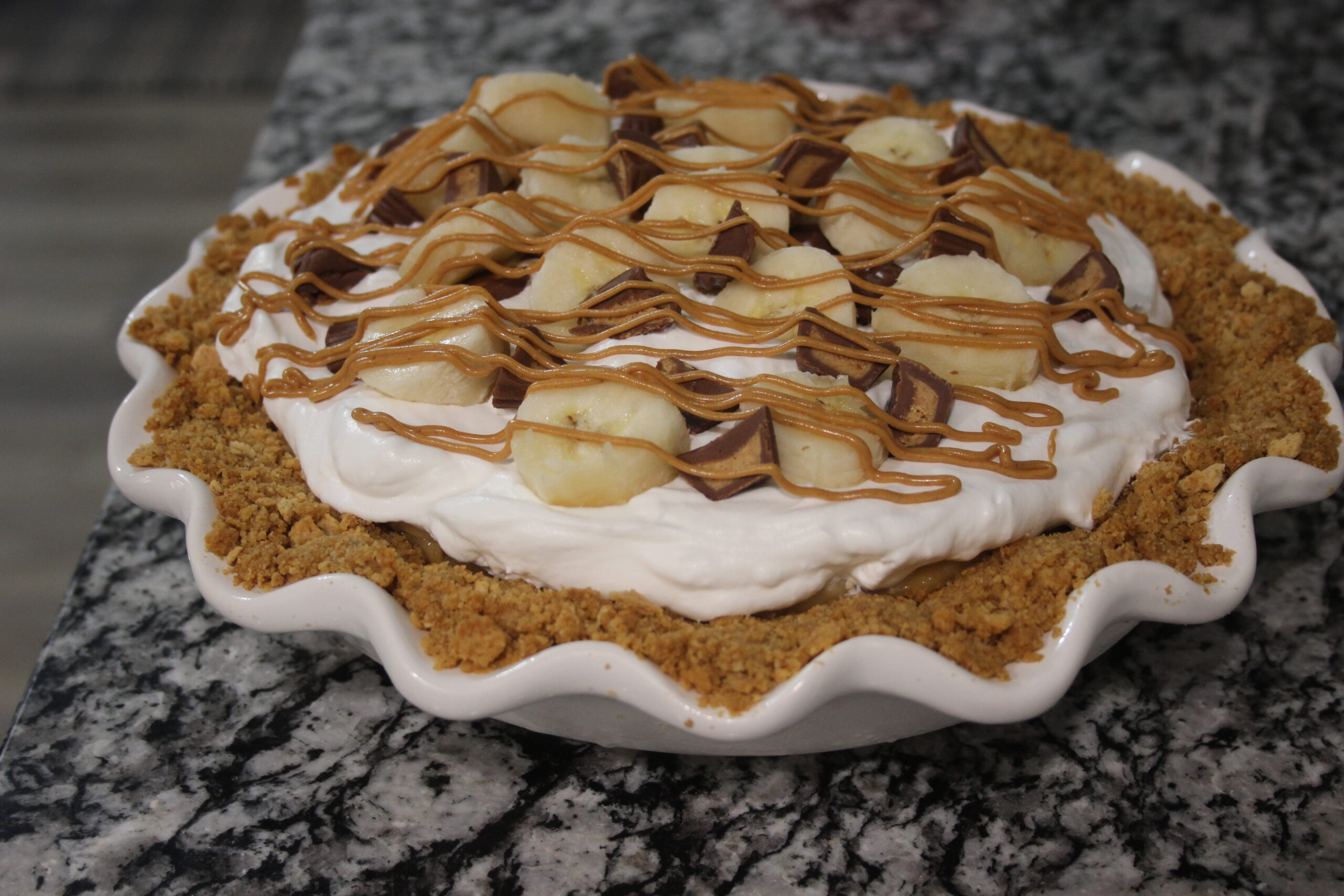 From Lacey Vilhauer of Laceys Pantry
Time: 25 minutes + 6 hours chill time
Serves: 10
Ingredients:
Crust:
2 1/2 cups graham cracker crumbs
1/2 cup melted butter
Filling:
1/2 cup chocolate chips
1/4 cup cream
1/4 cup smooth peanut butter
1 cup half and half
1/4 cup granulated sugar
2 eggs
1 tbsp cornstarch
2 tbsp smooth peanut butter
1 tsp vanilla
2 bananas, sliced
whipped cream, extra banana, mini peanut butter cups and peanut butter for garnish
Crust:
Stir together graham crumbs and melted butter and press firmly into the bottom and up the sides of a 9 inch pie plate. Bake at 350 degrees F for 8-9 minutes, until it looks slightly dry. (This step is optional and just helps the crust to hold up better)
Filling:
In a medium bowl, combine chocolate chips, cream and peanut butter. Microwave on high in 20 second intervals, stirring each time, until melted. Pour into the bottom of the crust.
In a medium saucepan, whisk together half and half, sugar, eggs and cornstarch until smooth. Cook over medium heat, stirring constantly, until thickened — this can take up to 10 or 15 minutes but don't rush it.
When the filling has thickened, stir in peanut butter and vanilla until smooth. Stir in sliced bananas. Pour this mixture into crust over chocolate. Cover with plastic wrap and refrigerate for 6 hours or overnight until set. Top with sweetened whipped cream, sliced bananas, Reese's peanut butter cups, and peanut butter drizzle as desired. (To drizzle peanut butter, simply heat in the microwave until it can be poured, then use a spoon or put in a decorating bag and drizzle over the pie).