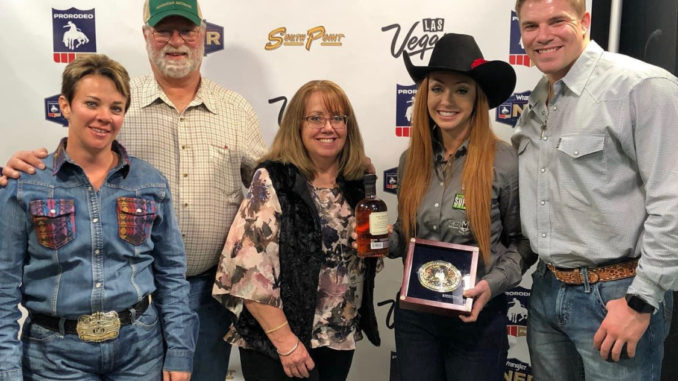 This year's Wrangler National Finals Rodeo will look a bit different from year's past, but for the cowboys and cowgirls that will be competing, the excitement is still there.
Weatherford's Emily Miller-Beisel is one of several Oklahomans representing the Sooner State at this year's Finals.
Growing up in southwest Kansas, near Garden City, Emily was the middle child. Although the area was a mecca for agriculture, her family wasn't involved with horses at all. Luckily, the right people came into her life, and she went from being a horse-crazy child to one of the top barrel racers in the United States.
In 2019, Miller-Beisel lit up the Thomas and Mack Arena, winning two rounds and finishing second in the average. She planned for a light winter rodeo schedule in 2020, but COVID-19 squashed those plans. She persevered, securing her second WNFR berth. Now Emily, recently married to husband Austin Beisel, works hard to balance her rodeo world with her normal, everyday life.
Getting Started
Glancing at some of her childhood drawings might have foreshadowed Emily's future career. "I had a passion for animals. I used to draw horses with my grandma all the time," she recalled. "I kept telling my parents I wanted a horse, but they didn't believe me."
Her insistence on getting her own horse pushed her mother, Margaret, to drastic measures. "She had a friend who owned show horses. My mother told her to put me on the biggest horse there and scare me, because I had to get over this phase," Emily said laughing.
The plan backfired, big time. "By the end of the day I was hooked. Then she didn't do a great job screening my babysitter, who was a barrel racer. Her name is Jana Turner, and I was about seven years old when I started going with her and her parents to Little Britches and then High School rodeos. I wanted a horse and I wanted one yesterday," she recalled.
Finally, just before her eighth birthday, her parents bought her a horse. His name was Roper, and the two dabbled in 4H Horse Shows before venturing into Little Britches rodeos. "That's where I really figured out that I wanted to go fast. I went from there to junior high and high school rodeos," Emily said.
An all-around cowgirl, Emily competed in barrel racing, pole bending, breakaway roping, team roping, cutting, and goat tying. She qualified for the National High School Rodeo Finals three years, and one time in five events – all except team roping. Although she enjoyed the roping, barrel racing and pole bending were her passion.
After graduating high school, she spent two years at Garden City Kansas Community College. From there, she made the trip south to Weatherford, Okla., to finish up her degree at Southwestern Oklahoma State University. "I got my bachelors' there, and then the University of Oklahoma had a satellite campus in Weatherford for dental hygiene, so I graduated from OU in 2016. That was a major part of my decision to move to Weatherford. With as many horses as I had I could set up and stay here for the four years of school," she explained.
So why a career in dental hygiene? Because she knows first-hand the impact good dentistry can have. "Growing up I had all kinds of problems with my teeth. I was always in the dental office. I loved my dentist, and every time I went, I looked forward to it. When I finally got done with all my work, people would comment about how great my smile was, and I wanted to be able to help other people get to that point," she said.
Emily's passion for her career led her to precariously balance work and rodeo during a whirlwind year when she found herself on the cusp of a WNFR appearance. "In 2017, when I was borderline making the finals, people thought I was crazy because I wouldn't quit my job, but it was such a love of mine," she said. "My boss was flexible, and my patients were so excited and cheering me on."
Making the WNFR
Although Emily began her professional rodeo career in 2013, things didn't begin to heat up until 2016, when she earned a trip to the Ram National Circuit Finals Rodeo. In 2017, a domino-like effect resulted in a huge leap in the world standings. "All of that was a surprise. The stars all aligned. I won the Prairie Circuit Finals and then was able to go back to the RNCFR and Calgary where I won my pool, made the finals, and finished fourth in the Shootout round," she recalled. "All of a sudden I found myself in the world standings and I had no intention of hauling for the NFR. It caught me off guard and I had no game plan."
When the last of the money from the regular season rodeos was tabulated, Miller had just narrowly missed qualifying for the Super Bowl of rodeo, finishing in 17th place. "All I was thinking was, 'How do I do that again?' I wanted to see it all the way though," she said.
To do that, Emily knew she would need more horsepower. "I sold my back-up horse, who was super nice, to a really good family. I approached Renee Ward and asked if Chongo was for sale," she said, referencing the striking grey. "I had tried him when he was five, and ultimately bought a different horse, but he had always been in the back of my mind. She said he wasn't for sale at that point, but low and behold, a month later, she called and said he was for sale."
In a typical story, that's where the fairytale would begin, but for Miller, it seemed more of a nightmare. She and the talented gelding would not mesh. "I thought I had ruined him. He was great, but I was working him completely wrong and he was just mad at me. Luckily, I was able to go back to Renee and Kylie (Weast), who had trained him. Kylie took him at least 30 days and put him back together," she admitted. "I went and rode with Kylie every week, just figuring out my horse. It's funny, because you never know with horses. It's not the same as a car where you can just switch out a part and fix them. They have personalities and it's not black and white."
With Weast's help, Emily and Chongo began to gel. In the meantime, she won enough money on her other horses to end the year with more than $46,000 in earnings. "My mare Foxy carried me in 2018. She kept me in the ranks so I could get back to the buildings for 2019," she said, referring to the big-money rodeos held during the winter. "2018 was one big learning curve, but we got qualified for the rodeos we needed."
The game plan for 2019 was set; Emily had the horses and had set herself up to compete at the big rodeos. "I wanted to capitalize on what we had done in 2018. I had more experience, and was able to figure out what rodeos worked for me and my horses. I had always bombed out over Cowboy Christmas; I don't think I had ever won more than $1,000 during that time before, but in 2019 I was the high-money winner," she said. "I think the deciding factor was the experience of knowing my horses and where to take them to set them up for success."
Soon, it was December in Las Vegas, and Emily was prepared to make her debut. Even now, a year later, she still gets chills recalling her first horseback view of the iconic arena. "I know Arlington will be awesome this year, but there is just something about the Thomas and Mack. You can't replace that feeling. We've watched it since we were little, and to finally make it to that point is incredible," she shared.
Another first-time feeling? The legendary grand entry. "The first night when we did that was the most surreal feeling. Running in there with all the people who had worked so hard to get there gives such an irreplaceable feeling. To make it to that point, you have such a sense of respect and admiration for everyone there," she said.
Emily went on to win two rounds, the first and fourth, and finish second in the average standing, ending the year as third in the World. "It was just a fairytale. It's just crazy. I just really zoned in. I knew I had to ride my horse the best I could, and not let him down," she said. "I tried to be as mentally prepared as possible."
Read more in the December issue of Oklahoma Farm & Ranch.