On the Road with Emily Miller-Beisel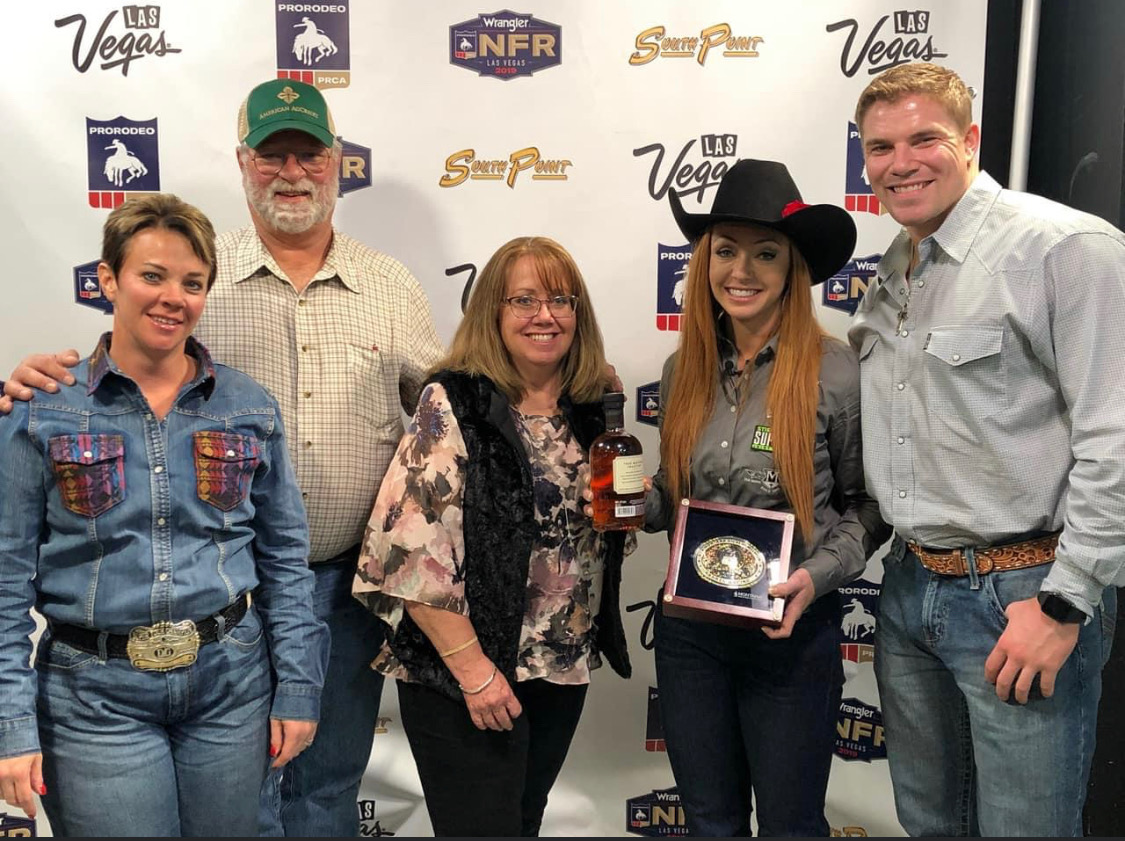 This year's Wrangler National Finals Rodeo will look a bit different from year's past, but for the cowboys and cowgirls that will be competing, the excitement is still there.
Weatherford's Emily Miller-Beisel is one of several Oklahomans representing the Sooner State at this year's Finals.
Growing up in southwest Kansas, near Garden City, Emily was the middle child. Although the area was a mecca for agriculture, her family wasn't involved with horses at all. Luckily, the right people came into her life, and she went from being a horse-crazy child to one of the top barrel racers in the United States.
In 2019, Miller-Beisel lit up the Thomas and Mack Arena, winning two rounds and finishing second in the average. She planned for a light winter rodeo schedule in 2020, but COVID-19 squashed those plans. She persevered, securing her second WNFR berth. Now Emily, recently married to husband Austin Beisel, works hard to balance her rodeo world with her normal, everyday life.
Getting Started
Glancing at some of her childhood drawings might have foreshadowed Emily's future career. "I had a passion for animals. I used to draw horses with my grandma all the time," she recalled. "I kept telling my parents I wanted a horse, but they didn't believe me."
Her insistence on getting her own horse pushed her mother, Margaret, to drastic measures. "She had a friend who owned show horses. My mother told her to put me on the biggest horse there and scare me, because I had to get over this phase," Emily said laughing.
The plan backfired, big time. "By the end of the day I was hooked. Then she didn't do a great job screening my babysitter, who was a barrel racer. Her name is Jana Turner, and I was about seven years old when I started going with her and her parents to Little Britches and then High School rodeos. I wanted a horse and I wanted one yesterday," she recalled.
Finally, just before her eighth birthday, her parents bought her a horse. His name was Roper, and the two dabbled in 4H Horse Shows before venturing into Little Britches rodeos. "That's where I really figured out that I wanted to go fast. I went from there to junior high and high school rodeos," Emily said.
An all-around cowgirl, Emily competed in barrel racing, pole bending, breakaway roping, team roping, cutting, and goat tying. She qualified for the National High School Rodeo Finals three years, and one time in five events – all except team roping. Although she enjoyed the roping, barrel racing and pole bending were her passion.
After graduating high school, she spent two years at Garden City Kansas Community College. From there, she made the trip south to Weatherford, Okla., to finish up her degree at Southwestern Oklahoma State University. "I got my bachelors' there, and then the University of Oklahoma had a satellite campus in Weatherford for dental hygiene, so I graduated from OU in 2016. That was a major part of my decision to move to Weatherford. With as many horses as I had I could set up and stay here for the four years of school," she explained.
So why a career in dental hygiene? Because she knows first-hand the impact good dentistry can have. "Growing up I had all kinds of problems with my teeth. I was always in the dental office. I loved my dentist, and every time I went, I looked forward to it. When I finally got done with all my work, people would comment about how great my smile was, and I wanted to be able to help other people get to that point," she said.
Emily's passion for her career led her to precariously balance work and rodeo during a whirlwind year when she found herself on the cusp of a WNFR appearance. "In 2017, when I was borderline making the finals, people thought I was crazy because I wouldn't quit my job, but it was such a love of mine," she said. "My boss was flexible, and my patients were so excited and cheering me on."
Making the WNFR
Although Emily began her professional rodeo career in 2013, things didn't begin to heat up until 2016, when she earned a trip to the Ram National Circuit Finals Rodeo. In 2017, a domino-like effect resulted in a huge leap in the world standings. "All of that was a surprise. The stars all aligned. I won the Prairie Circuit Finals and then was able to go back to the RNCFR and Calgary where I won my pool, made the finals, and finished fourth in the Shootout round," she recalled. "All of a sudden I found myself in the world standings and I had no intention of hauling for the NFR. It caught me off guard and I had no game plan."
When the last of the money from the regular season rodeos was tabulated, Miller had just narrowly missed qualifying for the Super Bowl of rodeo, finishing in 17th place. "All I was thinking was, 'How do I do that again?' I wanted to see it all the way though," she said.
To do that, Emily knew she would need more horsepower. "I sold my back-up horse, who was super nice, to a really good family. I approached Renee Ward and asked if Chongo was for sale," she said, referencing the striking grey. "I had tried him when he was five, and ultimately bought a different horse, but he had always been in the back of my mind. She said he wasn't for sale at that point, but low and behold, a month later, she called and said he was for sale."
In a typical story, that's where the fairytale would begin, but for Miller, it seemed more of a nightmare. She and the talented gelding would not mesh. "I thought I had ruined him. He was great, but I was working him completely wrong and he was just mad at me. Luckily, I was able to go back to Renee and Kylie (Weast), who had trained him. Kylie took him at least 30 days and put him back together," she admitted. "I went and rode with Kylie every week, just figuring out my horse. It's funny, because you never know with horses. It's not the same as a car where you can just switch out a part and fix them. They have personalities and it's not black and white."
With Weast's help, Emily and Chongo began to gel. In the meantime, she won enough money on her other horses to end the year with more than $46,000 in earnings. "My mare Foxy carried me in 2018. She kept me in the ranks so I could get back to the buildings for 2019," she said, referring to the big-money rodeos held during the winter. "2018 was one big learning curve, but we got qualified for the rodeos we needed."
The game plan for 2019 was set; Emily had the horses and had set herself up to compete at the big rodeos. "I wanted to capitalize on what we had done in 2018. I had more experience, and was able to figure out what rodeos worked for me and my horses. I had always bombed out over Cowboy Christmas; I don't think I had ever won more than $1,000 during that time before, but in 2019 I was the high-money winner," she said. "I think the deciding factor was the experience of knowing my horses and where to take them to set them up for success."
Soon, it was December in Las Vegas, and Emily was prepared to make her debut. Even now, a year later, she still gets chills recalling her first horseback view of the iconic arena. "I know Arlington will be awesome this year, but there is just something about the Thomas and Mack. You can't replace that feeling. We've watched it since we were little, and to finally make it to that point is incredible," she shared.
Another first-time feeling? The legendary grand entry. "The first night when we did that was the most surreal feeling. Running in there with all the people who had worked so hard to get there gives such an irreplaceable feeling. To make it to that point, you have such a sense of respect and admiration for everyone there," she said.
Emily went on to win two rounds, the first and fourth, and finish second in the average standing, ending the year as third in the World. "It was just a fairytale. It's just crazy. I just really zoned in. I knew I had to ride my horse the best I could, and not let him down," she said. "I tried to be as mentally prepared as possible."
Read more in the December issue of Oklahoma Farm & Ranch.
Guttural Pouch Diseases of Horses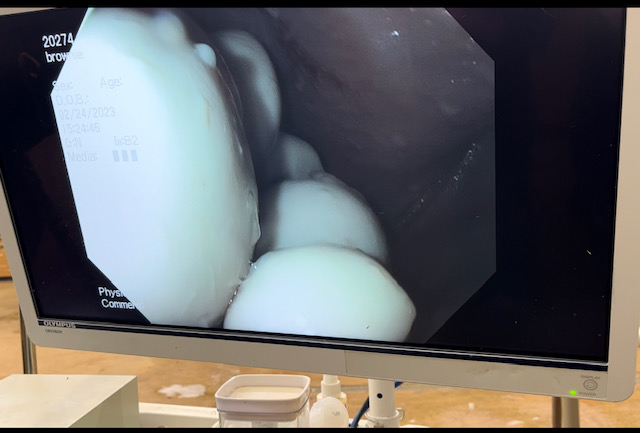 The guttural pouches of horses may not be very well known to most horse owners. These bilaterally paired pouches are located below the base of the skull, below the ears and extend into the throat latch region. The pouches purpose is not fully understood, but some theories is that they reduce the weight of the skull or have a blood cooling function to reduce the temperature of the arterial blood going to the brain. The guttural pouches can be plagued with a multitude of issues that are difficult to treat or can be life threatening to the horse. Other species contain guttural pouches such as some bats, American Forest mouse and Hyraxe.
The anatomy of the guttural pouches is complex and houses various important anatomic structures. The guttural pouches are an auditory tube diverticulum that is analogous to human Eustachian tubes but much larger. The volume of the guttural pouches can be up to 400-600 milliliters of air. The guttural pouches contain large arteries, nerves, the bones of the inner ear, muscle tissue and part of the hyoid apparatus that connects the skull to the larynx. The opening of the guttural pouches is deep in the nasopharynx through the slights call the pharyngeal ostium, which can only be accessed with an endoscope passed up the nose. The difficulty of accessing this area makes treatment of these diseases challenging at best. The guttural pouch is the only location in the horse that allows direct visualization of the arteries and nerves. The main arteries that are present in the guttural pouch are the maxillary artery and the internal and external carotid arteries that provide all the blood to the skull. The nerves in the guttural pouch are cranial nerves that exit directly from the brain or brain stem that innervate critical structures that control breathing, swallowing, chewing and ocular functions of the skull.
Read more in the April issue of Oklahoma Farm & Ranch.
Degenerative Suspensory Ligament Desmitis of the Horse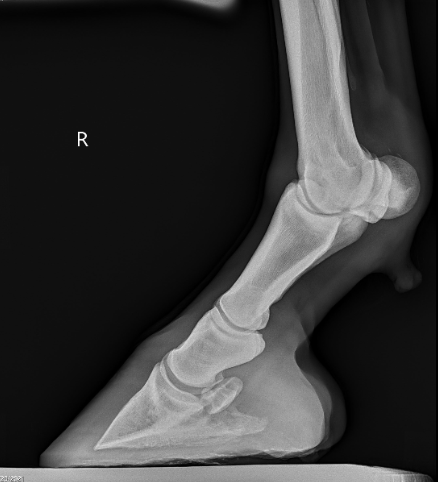 By Dr. Garrett Metcalf
The suspensory ligament is a vital component of the limb of a horse to produce normal locomotion and support. The suspensory ligament is a common area of concern in performance horses of various disciplines and can be single handedly the cause of lameness or performance issues. This article is going to look at a specific degenerative disease of the suspensory ligament and what horses are at risk for this disease.
DSLD or degenerative suspensory ligament desmitis was first discovered in the early 1980's in Peruvian Paso horses. The name has been changed because the suspensory ligament is not the only organ affected from the disease but the suspensory is ultimately the biggest issue. The newer name, ESPA or equine systemic proteoglycan accumulation, is more correct because other ligaments and tissues are affected by this disease. In this article we will only focus on the suspensory ligament. The most commonly affected breeds are Peruvian Paso, Paso Fino, Morgan, Saddlebred, Warmblood, Paints, American Quarter Horse, and Thoroughbred breeds. The age of onset of the disease is variable among breeds but it is more common to be seen in middle age to older horses. However it has been documented in horses as young as one year of age. The disease generally will have a slow insidious onset that can go undiagnosed for months or years depending on the horses work and discipline.
A horse that begins to show early signs of DSLD may have a vague lameness issue that is difficult to isolate and they most likely will resolve with a period of rest. As the horse returns to moderate level of work the lameness will return. This scenario may go on for several months or more before the discovery of the DSLD is made. The first indication of DSLD is often pain isolated in the suspensory branches or fetlock region when a flexion test is performed. Horses with DSLD will also have a "dropped" fetlock appearance because the suspensory is the main supporting structure of the fetlock joint. DSLD can affect the hind limbs, forelimbs or all limbs at the same time. A unique sign of DSLD is that not just one limb is affected but rather bilaterally affecting the limbs, meaning it will either affect either both forelimbs or hind limbs at the same time. It is my experience that the hind limbs are more commonly affected compared to the forelimbs. Horses will often have enlargement of the fetlock region and increased joint fluid or wind puffs. Horses will often have a straight hock or post legged hind limb appearance. Horses will often shift weight frequently in an effort to get relief from the discomfort and this can be confused with other lameness issues or foot related pain.
Diagnosis of DSLD is often made by clinical signs, breed and ultrasound findings. Ultrasound imaging of the suspensory ligaments will often show diffuse enlargement of the suspensory body and branches. The suspensory ligament will have a poor heterogeneous fiber pattern with periligamentious soft issue thickening from scar tissue deposition and edema or fluid within the tissue. Radiographs of the lower limb may reveal abnormal bone changes in the sesamoid bones behind the fetlock joints and even osteoarthritis of the pastern and or fetlock joints. A definitive diagnosis can be made from a biopsy of a ligament in the neck called the nuchal ligament, but is not often performed because of the invasiveness of the biopsy.
Treatment is very limited and it is mostly geared towards protection of further damage by prolonged rest. Pain management is also important to attempt to keep the horse as comfortable as possible. Different shoeing techniques can be used with marginal success. In early cases of DSLD, a suspensory shoe that helps engage more work from the deep digital flexor tendon can help elevate the fetlock and offer more protection to the suspensory ligament. The devastating thing about this disease is that there is no cure and there are hardly any good options to slow the progression of the disease. DSLD carries a poor prognosis when the diagnosis is made in any breed of horse or any discipline. Although some cases can be managed better than others, it often progresses to the point of debilitating pain and discomfort to the point of humane euthanasia especially in the Peruvian Paso breed.
Read more in the February 2023 issue of Oklahoma Farm & Ranch.
Splint Bone Injuries in the Horse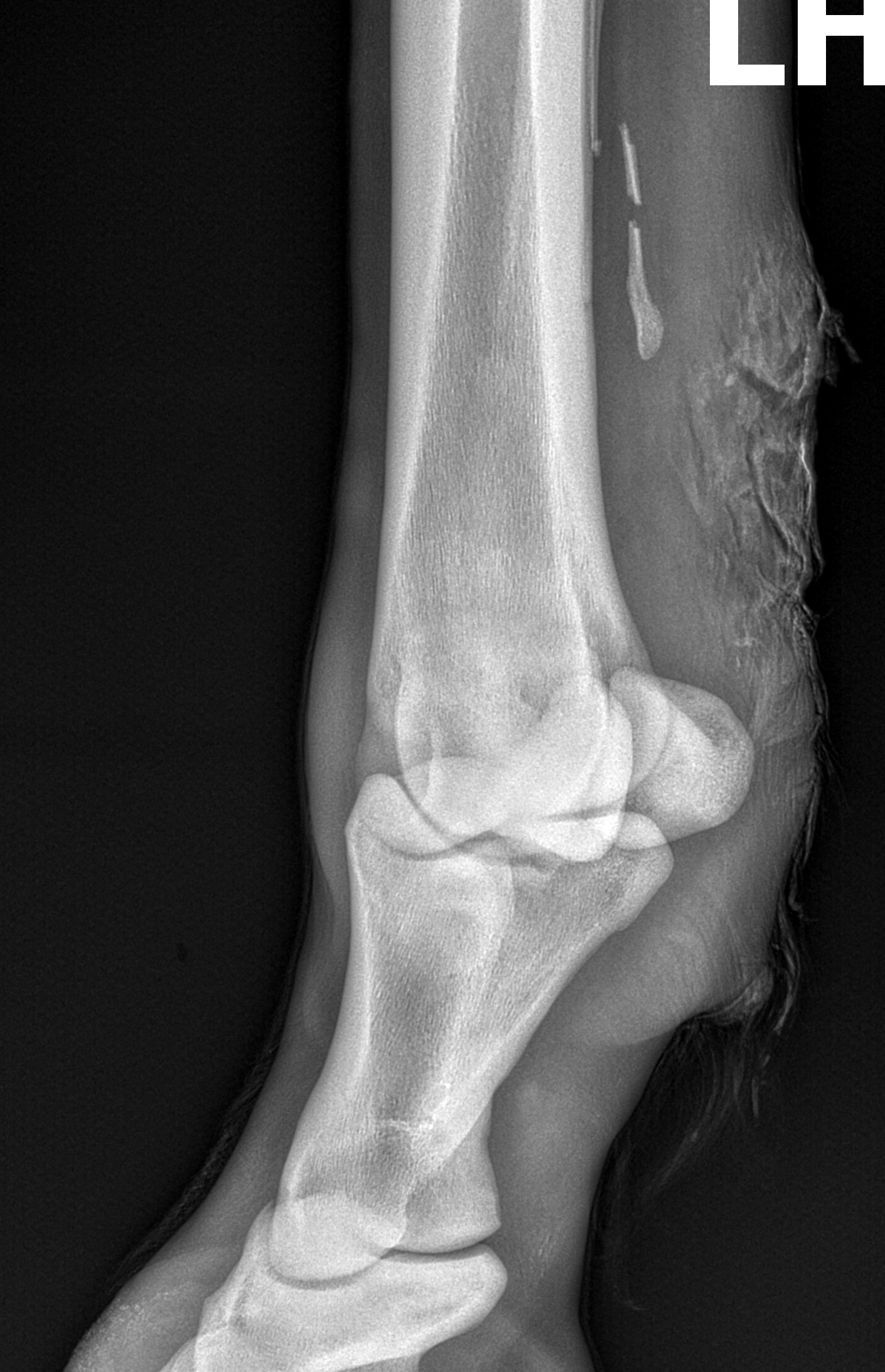 By Dr. Garret Metcalf, DVM
Splint bone issue in horses is a common problem in various ages and disciplines. These injuries can be caused by excessive work in young horses to traumatic injuries. The splint bones do play an important role in the stability of the joints that they help make up at knee or hock level. These various types of injuries will be discussed in this article as well as treatments.
The splint bones are small bones that are intimately attached to inside and outside of the cannon bone. The splint bone is divided into sections to understand which section is injured. At the top you have the head of the splint, then a mid-body section and at the bottom the button of the splint. The head of the splint bones make up part of the carpus (knee) in the forelimb and in the hind limbs the hock. There is a fair amount of research that has demonstrated the role the splint bones play in the stability of these joints. A study conducted at Colorado State College of Veterinary Medicine noted that when larger portions of the splint bone were removed rotational stability was significantly impacted within the carpus including other directional forces affected.
Diagnosing splint bone injuries are rather straight forward with radiographs, but some cases ultrasound is also helpful. Some of the bone or callus formation that occurs around these splint bone injuries can compress on the suspensory ligament leading to chronic pain and lameness issues.
Popped Splints
Splints that are popped are referring to injuries that generally occur to the younger population of horses entering training and work. Younger horses generally develop these injuries on the inside forelimb splints and they can be rather painful leading to loss of training time. The popping of a splint is the tearing of a ligament that holds the splint bone to the cannon bone called the interosseous ligament. When the ligament is torn bleeding can occur and disruption of the periosteum of the bones causing a callus or firm boney lump. These splints are more prone to injury because the medial or inside splint on the forelimb bears direct load with the second carpal bone at the head of the splint bone. This puts direct force on the splint bone where other splint bones share the load of the adjacent carpal or hock bones with the cannon bone.
Popped splint bones are often rather painful, have notable swelling associated near the splint bone and will have heat present. When palpated or squeezed a moderate amount of pain will be elicited.
Treatments of these popped splints are often rest, systemic anti-inflammatory drugs and local anti-inflammatory treatments. Acute inflammation from a splint injury can be soothed with ice or cold therapies and bandaging. Also alternative therapies such as cold laser therapy, MagnaWave or shockwave can be incorporated to the treatment plan. In some more extreme cases surgical removal of the bone callus is necessary to prevent the callus from compressing the suspensory ligament.
Splint Bone Fractures
Fractures of a splint bone can occur at any level or in any one of the splint bones but there are some that are more commonly fractured. The lowest or distal one-third of the splint bone is commonly broken in the forelimbs. These fractures can be occasionally to forelimb suspensory related issues. The suspensory is has a small ligament attachment to the button of the splint bone and whenever the lower limb is extended heavily this can put bending forces on the lower part of the splint bones leading to fractures. In the hind limb the outside or lateral splint bone is the most commonly fractured splint bone. This splint bone is often fractured from kicking injuries. Whenever two horses don't get along back up to each other and fire some kicks, this splint is often the one that gets broken. These injuries are particularly more problematic because of the open wounds that are heavily contaminated with manure, hair and dirt, plus injuries to flexor tendons as well.
Fractured splints near the head of the splint are also very problematic injuries that can be career ending or life threatening at times for horses. These fractures can involve the joints of the carpus or hock leading to septic arthritis, severe lameness and possibly serious instability of the corresponding joint. The rule of thumb for equine veterinaries that are familiar with surgically removing damaged or fractured splint bone is the two-thirds one –third rule. The rule is the lower two-thirds can be safely removed and try to never remove the upper one-third if at all possible. Cases of complete splint bone removal can lead to chronic lameness or worse, catastrophic joint dislocation when the horse tries to get back up from anesthesia. Instead of removal of the fractured upper one-third of the splint, the fracture can in some cases be repaired with plates and screws to maintain a stable upper part of the splint bone.
Other smaller traumatic injuries that can occur to splint bones often come from interference injuries or the horses own feet hitting the inner splint bones when working. These injuries can be avoided rather easily with splint boots placed on the lower limbs whenever working. Some lower limb boots can provide some support to the fetlock and suspensory to avoid distal splint bone fractures but overall these are not going to be very protective.
Some splint bone injuries are rather simple and common problems that a lot of horse owners are familiar with addressing. When it comes to the more serious traumatic fractures and wounds related to splint injuries it is best to contact a veterinarian and get these examined.