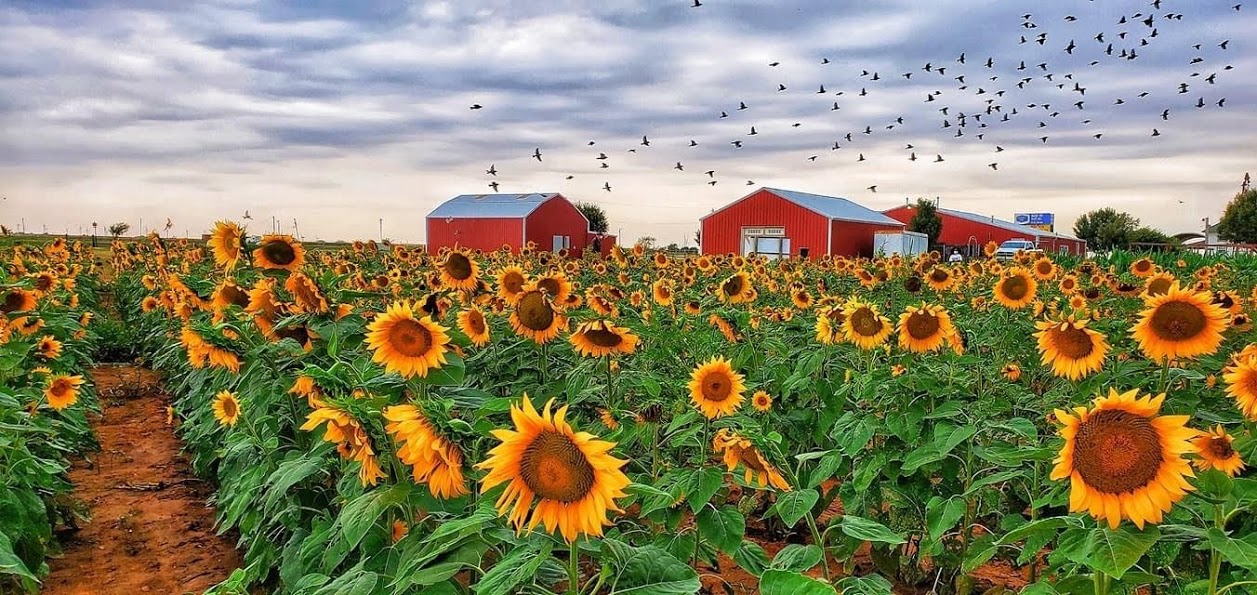 Fields that once were prolific with wheat have now found a new purpose at P Bar Farms in Hydro, Okla. Now, colorful sunflowers abound, attracting visitors from all across the state who come for photo opportunities. In another 10-acre section, specialty corn is grown specifically to be mowed to a specific pattern, transforming into a maze that sees upwards of 15,000[LM1] visitors annually.
It's not that Loren and Kim Liebscher couldn't make a traditional farm work; it's more that they were looking for something fun to do for a few years.
P Bar Farms is named for Travis Payne, Kim's father. "We used to farm traditionally here. We were farming and her dad got sick. I kind of lost my love to farm, so I began praying that God would give me something to put the fun back into farming," Loren shared.
It was just two weeks later that God delivered a sign that would change the course for P Bar Farm. "I read in a Progressive Farmer magazine about a guy doing a corn maze in Nashville, Tenn. We found out that the first Annual Corn Maze Convention was only two or three weeks after that," he said. "So, we drove to Salt Lake City for the first convention, and that's how we got started."
Loren and Kim admit they knew nothing about corn mazes, but they learned plenty during the convention. "The Convention was actually part of a franchise company that was looking to add farms. We joined, and for the fee they gave us all the secrets and designs for the maze and everything," Loren explained.
After a few years, the Liebschers opted out of the franchise. "We felt like we knew what we were doing by then," Kim said.
The first P Bar Farms corn maze was grown and cut in 2001, but then 9/11 happened. The uncertainty that plagued the country made its way to Hydro, and it wasn't a given that the corn maze adventure would even get out of the gate. "We thought that was going to be the end. We had hoped that if we got 1,000 people to come during that first season, at $5 a person, we'd be doing well. A $5,000 addition to your income is pretty good for a farmer," Loren said. "That first year we wound up having close to 5,000, even with 9/11. We had one customer explain it to us. She said, 'I've never felt so safe having my kids so lost, but it's a family farming operation, and nothing's going to happen here on the farm. It has that good feeling where people feel safe and comfortable."
Kim added, "We just wanted to have something fun that was light-hearted. We didn't anticipate being busy – we were just having fun. We thought we could do it, but if not, we don't have anything to lose."
With the success of the first year, the Liebschers knew they would do the corn maze again. They built a barn and added a new concession stand. They also interviewed some tough critics; teachers that came out to the farm. "We had a retired schoolteacher that worked for us, and she said if you want to get the truth to interview teachers. So, we created a survey that all the teachers filled out, and everything that came back said it was wonderful, a great concept, and a great idea," Loren said. "But, they added they weren't coming back until we got indoor bathrooms. That was the number one request from the teachers, so we definitely made that change."
As the interest in the corn maze grew, P Bar Farms continued to expand. First a petting zoo was added, and then a new barn. With more requests for parties, more buildings went up. The Liebschers wanted the property to resemble an old family farm, so they purchased an old home in Hinton, Okla., and moved it in. "We wanted to use it as a bed and breakfast. That never really worked out, but we rented it for a while. Now it's regularly booked as an Airbnb. People like to get away and get out in the country," Kim shared.
There have been very few noticeable failures in the past two decades. The only other memorable one was a venture with a greenhouse. "With the wind in Oklahoma, that didn't work for us. We had put asphalt in the bottom of our greenhouse, so we used that and put in a new party barn," Loren said.
Soon a pumpkin patch was added to compliment the maze and the rest of the farm. "We've always had a pumpkin patch. The problem is pumpkins can be really hard to grow if you don't rotate them, so we don't do that real well. Our first year we had more than we could sell, but after that we really were going through them. Now we're going through 15-20,000 pumpkins a year, and we can't grow that many, so we just buy them," Loren added.
It was only a few years ago that the Liebschers added a sunflower patch to the mix, taking up a few more acres covered by the pivot. "The first year they were fun and pretty, but we didn't have a lot of visitors. This year has been different, and I think our daughter is probably the reason for that success. She has a marketing degree and it's been unbelievable," Kim said. "Oklahoma Tourism did a post about a 'mystical sunflower patch.' Now people are here all the time while they're blooming to take photos."
The sunflower patch is just a few acres, but the Liebschers feel it's the perfect size. "We have found that the smaller the patch, the better people take care of it," he said. "Plus, sunflowers are tricky. They either make it or they don't, but this has been a very good year for them.
Read more in the October issue of Oklahoma Farm & Ranch.
Let's Take A Trip – Part 1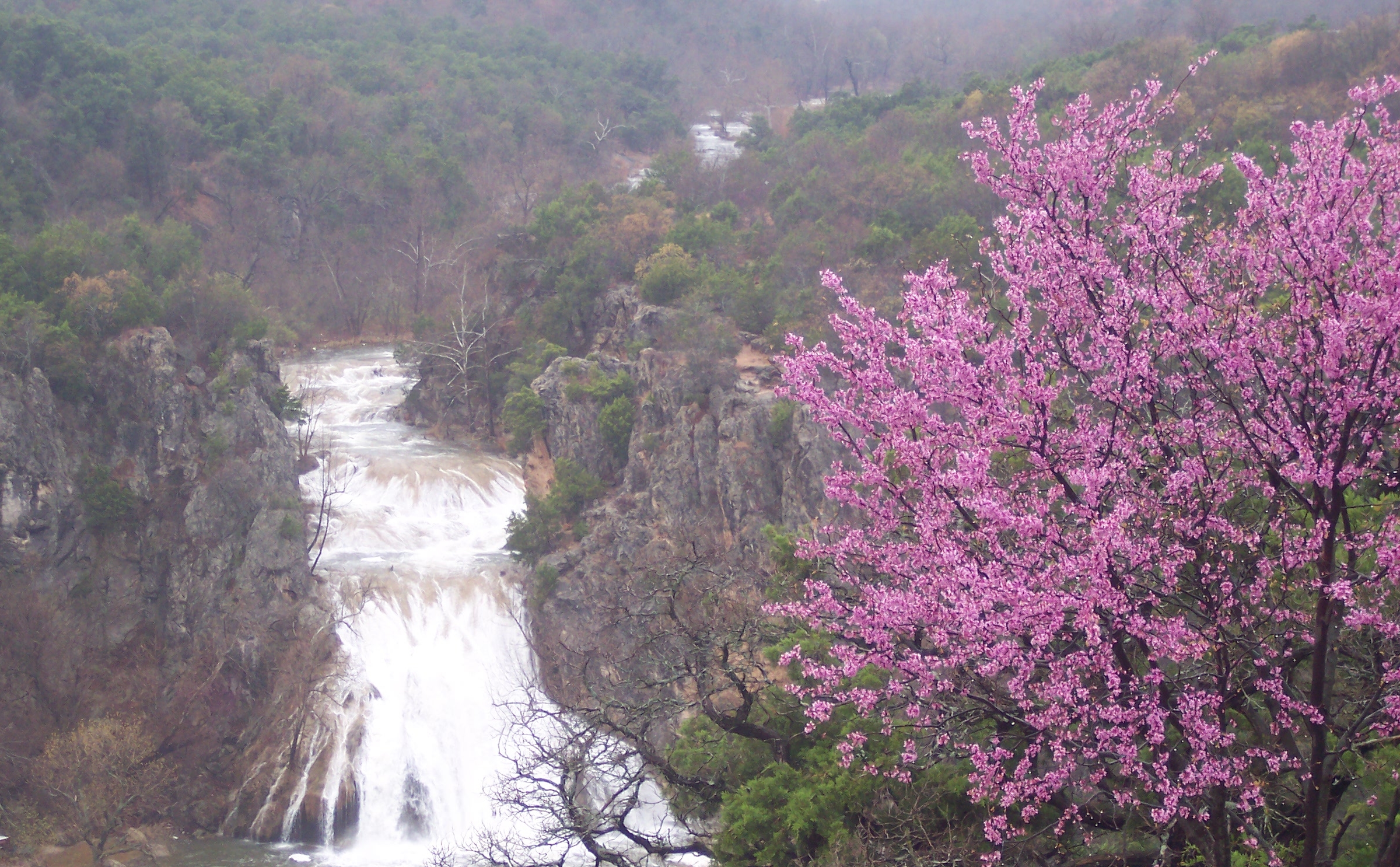 After almost two years of Covid, testing, vaccinations, boosters, illness and death, wearing masks, staying indoors and away from others, severe thunderstorms, tornados, and now war in Europe, it's time to get out and away from it all for at least a day.
Let's get on I35 North of Ardmore and begin our trip in the Arbuckle Mountains. Stop at every scenic turnout to enjoy the awe-inspiring views of the trees, valleys, and rocks that according to archeologists formed during an earthquake eons ago.
Reached by a narrow twisty highway, a sight comparable to a miniature Niagara Falls is soon revealed. Cascading 77 feet, Turner Falls is majestic. Formed by Honey Creek, it empties into a beautiful blue lake.
Although it may be tempting, climbing to the area behind the falls and sliding down the falls is prohibited by law because more than one person has drowned attempting lt.
Be sure to visit Collins Castle, built in the early 30`s of native materials as a summer home for Dr. Elizabeth Collins, a professor at Oklahoma University. It was once headquarters for the Bar C Ranch.
The entire park covers 1,500 acres and includes swimming areas, camping areas, cabins, hiking trails, caves, a water slide, trout fishing, and Look Out Point, featuring telescopes allowing you to view the entire park.
A zip line, diving, scubas, and floating on inner tubes entertains many visitors.
Children play areas, a trading post and majestic scenery attract more than 250,000 visitors each year.
Come for a day or a week and enjoy all the park has to offer.
The Oklahoma Conservation Historical Society's Oral History Collection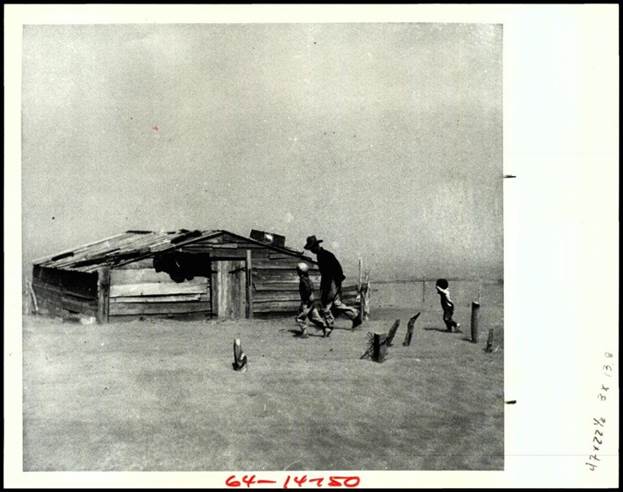 Listen not only to hear, but also to see and to act.
Listen to the words of the pioneers of Conservation and envision what they have seen and what they hoped for, and then practice it today and tomorrow on Oklahoma's farms and ranches and within its growing urban areas.
That's getting down to the subsoil or rather the essence of the Oklahoma Conservation Heritage Oral History Collection.
Just over two years ago the Oklahoma Conservation Historical Society announced the launch of this priceless conservation collection of passion, knowledge and effort.
The Oklahoma Conservation Historical Society partnered with the Oklahoma State University Library to record and archive interviews with individuals who have made contributions to conservation in Oklahoma. Audio, video, and transcripts of the interviews are posted digitally in the new Conservation Heritage Section of the OSU Library's oral history collections. Interviews are available to researchers and the general public.
Oklahoma holds a unique place within the American conservation movement as the epicenter of the worst man-made ecological disaster in history, the Dustbowl. Out of the 1930s conservation districts were created by local farmers and ranchers who recognized the need to implement voluntary conservation practices on private working lands. Over the course of the last 80-plus years, Oklahoma has been a leader in the adoption of practices that benefit the health of our soils and water while building resiliency on our farms and ranches.
The Oklahoma Conservation Historical Society was formed in partnership with the Oklahoma Association of Conservation Districts, the Oklahoma Conservation Commission, the Natural Resources Conservation Service, the Oklahoma Chapter of the Soil and Waters Conservation Society and the RC&D Association. The Oklahoma Conservation Historical Society believes these interviews will preserve the storied and proud history of conservation in Oklahoma. This collection is a celebration of individuals and programs that have contributed to making Oklahoma known across the country as a leader in conservation.
Let us give you a couple of examples – Creede Speake, Jr., and Hal Clark – out of the many outstanding interviews you'll hear in this collection.
Speake, born in Ardmore, Okla., in 1924 and a long-serving board member of the Caddo Watershed Association and of the Arbuckle Conservation District in Oklahoma, recalls his youth and his early interest in learning to be a pilot. He discusses some of his experiences serving during WWII and the Korean War and explains choices he made regarding his career as a rancher. Speake also talks about his involvement with conservation issues in his region and in the state and in particular his role in obtaining easements for upstream flood control structures.
A ways into the interview, Speake discusses managing grasslands. He said, "Native grass in this country is the most valuable thing you can have. You don't have much at all, just management. Keep the weeds off of it, don't have to fertilize it, but the four major native grasses we have here, they're good. You get better gain and everything off of it. I wish everything I had was native grass. We've got a lot of Bermuda and other kinds of grass we have to fertilize."
Clark, a graduate of Texas Tech University with a degree in Animal Science and Range Management, recalls his youth in the Panhandle of Oklahoma and Texas, relocating a couple times due to his father's work, and his earliest memory of the impact of a flood. He discusses his early awareness of the issue of erosion and explains some conservation practices he has used to combat it. He also shares some of his experiences as a longtime member of the Cimarron County Conservation District (Oklahoma's farthest western county) and his time as a member of the Oklahoma Conservation Commission.
Clark said, "We have a drier climate in Cimarron County, so it affects us in a lot of ways. The conservation challenges we have—Jimmy Emmons at (Dewey) County can grow a rotational crop that we can't at Cimarron County because we don't have the moisture. I wish we had rotation crops, something that could be plowed up (to improve the soil). I planted—on my farm, I planted Austrian winter peas a couple of times. Like that, it's a legume. Cattle did pretty well on it, and I plowed it under to help the texture of the soil, because that's the big issue now, people understanding what's really underground—what's in the soil that makes up what we're trying to utilize to grow our crops or grass, so that's a really important issue right now."
Trey Lam has farmed on his family's operation near Pauls Valley, Okla., for more than three decades and has served as the Executive Director of the Oklahoma Conservation Commission for more than five years. He has extensive knowledge of soil health, and he will quickly say that the bulk of it came from those two sources. He is quick to say that to lead in conservation you need to listen to soil health mentors and to the land itself.
"Please take the time to listen to these great Oklahomans tell their story of bringing our state back from an environmental disaster," Lam said. "What a fantastic project teaching history in the first person. Conservationists want to leave the land better for the next generation. Now that generation can learn how these pioneers did it. We owe a huge thank you to the Oklahoma Conservation Historical Society."
Sarah Blaney is Executive Director of the Oklahoma Association of Conservation Districts.
"Oklahoma's conservation history is not just ours, but that of the entire nation," Blaney said. "Many of the practices that have been adopted in soil and water conservation started right here in Oklahoma. It is wonderful that for generations to come, people will be able to learn from these conservationists. The Oklahoma Conservation Historical Society should be commended for doing an outstanding job preserving this important piece of rural, agriculture history."
Ben Pollard is President of the Oklahoma Conservation Historical Society.
"We are most appreciative of the efforts of the Oral History Research Program at the OSU Library for working with us to create this collection," Pollard said. "We have a proud conservation history in
To listen to the 23 completed oral histories, please visit: https://library.okstate.edu/oralhistory/digital/ or okconservation.org/history.
Read more in the July issue of Oklahoma Farm & Ranch.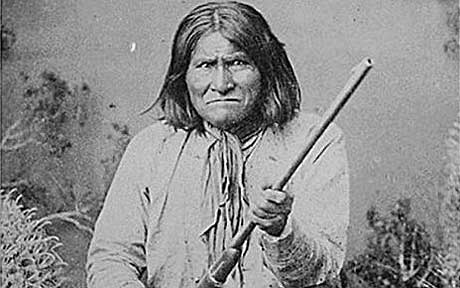 Geronimo, leader and medicine man, was the most feared, most pursued, most allusive of the Apaches and the last of the Chiricahuas to surrender.
Born June 16, 1829, in the upper Gila River country in Arizona, he was part of the Bedonkohe subsection of Chiricahua Apache, a small but mighty group of around 8,000 people.
His birth name was Goyahkla, or "one who yawns." The source of the name "Geronimo" is disputed. Some believe it originated with the cries of frightened Mexican soldiers calling out the name of the Catholic St. Jerome when they faced Geronimo in battle. Others believe it is simply a mispronunciation of Goyahkla.
Whatever its origin, the name took on a new life long after the Indian's death when during World War II paratroopers yelled "Geronimo" before jumping out of planes, a reference to his bravery.
By the time he was old enough to become a warrior, the Apaches were at war with the Mexicans to the south, the U.S. Government to the north, and the neighboring Comanche and Navajo tribes. By the time he was 17, Geronimo had successfully led four raids on their enemies.
Geronimo fell in love with a woman named Alope. They married and had three children. Tragedy struck while he was on a raiding trip. Mexican soldiers attacked the camp, killing Geronimo's mother, wife and three children.
The murders devastated Geronimo. In Apache tradition, he set fire to the family's belongings and headed into the wilderness to grieve their deaths. There, alone and crying, it is said a voice came to Geronimo promising him, "No gun will ever kill you. I will take the bullets from the guns of the Mexicans…and I will guide your arrows."
Embolden by this knowledge, Geronimo rounded up a force of 200 men and hunted down the Mexican soldiers who killed his family. For 10 years, he exacted revenge against the Mexican Government.
Following the Mexican-American War in 1848, the United States took over large tracts of land from Mexico, including areas belonging to the apaches. With the discovery of gold, miners and settlers streamed into the land. The Apaches stepped up their attacks, including brutal attacks on stagecoaches and wagon trains.
Chiricahua Chief Cochise could see what was coming, and in a move that greatly disappointed Geronimo, called a halt to his decade-long war with the Americans and agreed to the establishment of a reservation for his people on a prized piece of apache land.
Within just a few years, in 1874, Cochise died, and the Federal Government reneged on its promise and moved the Chiricahuas north so settlers could move into their former lands.
This further incensed Geronimo, and he set off on a new round of killing. With his followers, he raided across the Southwest, becoming something of a legend. Newspapers closely followed the Army's pursuit of him.
Authorities finally caught up with him in 1877 and sent him to San Carlos Reservation. For four long years he struggled with reservation life, finally escaping in 1881.
At one point nearly a quarter of the Army's forces—5,000 troops—were trying to hunt him down.
Geronimo surrendered to General Cook in January 1884, but as they neared the fort, tales of impending trials and hangings caused him to escape with about 150 men, woman and children.
He again surrendered to Cook on March 4, 1886, in Sonora, Mexico, but again he bolted.
Finally on September 3, 1886, he surrendered to General Miles, the last Chiricahua to do so. He was promised to be returned to his beloved Arizona, but that never happened. Over the next several years, Geronimo and his people were moved around, first to a prison in Florida, then a prison camp in Alabama and finally to Fort Sill in Lawton, Oklahoma.
Although a prisoner, Geronimo did travel outside Fort Sill frequently, appearing at fairs, exhibitions and other public functions, selling pictures of himself, bows and arrows, buttons off his shirt, and even his hat. He appeared in several Wild West Shows, and shot a buffalo for a roundup staged by 101 Ranch.
In 1905, Geronimo's biography was published.
In 1905, Geronimo also appeared in the inaugural parade for President Theodore Roosevelt. Still a prisoner, he was accompanied by guards wherever he went.
On the reservation, he did some farming and joined a church, but was ousted for gambling.
While riding home one night in February 1909, his horse threw him, and he spent the night out in the cold. A friend found him the next day, and Geronimo died six days later of pneumonia, his nephew at his side. He was almost 80 years old.
"I should never have surrendered," Geronimo, still a prisoner of war, said on his deathbed. "I should have fought until I was the last man alive."
Geronimo is buried in Beef Creek Apache Cemetery on Fort Sill among family. His tomb is covered by a cone-shaped monument made of round stones topped by a granite eagle. It bears the simple inscription, "GERONIMO." A short path leading to the tomb is covered with pennies left by visitors in tribute to the last of the great Chiricahua Apaches.
Read more in the April 2020 issue of Oklahoma Farm & Ranch.