Oklahoma Outdoor Must Sees for New Year
By Michael Newell
As a Biologist, I value diversity. It measures the health of an ecosystem.
There might not be any other state that has the diversity that we have in Oklahoma. Make it a point to get outdoors this year and see some of the unique offerings that the Sooner State has to offer.
It is extremely difficult to pick out the top things to experience, but here are the top 10 things for you to put on your list for the new year:
Swamps of Southeast Oklahoma – Step into a world that resembles Jurassic Park as you head to the far southeast corner of the state. Red Slough is an Oklahoma Department of Wildlife Conservation (ODWC) wildlife management area, located six miles south of Haworth, that more resembles the marshlands of Florida or Louisiana than Oklahoma. 2,400 acres of wetlands are home to more than 312 species of birds, such as the roseate spoonbill, that can be seen nowhere else in the state. It is also a home to a good population of American alligators and other swamp-like creatures. There are viewing platforms scattered across the area to give birdwatchers a better vantage point. Package this trip with a stay at the cabins at Beavers Bend State Park for a great weekend getaway.
Be a spelunker – Or just immerse yourself in the past of the wilder time when outlaws like the James Gang and Belle Starr hid out in the caves of Robbers Cave State Park, just outside of Wilburton. Climbing, caving, hiking or rebelling all await this adventure in the Sans Bois Mountains. Cabins are available for rent and the lake and fall foliage are postcard worthy.
Medicinal mineral springs – In 1092 the U.S. Government purchased 33 mineral springs near Sulphur from the Choctaw and Chickasaw nations to create a national park. The springs are cold-water with high levels of sulphur, bromide and iron and stay a refreshing 65 degrees even in the hottest summer heat. Be sure to pack the swim trunks and take a refreshing dip in the crystal clear pools. The Chickasaw National Recreation Area, as it is called today, boasts over 18 miles of paved hiking trails with beautiful scenery.
Mountains in the prairie – Back before Oklahoma was a state, President Theodore Roosevelt signed a law creating the first "Game Sanctuary" located in the Wichita Mountains. Home to American bison, elk, deer and other game species, today the Wichita Mountains Wildlife Refuge encompasses nearly 60,000 acres of mixed grass prairie and granite mountain outcroppings. 240 species of birds, 50 species of mammals and 64 species of reptiles and amphibians, including the "mountain boomer" the official state reptile, can be seen here, along with a strain of Texas Longhorn cattle to preserve the cultural and historical legacy of the breed. Located just 20 minutes north of Lawton, stop by the visitors' center for maps and static displays.
Surf the sand dunes – One of the craziest sights is driving north toward Waynoka and all of a sudden, a desert appears in the middle of the prairie. The Little Sahara State Park is so named for its resemblance to the Sahara Desert. 1,600 acres of sand dunes, some of which rise 75 feet, greet visitors and offer some of the best ATV riding in this part of the country.
Going batty – Looking for a summer excursion to take the kids? Then just head to northwest Oklahoma to Freedom and the Selman Bat Cave. Every evening during the summer more than one million Mexican free-tailed bats exit the cave in search of insects. The tour provided by the Oklahoma Department of Wildlife gives information about the bats as well as transportation from Alabaster Caverns, which I recommend touring, to the secret location. But the tours fill up quickly, so register early. Combine this stop with a tour of Alabaster Caverns State Park, one of the largest natural gypsum caves in the world. Daily guided tours are offered
Can you dig it – Great Salt Plains State Park is one of Oklahoma's most unique state parks. The barren landscape of the nearby Salt Plains National Wildlife Refuge is comprised of salt leftover from an ocean that covered Oklahoma in prehistoric times, and the saltwater lake in the park, Great Salt Plains Lake, is about half as salty as the ocean. The selenite crystal dig area is located southwest of the lake in the Salt Plains National Wildlife Refuge, and access roads are available six miles west of Jet or three miles south of Cherokee. The crystal digging area is open from April 1 to October 15 from sunrise to sunset. Located just under the surface of the salt plains, these crystals usually form into an hourglass shape. Oklahoma is the only place in the world where the hourglass-shaped selenite crystal can be found. While searching for crystals, look for some of the over 300 species of protected birds that live in and can be seen in the refuge. In the fall, ducks, geese and cranes use Salt Plains as a rest stop on their migration. It's not uncommon to see more than 100,000 of these migrants in one viewing, as well as bald eagles and other bird species.
Mountains of glass – While they are not truly made of glass, the Gloss Mountains, just outside of Fairview have that appearance due to high selenite crystal content. While you cannot dig these crystals like at Salt Plains, you can see some beautiful vistas and spectacular scenery. Horseback riding, hayrides, hiking and fishing are all available at this small but unique state park.
Grass as high as an elephant's eye – well maybe not an elephant, but certainly a buffalo, and you will find tall grass and buffalo at the Joseph H. Williams Tallgrass Prairie preserve just north of Pawhuska. Nearly 40,000 acres of protected tallgrass is owned by the Nature Conservancy, and they use bison and "patch-burn" fires to protect this unique and disappearing ecosystem. The preserve is open to the public and has a 10-mile bison loop with hiking trials and scenic turnouts. The preserve has a visitor center/gift shop, and you can find out about the research initiatives and more than 180 publications in scientific journals that have been published about the preserve.
Oklahoma's tallest waterfall – If you have ever read "Where the Red Fern Grows," the images that the book conjures up might have come from Natural Falls State Park. In fact, the 1974 movie was shot here. Formerly called Dripping Springs, this state park, located about as far northeast as you can go while still being in Oklahoma, features a 77- foot waterfall cascading through rock formations and creating a hidden, serene atmosphere at the bottom of a narrow V-shaped valley. Hiking and nature trails are available, and for a unique experience rent one of the park's five yurts to stay in.
      We hope these ideas have been enlightening and helped you to realize the great abundance of outdoor activities all around us. But the key for any of these is to get outside. Grab the family, load up the SUV and introduce them to the great diversity to be found in Oklahoma.
Read more in the January 2020 issue of Oklahoma Farm & Ranch.
Let's Take A Trip – Part 1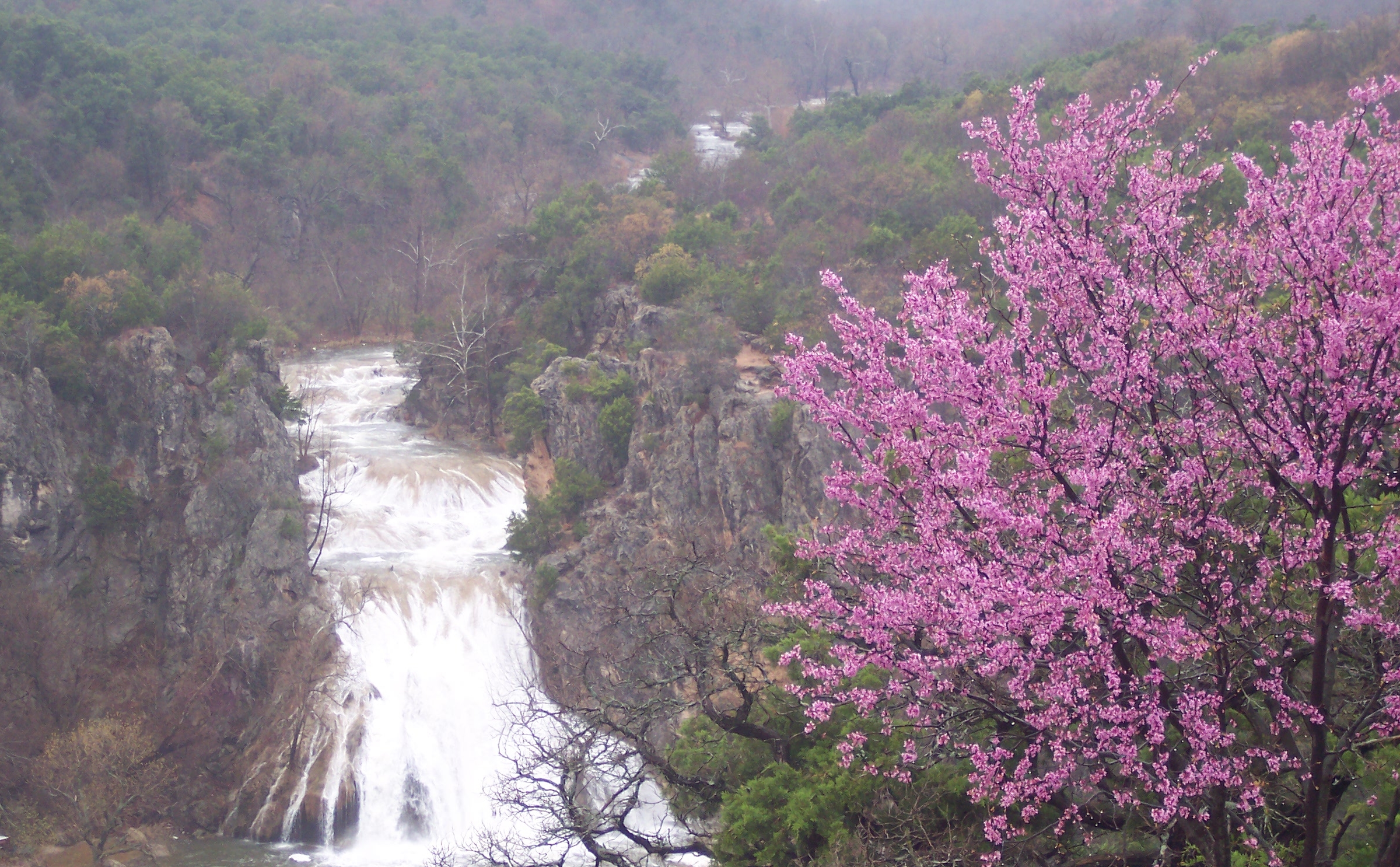 After almost two years of Covid, testing, vaccinations, boosters, illness and death, wearing masks, staying indoors and away from others, severe thunderstorms, tornados, and now war in Europe, it's time to get out and away from it all for at least a day.
Let's get on I35 North of Ardmore and begin our trip in the Arbuckle Mountains. Stop at every scenic turnout to enjoy the awe-inspiring views of the trees, valleys, and rocks that according to archeologists formed during an earthquake eons ago.
Reached by a narrow twisty highway, a sight comparable to a miniature Niagara Falls is soon revealed. Cascading 77 feet, Turner Falls is majestic. Formed by Honey Creek, it empties into a beautiful blue lake.
Although it may be tempting, climbing to the area behind the falls and sliding down the falls is prohibited by law because more than one person has drowned attempting lt.
Be sure to visit Collins Castle, built in the early 30`s of native materials as a summer home for Dr. Elizabeth Collins, a professor at Oklahoma University. It was once headquarters for the Bar C Ranch.
The entire park covers 1,500 acres and includes swimming areas, camping areas, cabins, hiking trails, caves, a water slide, trout fishing, and Look Out Point, featuring telescopes allowing you to view the entire park.
A zip line, diving, scubas, and floating on inner tubes entertains many visitors.
Children play areas, a trading post and majestic scenery attract more than 250,000 visitors each year.
Come for a day or a week and enjoy all the park has to offer.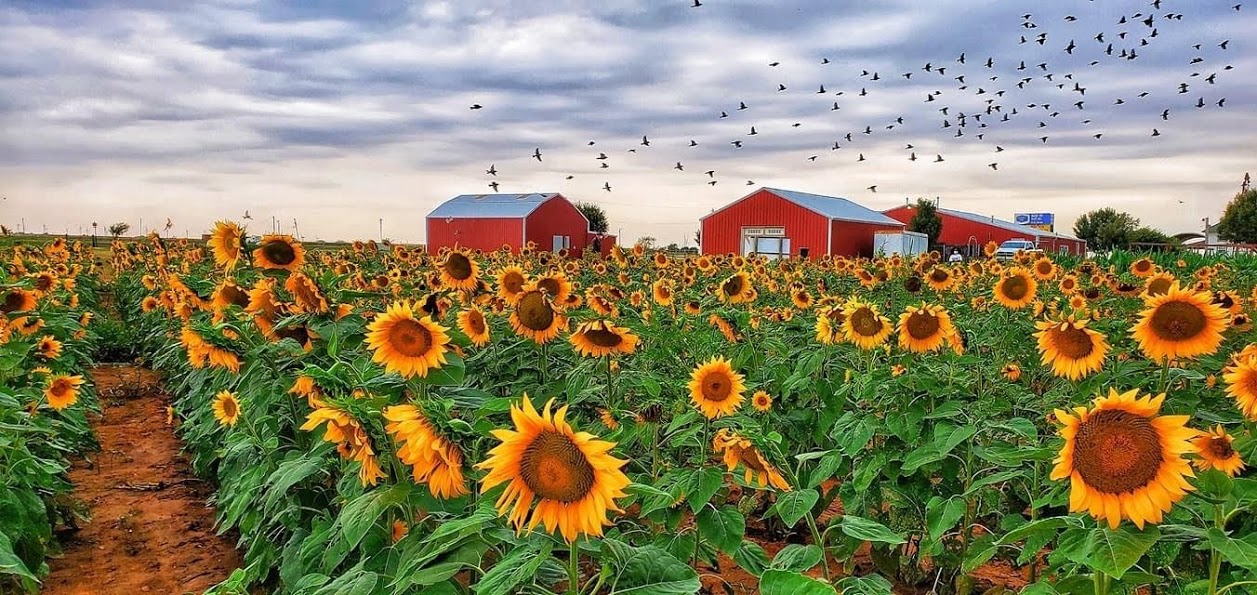 Fields that once were prolific with wheat have now found a new purpose at P Bar Farms in Hydro, Okla. Now, colorful sunflowers abound, attracting visitors from all across the state who come for photo opportunities. In another 10-acre section, specialty corn is grown specifically to be mowed to a specific pattern, transforming into a maze that sees upwards of 15,000[LM1] visitors annually.
It's not that Loren and Kim Liebscher couldn't make a traditional farm work; it's more that they were looking for something fun to do for a few years.
P Bar Farms is named for Travis Payne, Kim's father. "We used to farm traditionally here. We were farming and her dad got sick. I kind of lost my love to farm, so I began praying that God would give me something to put the fun back into farming," Loren shared.
It was just two weeks later that God delivered a sign that would change the course for P Bar Farm. "I read in a Progressive Farmer magazine about a guy doing a corn maze in Nashville, Tenn. We found out that the first Annual Corn Maze Convention was only two or three weeks after that," he said. "So, we drove to Salt Lake City for the first convention, and that's how we got started."
Loren and Kim admit they knew nothing about corn mazes, but they learned plenty during the convention. "The Convention was actually part of a franchise company that was looking to add farms. We joined, and for the fee they gave us all the secrets and designs for the maze and everything," Loren explained.
After a few years, the Liebschers opted out of the franchise. "We felt like we knew what we were doing by then," Kim said.
The first P Bar Farms corn maze was grown and cut in 2001, but then 9/11 happened. The uncertainty that plagued the country made its way to Hydro, and it wasn't a given that the corn maze adventure would even get out of the gate. "We thought that was going to be the end. We had hoped that if we got 1,000 people to come during that first season, at $5 a person, we'd be doing well. A $5,000 addition to your income is pretty good for a farmer," Loren said. "That first year we wound up having close to 5,000, even with 9/11. We had one customer explain it to us. She said, 'I've never felt so safe having my kids so lost, but it's a family farming operation, and nothing's going to happen here on the farm. It has that good feeling where people feel safe and comfortable."
Kim added, "We just wanted to have something fun that was light-hearted. We didn't anticipate being busy – we were just having fun. We thought we could do it, but if not, we don't have anything to lose."
With the success of the first year, the Liebschers knew they would do the corn maze again. They built a barn and added a new concession stand. They also interviewed some tough critics; teachers that came out to the farm. "We had a retired schoolteacher that worked for us, and she said if you want to get the truth to interview teachers. So, we created a survey that all the teachers filled out, and everything that came back said it was wonderful, a great concept, and a great idea," Loren said. "But, they added they weren't coming back until we got indoor bathrooms. That was the number one request from the teachers, so we definitely made that change."
As the interest in the corn maze grew, P Bar Farms continued to expand. First a petting zoo was added, and then a new barn. With more requests for parties, more buildings went up. The Liebschers wanted the property to resemble an old family farm, so they purchased an old home in Hinton, Okla., and moved it in. "We wanted to use it as a bed and breakfast. That never really worked out, but we rented it for a while. Now it's regularly booked as an Airbnb. People like to get away and get out in the country," Kim shared.
There have been very few noticeable failures in the past two decades. The only other memorable one was a venture with a greenhouse. "With the wind in Oklahoma, that didn't work for us. We had put asphalt in the bottom of our greenhouse, so we used that and put in a new party barn," Loren said.
Soon a pumpkin patch was added to compliment the maze and the rest of the farm. "We've always had a pumpkin patch. The problem is pumpkins can be really hard to grow if you don't rotate them, so we don't do that real well. Our first year we had more than we could sell, but after that we really were going through them. Now we're going through 15-20,000 pumpkins a year, and we can't grow that many, so we just buy them," Loren added.
It was only a few years ago that the Liebschers added a sunflower patch to the mix, taking up a few more acres covered by the pivot. "The first year they were fun and pretty, but we didn't have a lot of visitors. This year has been different, and I think our daughter is probably the reason for that success. She has a marketing degree and it's been unbelievable," Kim said. "Oklahoma Tourism did a post about a 'mystical sunflower patch.' Now people are here all the time while they're blooming to take photos."
The sunflower patch is just a few acres, but the Liebschers feel it's the perfect size. "We have found that the smaller the patch, the better people take care of it," he said. "Plus, sunflowers are tricky. They either make it or they don't, but this has been a very good year for them.
Read more in the October issue of Oklahoma Farm & Ranch.
The Oklahoma Conservation Historical Society's Oral History Collection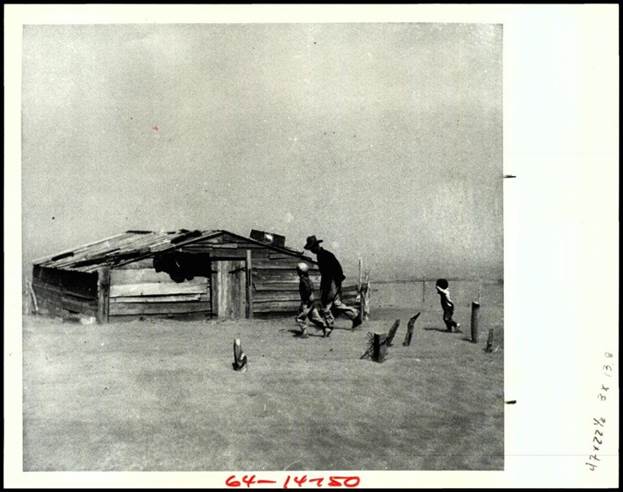 Listen not only to hear, but also to see and to act.
Listen to the words of the pioneers of Conservation and envision what they have seen and what they hoped for, and then practice it today and tomorrow on Oklahoma's farms and ranches and within its growing urban areas.
That's getting down to the subsoil or rather the essence of the Oklahoma Conservation Heritage Oral History Collection.
Just over two years ago the Oklahoma Conservation Historical Society announced the launch of this priceless conservation collection of passion, knowledge and effort.
The Oklahoma Conservation Historical Society partnered with the Oklahoma State University Library to record and archive interviews with individuals who have made contributions to conservation in Oklahoma. Audio, video, and transcripts of the interviews are posted digitally in the new Conservation Heritage Section of the OSU Library's oral history collections. Interviews are available to researchers and the general public.
Oklahoma holds a unique place within the American conservation movement as the epicenter of the worst man-made ecological disaster in history, the Dustbowl. Out of the 1930s conservation districts were created by local farmers and ranchers who recognized the need to implement voluntary conservation practices on private working lands. Over the course of the last 80-plus years, Oklahoma has been a leader in the adoption of practices that benefit the health of our soils and water while building resiliency on our farms and ranches.
The Oklahoma Conservation Historical Society was formed in partnership with the Oklahoma Association of Conservation Districts, the Oklahoma Conservation Commission, the Natural Resources Conservation Service, the Oklahoma Chapter of the Soil and Waters Conservation Society and the RC&D Association. The Oklahoma Conservation Historical Society believes these interviews will preserve the storied and proud history of conservation in Oklahoma. This collection is a celebration of individuals and programs that have contributed to making Oklahoma known across the country as a leader in conservation.
Let us give you a couple of examples – Creede Speake, Jr., and Hal Clark – out of the many outstanding interviews you'll hear in this collection.
Speake, born in Ardmore, Okla., in 1924 and a long-serving board member of the Caddo Watershed Association and of the Arbuckle Conservation District in Oklahoma, recalls his youth and his early interest in learning to be a pilot. He discusses some of his experiences serving during WWII and the Korean War and explains choices he made regarding his career as a rancher. Speake also talks about his involvement with conservation issues in his region and in the state and in particular his role in obtaining easements for upstream flood control structures.
A ways into the interview, Speake discusses managing grasslands. He said, "Native grass in this country is the most valuable thing you can have. You don't have much at all, just management. Keep the weeds off of it, don't have to fertilize it, but the four major native grasses we have here, they're good. You get better gain and everything off of it. I wish everything I had was native grass. We've got a lot of Bermuda and other kinds of grass we have to fertilize."
Clark, a graduate of Texas Tech University with a degree in Animal Science and Range Management, recalls his youth in the Panhandle of Oklahoma and Texas, relocating a couple times due to his father's work, and his earliest memory of the impact of a flood. He discusses his early awareness of the issue of erosion and explains some conservation practices he has used to combat it. He also shares some of his experiences as a longtime member of the Cimarron County Conservation District (Oklahoma's farthest western county) and his time as a member of the Oklahoma Conservation Commission.
Clark said, "We have a drier climate in Cimarron County, so it affects us in a lot of ways. The conservation challenges we have—Jimmy Emmons at (Dewey) County can grow a rotational crop that we can't at Cimarron County because we don't have the moisture. I wish we had rotation crops, something that could be plowed up (to improve the soil). I planted—on my farm, I planted Austrian winter peas a couple of times. Like that, it's a legume. Cattle did pretty well on it, and I plowed it under to help the texture of the soil, because that's the big issue now, people understanding what's really underground—what's in the soil that makes up what we're trying to utilize to grow our crops or grass, so that's a really important issue right now."
Trey Lam has farmed on his family's operation near Pauls Valley, Okla., for more than three decades and has served as the Executive Director of the Oklahoma Conservation Commission for more than five years. He has extensive knowledge of soil health, and he will quickly say that the bulk of it came from those two sources. He is quick to say that to lead in conservation you need to listen to soil health mentors and to the land itself.
"Please take the time to listen to these great Oklahomans tell their story of bringing our state back from an environmental disaster," Lam said. "What a fantastic project teaching history in the first person. Conservationists want to leave the land better for the next generation. Now that generation can learn how these pioneers did it. We owe a huge thank you to the Oklahoma Conservation Historical Society."
Sarah Blaney is Executive Director of the Oklahoma Association of Conservation Districts.
"Oklahoma's conservation history is not just ours, but that of the entire nation," Blaney said. "Many of the practices that have been adopted in soil and water conservation started right here in Oklahoma. It is wonderful that for generations to come, people will be able to learn from these conservationists. The Oklahoma Conservation Historical Society should be commended for doing an outstanding job preserving this important piece of rural, agriculture history."
Ben Pollard is President of the Oklahoma Conservation Historical Society.
"We are most appreciative of the efforts of the Oral History Research Program at the OSU Library for working with us to create this collection," Pollard said. "We have a proud conservation history in
To listen to the 23 completed oral histories, please visit: https://library.okstate.edu/oralhistory/digital/ or okconservation.org/history.
Read more in the July issue of Oklahoma Farm & Ranch.