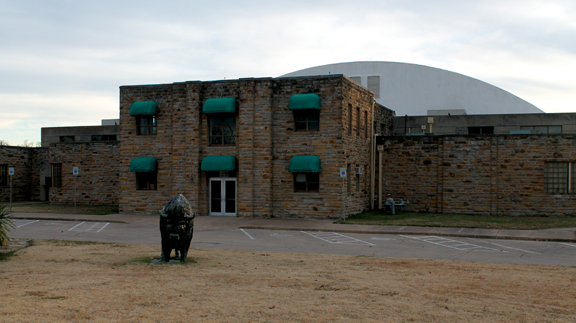 By Judy Wade
Many people consider the Hardy Murphy Coliseum in Ardmore an equine facility only. It does, indeed, host a myriad of horse-related activities each year including two Market Place horse sales, Southwest Reining Horse Association events (held here for 31 years), Arbuckle Mountain Cutting Horse Futurity, Jackson Hall Barrel Futurity, National Ranch Sorting, Jud Little Barrel Bash, World Junior Team Roping Championship, Barry Burk Junior Roping Roundup, numerous horse shows and the list goes on and on.
It is also home to a variety of non-horse events including the annual Arts and Crafts Show, Weimaraner Dog Show, Carter County Free Fair, Carter County Junior Livestock Show, Monster Truck Event, Championship Bull Fights, Sooner Kart Nationals, various concerts and a circus.
The first building was constructed in the mid 1930's by the Works Progress Administration. The arena was 270 feet by 130 feet, and for the first 10 years was a roofless stadium known as the Municipal Exhibition Building. During a rodeo, a bull jumped the fence, charged uphill through scattering spectators and did a swan dive into the parking lot, where it had to be euthanized.
During the late 1940's a roof was added and a better fence separated animals and spectators. It hosted a livestock show, professional rodeos, the Ringling Brothers Circus and other civic events. To read more about the Hardy Murphy Coliseum, pick up the January issue at a location near you.