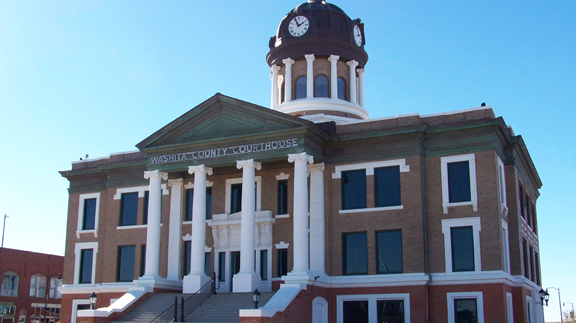 By Staci Mauney
The Washita County Courthouse, Cordell, Okla., has a colorful history that began long before statehood. Stories abound about the location, with local residents relating details of stolen court records ending in a gun fight, a mysterious fire and most recently, a movie filmed with A-list celebrities. The City of New Cordell, commonly known as Cordell, came into existence in 1897 when H. D. Young, a local merchant who had set up shop one and a half miles from the present location, moved his general store and post office to the new site.
Throughout the years, the courthouse has been the scene of drama and suspense. In 1899, two local homesteaders and farmers, A. J. Johnson and James C. Harrel, donated land for the courthouse square and arranged for an election to have the county seat moved from Cloud Chief. Controversy surrounded the city as questions of legality arose after the election.
Because Oklahoma was at the time still a territory, a county seat could only be established by Congress. The election was finally sanctioned by Congress in 1906, but in the meantime, the original, wood frame courthouse was moved from Cloud Chief to Cordell's present location in 1900. According to local lore, a gun fight broke out when some impatient citizens moved the court records in the middle of the night from Cloud Chief to Cordell. Even now, residents recount how the county seat was "stolen." Read more in the OKFR January issue.