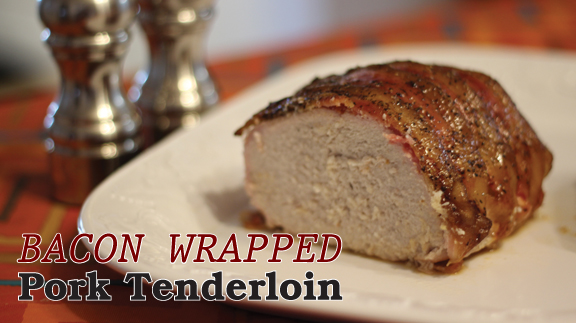 By Lacey Newlin
Bacon Wrapped Pork Tenderloin
Serves 6
Cook time: 40 minutes
Ingredients
5 slices smoked uncured bacon
1 pork tenderloin (1 pound)
1/4 teaspoon cracked black pepper
1/4 cup packed brown sugar
2 tablespoons apple juice
1 teaspoons Dijon mustard
Dash ground nutmeg
Directions
Preheat oven to 400 degrees Fahrenheit. Wrap bacon around meat. Place in foil-lined pan sprayed with cooking spray; sprinkle with pepper.
Bake 20 minutes or until the internal temperature reaches 135 degrees Fahrenheit. Meanwhile, bring remaining ingredients to boil in saucepan on medium heat, stirring occasionally.
Brush meat with glaze using pastry brush. Bake 10 minutes or until done (at least 145 degrees Fahrenheit).
To achieve a crispier bacon top, broil meat for 1 to 2 minutes or until desired crispiness. Cover loosely with foil. Let stand 5 minutes before slicing. To cook a larger tenderloin, double the ingredients and cook time, but watch the meat closely so it does not overcook and become dry.