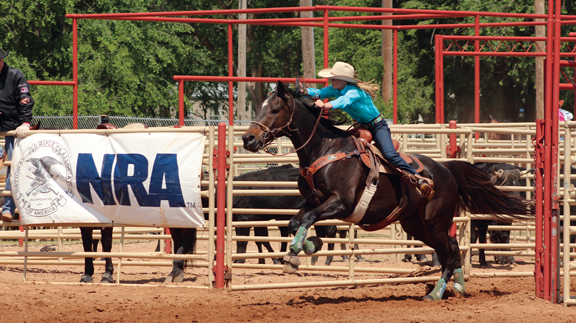 By Ddee Haynes
It is late Sunday afternoon as my 13-year-old daughter and I pull out of Perryton, Texas, pulling a 28-foot horse trailer and three horses heading back to Oklahoma. We have been in Perryton since late Friday afternoon for a two-day rodeo. The first performance started at 7:30 a.m. Saturday morning and then again on Sunday morning.
This weekend was hot, windy and heart breaking. For anyone who has ever traveled the rodeo road, you completely understand how I was feeling. As I look across at my daughter's dirt-streaked face peacefully sleeping in the passenger side, I think if only I could know which days were going to be bad, then we could just stay home and not have to go through the heartbreak and disappointment. As my mind is mulling this over, a song by Frankie Ballard comes on and the lyrics, "there's been highs and there's been lows, we lost it all and we rolled some sevens" catches my attention and makes me smile. No better words could ever describe the life of a rodeo mom.
Any sport involves ups and downs, but rodeo is different for several reasons. First, there is the number of chances to correct a mistake. In other sports such as baseball, basketball or football, the players have four quarters or nine innings to make up for a bad play. In rodeo, the player is in and out of the rodeo arena in less than 30 seconds with no second quarter or inning for redemption. They have only one shot to do it right.
For more information, pick up the latest issue of OKFR!