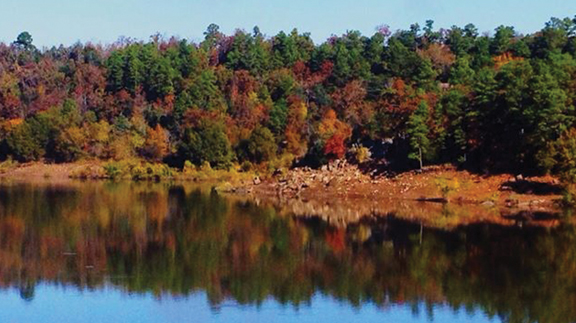 By Laci Jones
Debra Reininger, park manager of Lake Wister State Park, is always shocked when people tell her they have never heard of Lake Wister State Park near Poteau, Okla., and Heavener, Okla. However, she said they love the tranquil environment whenever they get here.
"There is something mystical at Lake Wister State Park that grabs people when they get here," she added. "People want to come back for more whether it's the relaxation or the view."
Located near the Arkansas border, the area of the state park was home to various Native American tribes. The Choctaw Nation relocated to the fertile river valleys of the southeast Oklahoma region. The nation also had a strong tribal government with well-established laws.
"The Choctaw light-horsemen were famous for their courage in bringing law and order to Indian Territory," according to the Lake Wister State Park Background/History document. "The home of Peter Conser, one of the leaders of the light-horsemen, is located near Lake Wister.
The Poteau River, the only Oklahoma river that flows north, flows into Lake Wister. Lake Wister has 7,300 surface acres and 115 miles of shoreline. Wister Lake was authorized for flood control and conservation by the Flood Control Act of 1938.
Pick up the latest issue of OKFR to learn more!