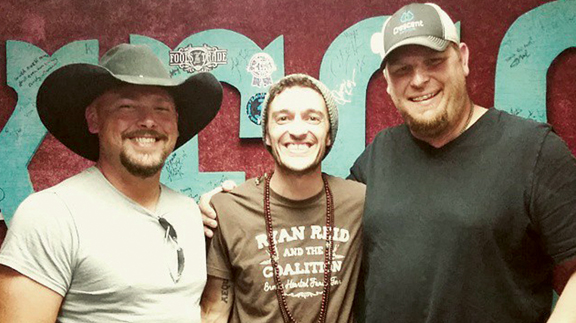 By Dillon Steen
With a population of just over 12,000, Elk City does not have the name recognition such as Tulsa, Stillwater, etc., but you will find a man who has the love of music running through his blood just as thick as you will find anywhere else in this country.
Brandon Hardin of 96.5 KECO is not an Oklahoma native; in fact, he is the son of a Georgia peach and a Texas roughneck. Although he was born in Pampa, Texas, Hardin was raised in the majestic wilds of western Oklahoma and still calls them home. At 96.5 KECO, Hardin opens doors for many artists and makes them feel like they can call western Oklahoma home also, at least for the time they spend with him. KECO has been in this area for about 30 years, and it has always been a mainstream top 40 country music station, Hardin said.
"Four years ago I was going to take a job across town, and they offered me 3 hours in the afternoon to fill as I saw fit," he explained. "After school and after work drives were mine with no real instruction. It was nerve wracking to say the least, and that's how the Backroads got started."
The top link in the chain said he wanted "some of that Red Dirt stuff" and eventually it became predominantly Red Dirt/Texas Country/Americana. The more "pop" they got, the more popular the show became.
Hardin was playing music from "new country" to country music that sounded like it actually belonged in the genre. Now, sponsorships are steady, and he is on the air for four hours. However, Hardin's first music love was not red dirt country.
For more information, read the latest issue of OKFR!