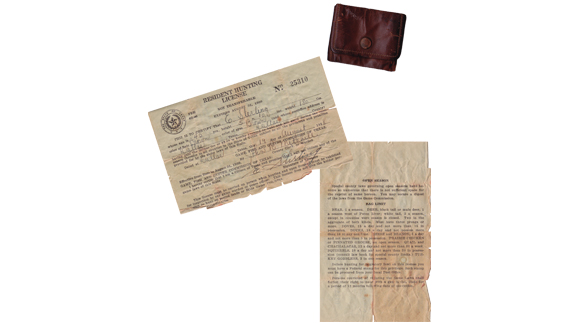 By Russell Graves
Seventy-eight years ago, E. Sterling stepped into an office somewhere in Dallas and smacked down $2 to purchase a Texas hunting license from agent John R. Mitchell.
The license was issued by the Texas Game, Fish, & Oyster Commission (now known as the Texas Parks & Wildlife Department). Now, I don't know Mr. Sterling but I do know that he was 5′ 10″ tall, 180 pounds, brown hair, brown eyes, and was 40 when he purchased the license (that means he was born in 1898).
Around the turn of the new century, a twist of fate put his license in my hands. I found the small leather pouch a few years ago when I was digging through a box of stuff that my mom set aside for me.
As I sifted through pictures and trophies – all of which were recognizable – this little leather pouch, however, was foreign. I asked my mother about it and she told me that she put it in my box because I might like to have it. When I opened the pouch, I unfolded this old, yellowed license.
My mother told me that she found the pouch back in the early 1960s. She and my dad had only been married a few years when she found a hunting vest at a garage sale and bought it for him. When she got the vest home, she found the pouch in one of the pockets and then put it away where it sat for years.
I had really forgotten about the license until a couple of days ago when I found it in a box. When I looked at the date, I couldn't believe that it was nearing the 71st anniversary of the transaction.
Read more in the latest issue of OKFR!