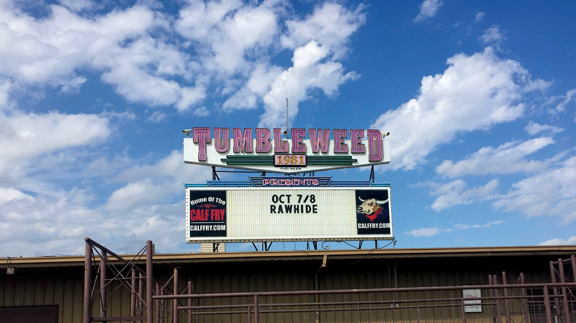 By Dillon Steen
Oklahoma has a rich history in being the birthplace of Red Dirt music so it is just natural that many of the live music venues also have attention-grabbing history. Oklahoma offers many venues to hear your favorite Red Dirt artists, more than I can name in one article. I am not sure there is a complete definitive list. See this music flows so thickly through artists' veins that there is no way to contain it to just a few stages.
Good music venues bring in artists that patrons want to hear while also introducing them to new music. These venues treat the bands and patrons with respect while promoting the shows. They make sure all of the "trash" is taken out, making it a fun evening for the bands and patrons. For me, what makes a venue so great is friendliness, fair prices and good music.
The Arbuckle Ballroom in Davis, Okla., has a history that is rich with stories from the biggest names to the artist just starting out. The Arbuckle Ballroom was open for more than 40 years. Legendary artists including Johnny Cash and George Strait have performed at the ballroom. It was rumored earlier this year that the Arbuckle might reopen, but so far that has not happened. If it ever does, it has richness inside its walls that no amount of money could pay for.
When I asked folks on social media to list some of their favorite venues, I got the usual names: Cain's Ballroom, Wormy Dog Saloon, Tumbleweed, all the Gilley's, and even the live music stages in the casinos got very favorable mentions. Some are even owned by artists themselves: Grady's 66 Pub, owned by Grady Cross of Cross Canadian Ragweed fame, and Stoney Larue's Music House has just recently been opened, also.
Read the November issue to learn more about red dirt stages!