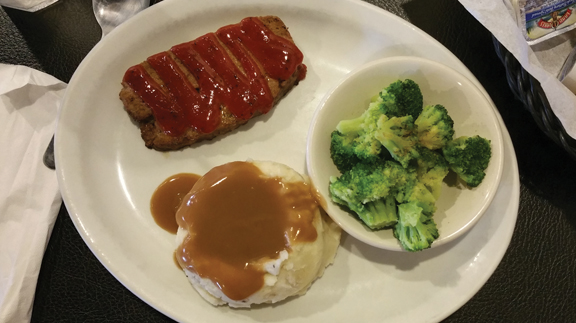 By Joanne Jones
Several years ago, a restaurant in Shawnee, Okla., served a fabulous fried chicken salad. A friend of mine and I used to go get that salad whenever we were in town. Then the restaurant suddenly closed. Those of us who loved that salad were saddened that it was no longer available. That same friend asked around and was told they moved to Meeker, Okla.
This summer we stopped in when we were on a wine tasting tour of the area. Sadly, we found out it was not the same restaurant. We did, however, discover a restaurant in Meeker called LaDonna's Grill.
The inside of the building had a simple design. A television sat in a corner at the front, but there were no other decorations in the room, just tables and a few booths spread out around the room. The tables were spread out enough to give the diners a sense of privacy and not piled up on top of each other. The restaurant had a handwritten specialty sign in the entryway with ten different desserts listed.
On our first visit, we went with something different from our normal fare. My friend had an Indian taco, and I had liver and onions with white gravy and mashed potatoes, fried okra and a roll. We were pleasantly surprised by the generous portions on our plates when they arrived.
I love liver and onions, but so few people seem to like them. LaDonna's liver and onions were pretty good, but to be honest, the homemade mashed potatoes were the best thing on my plate.
To learn more, pick up the February issue of OKFR!