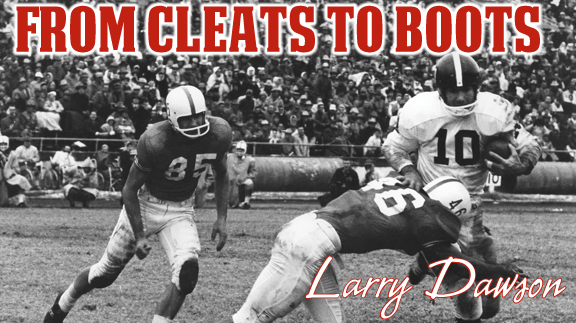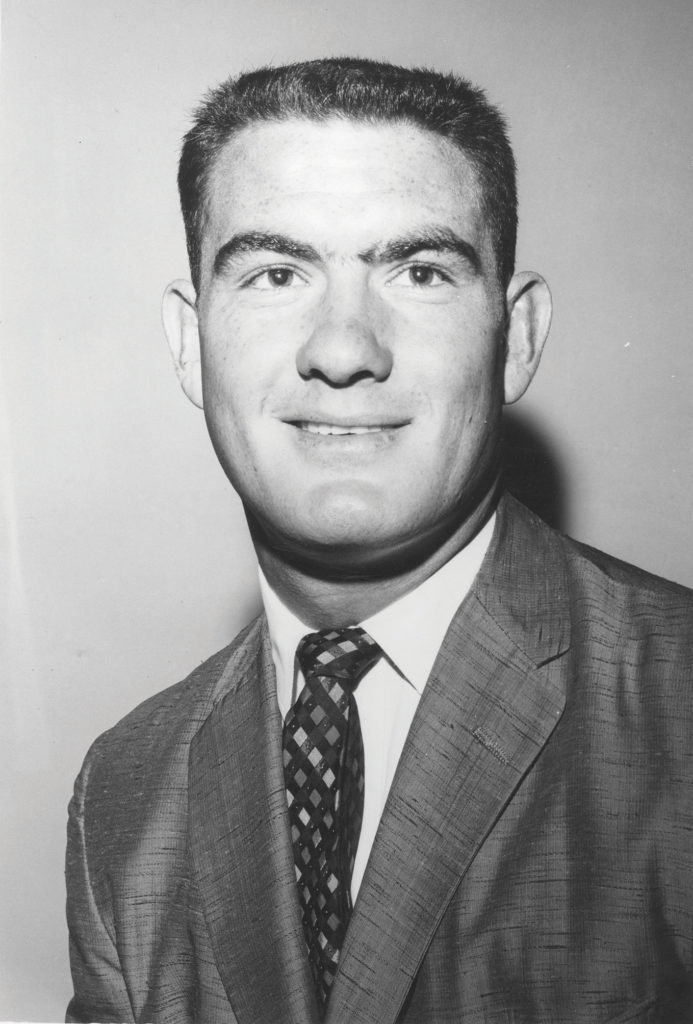 From Cleats to Boots
By Laci Jones
Cowboys live by a code where their word is their bond and a deal is finalized by shaking hands. Larry Dawson, rancher, rodeo cowboy and former professional football player from Arnett, Okla., spent his 78 years of living following this code and developing friendships that have lasted a lifetime.
"I've made friends all over the world in the rodeo business or sports," he added. "Everywhere you go, you've got a friend. Cowboys are spread all over the world."
The cowboy was born in January 1939 to C.H. and Faye Dawson in Sunray, Texas. He had two brothers, Fred and Rooster, and one sister, Harriette. His father worked in the oilfield, and the family moved to Stinnett, Texas. While he later became known for his expertise in the rodeo arena, he was known for his athletic ability on the field.
"My life and soul was sports," he explained. "I played football, basketball and ran track."
By the time he graduated high school in 1957, the athlete lettered in football all four years, and he even lettered in basketball and track. He led his football team to the 1956 State Football Championship and was named All-State Football Team.
The Texas native went on to attend Texas Christian University on a football scholarship. The football star led TCU to Southwest Conference Championships in 1958 and 1959. He also played in the Bluebonnet Bowl and the Cotton Bowl Classic under the coaching of Abe Martin.
While he could not compete in rodeos in high school because of his athletic requirements, Dawson was a member of the TCU rodeo team. He got his start in steer wrestling by accident. Dawson's cousin needed help working cattle in 1953. When Dawson roped a Hereford cow in the pasture, he lost his rope. The teenager went and caught the cow by the horns and threw her down to get his rope back.
However, he did not compete in a rodeo until he was in college in the TCU All-School Rodeo, where he won the bull riding and the bulldogging. He went on to qualify for the College National Finals for two years in steer wrestling and one year in bull riding.
The college student's mornings began with feeding cattle near Rome, Texas, for the then-president of the Texas Angus Association, Ray McCullough.
"I ran a few myself because I was bulldogging," Dawson explained. "So, I would get up at 4 o'clock in the morning and go feed cows, and then I would get back to school."
He graduated in 1961 with a bachelor's degree in physical education from TCU. A bone spur in his foot prevented him from being drafted into the U.S. Army, but his football career was not finished. Dawson and his teammate and college roommate, Bob Lilly, were drafted to play with the Dallas Cowboys.
Read more about Larry Dawson and his life in the March issue of OKFR.