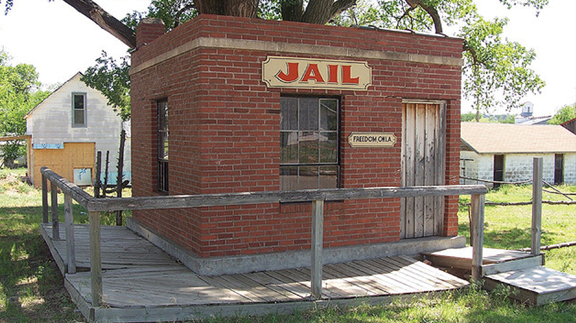 By Rhonda Shephard
Freedom, Okla., in Woods County is a special kind of town that does things its own way. Located five miles west of Alva, the self-proclaimed "Queen of the Cimarron," this charming little town is worth a day trip to far northwest Oklahoma.
An area steeped in history, Freedom is near Turkey Creek, the scene of the last known fight between the Cavalry and Plains Indian Tribes in 1878. Part of the Cherokee Strip run in 1893, Freedom became a certified city in 1925 and holds the distinction of Oklahoma's smallest certified city. Pulling into the city limits of Freedom, visitors do a double take.
For a brief, unforgettable moment you'll swear you've been transported into the 19th century or a western movie set. Buildings on Freedom's main street are clad in timber planking, and if not for the cars parked in front, you'd question your time and location. Streets reflect the western historical flair of Lasso Lane, Cimarron Pass, Frontier Lane, Dusty Trail, and Saddle Horn Way. Freedom is more than a great photo-op.
August will be a great time to visit Freedom for the Annual Freedom Rodeo and Old Hand Reunion. This year marks the 80th anniversary the third weekend in August on the 17th thru the 19th. Along with all the color and excitement of an open rodeo, activity includes a chuck wagon dinner, a rodeo dance, a fine art and western craft show, cattle drive and the highlight of the event, the Great Freedom Bank Robbery and Shootout held on Main Street. If you ignore the pickups, you'll believe you've been transported back to a rustic cowtown and a band of desperadoes with no good intent. For more information on the rodeo phone 580-621-3276. The town of 300 residents swells to thousands during this event.
Learn more in the July issue of OKFR!