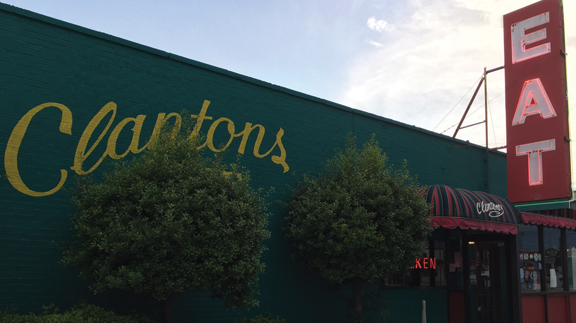 By Laci Jones
The state of Oklahoma is one of only two states to have a state meal. The Oklahoma state meal consists of fried okra, cornbread, barbecue pork, squash, biscuits, sausage and gravy, grits, corn, strawberries, chicken fried steak, pecan pie and black-eyed peas.
While this may be too much food for one meal, I set out to find an Oklahoma restaurant that not only serves this meal but does it well. I came across a restaurant tucked away in the northeast corner of Oklahoma.
Located on Route 66 in Vinita, Okla., is Clanton's Café, which has been open since the early 20th century. Grant "Sweet Tator" Clanton opened the Busy Bee Café in 1927.
"Sweet Tator was known for coming out and banging a pot with a spoon to announce to the town locals that lunch was ready," according to the Clanton's Café website. "The local merchants would then close their books and head to the Busy Bee to dine."
The first Clanton's Café opened in 1930, but Cleve and Ma Clanton moved the café to its current location on Illinois Street in 1947. Ownership of the café changed hands throughout the years. Melissa Clanton-Patrick and Dennis Patrick have been operating the historical restaurant since 1997.
Bringing my appetite, I made the drive on historic Route 66 and arrived at the forest green building with Clanton's Café scripted in bright yellow. The vertical neon "Eat" sign made me nostalgic for a different decade.
Pick up the July issue of OKFR to learn more!