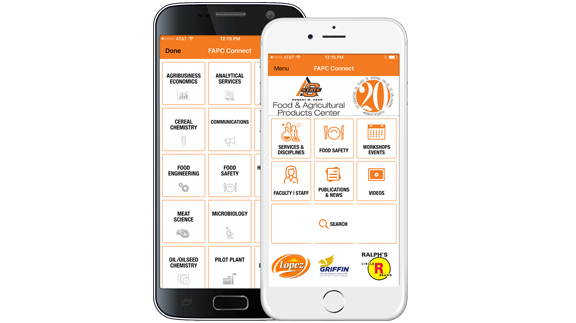 By Melanie Jackson, FAPC Communications Graduate Assistant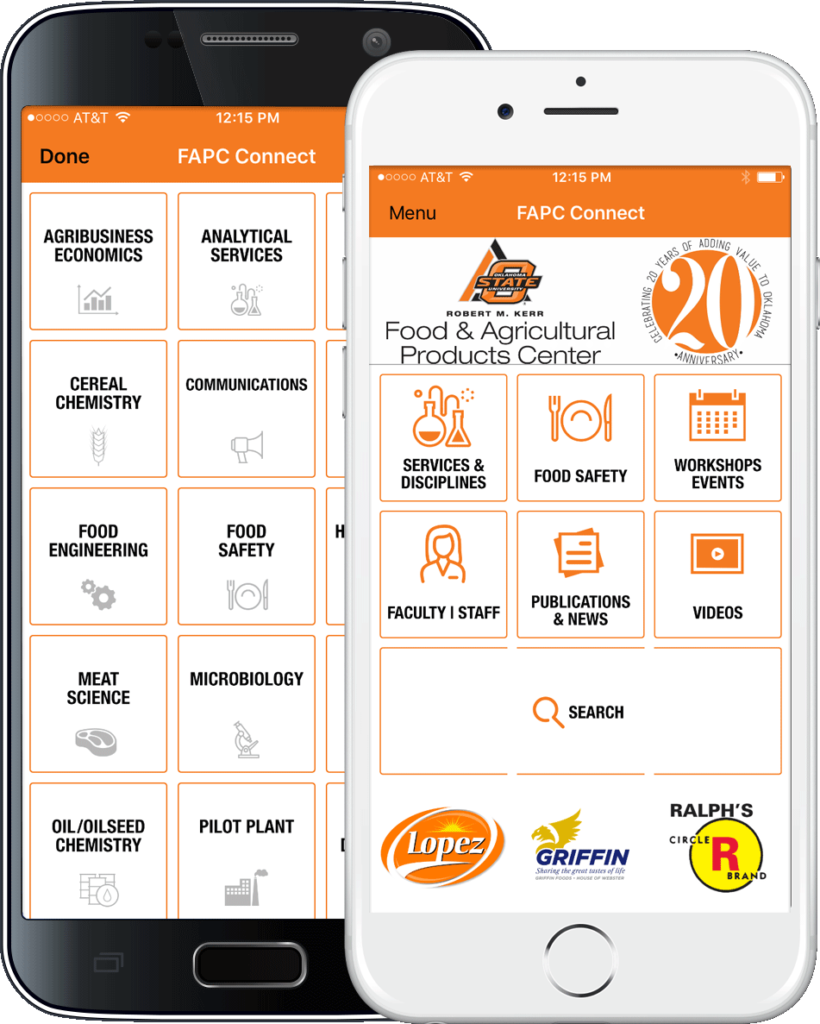 (Stillwater, Okla. – July 6, 2017) Oklahoma State University's Robert M. Kerr Food & Agricultural Products Center is providing food safety information at users' fingertips with a new mobile app.
The FAPC Connect App, available for download on both the App Store and Google Play, offers food safety and other food-related information on the go, said Mandy Gross, FAPC communications services manager.
"Food safety affects food processors and consumers alike," Gross said. "Each year about one in six Americans get sick from foodborne diseases. FAPC strives to meet the food safety and security needs of the food industry, and the FAPC Connect app is another way to meet these needs."
The app allows users to select topics of interest and get notified when new content is added; access articles, videos and training by FAPC topics and experts; and ask experts to get answers on various food-processing topics.
"Those who download the free app can be on-the-go and in-the-know when it comes to food safety and other food-related information," Gross said.
Donations from J-M Farms, Dvorak Farms, Unitherm Food Systems, Lopez Foods, Griffin Foods, Ralph's Packing Co., deVine Water Co., Shawnee Milling Co. and Clements Food Co. helped support the creation of the mobile app.
Industry support was key in creating the app, said Roy Escoubas, FAPC director.
"The food industry understands the importance and necessity of having a mobile app that provides information about food safety, processing and FAPC in general," said Roy Escoubas, FAPC director. "We would never have been able to develop and launch the app without the help of our industry sponsors."
The launch of the app coincides with FAPC's 20-year anniversary. Since 1997, FAPC has kept food and agricultural processors and entrepreneurs on the forefront of cutting-edge, value-added processing and technology. The center, a part of OSU's Division of Agricultural Sciences and Natural Resources, has assisted more than 1,000 Oklahoma clients through 3, 000 technical and business projects.
"I can't think of a better way to help celebrate our 20-year anniversary than with the launch of the FAPC Connect app," Gross said. "We are continually searching for new and improved ways to distribute information to help the food and agricultural industries and consumers in general. The mobile app provides another avenue for the center to reach more people."
To download the app, text FAPC to 80802 or visit http://www.fapcconnect.com.
– ### –