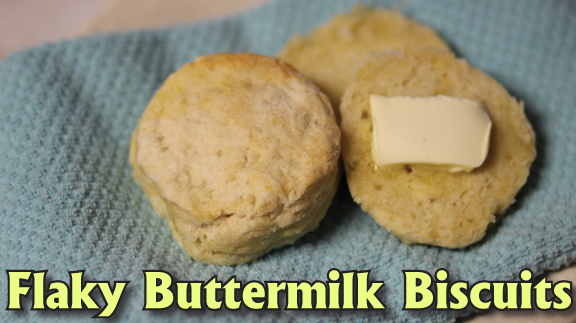 By Lacey Newlin
Flaky buttermilk biscuits are my favorite breakfast meal, especially if they are smothered in gravy! This recipe is super easy, and stores well in the freezer so they can be enjoyed for days on cool summer mornings–God willing.
Total time:  30 mins
Serves: 6-8
Ingredients
2½ cups all-purpose flour, plus more for dusting
2 tablespoons baking powder
1 teaspoon sugar
1 teaspoon salt
8 tablespoons cold, unsalted butter
1 cup buttermilk
2 tablespoon salted butter, melted
Instructions
Preheat oven to 425 degrees Fahrenheit. Sift flour, baking powder, sugar and salt into a large mixing bowl. Transfer to a food processor. Cut butter into cubes and add to flour, then pulse 6 or 7 times until the mixture resembles rough crumbs.
(Alternatively, cut butter into flour in the mixing bowl using a grater, fork or a pastry cutter.) Return dough to bowl, add buttermilk and stir with a fork until it forms a rough ball (don't worry if it is a little sticky). Turn the dough out onto a floured surface and roll it into a rough rectangle, about an inch thick. Fold it over and gently roll it down again. Repeat 6 times.
Gently roll out the dough some more, so that it forms a rectangle. Cut dough into biscuits using a floured glass or biscuit cutter. Do not twist cutter when cutting; this will crimps the edges of the biscuit causing it not to rise. If you have scraps just reform a rectangle and cut additional biscuits.
Place biscuits on a baking sheet and bake until golden brown, approximately 10 to 15 minutes.