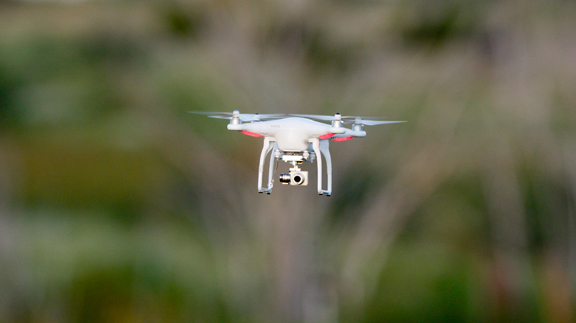 By Russell A. Graves
The feeling is scary and amazing all at the same time.  Within minutes of my new unmanned aerial vehicle (UAV), or drone, arriving at my rural home north of Childress, Texas, I have it unboxed and ready for flight.  Using technology not even available just a few years ago, I held the remote controller in my hands while I looked at my phone that's attached to the controller.  With a wireless connection, I can see on my phone what the UAV's camera sees, and while the craft is still on the ground, I'm enthralled.
Starting the drone, the props instantly whir to life.  While the craft idles, I go over my mental checklist on how to make it fly.  Taking a deep breath and with a bit of nervousness, I accelerated the craft.  Dust wafts from beneath it as it escapes the bounds of gravity for the first time under my control.  In flying, altitude in an asset, so I accelerate the craft to climb and clear of any obstructions.  Within a couple of seconds, it's 100 feet above my front yard and hovering.  Looking at the drone and then back at my iPhone, I see my house and yard in a way I've never seen it before.
The way to learn to walk is to take baby steps – the same as flying a drone.  My first baby step in learning to fly was to travel linearly – straight away and straight back.  As I fly, I can see my property in an intimate way that I've never seen before – every tree and gully is clearly visible in astounding detail.  I've flown over the place in a helicopter and airplane before, but I've never been in control of the craft.  The ability to fly so low and see the ground below in such intricate detail is empowering.  Before long, I've flown and photographed my whole property and built a cache of photos that I can analyze once I'm done flying.
Brief History of Drones
UAV's have been around for a while and have been used since the dawn of flight.  As the mechanical age matured, the military began to perfect radio controlled technologies, and UAV's were used almost exclusively for military uses.  At the dawn of the 21st century, their use became more high profile as the technology advanced to the point where images were streamed from battlefield environments.
Over time their use perfected from almost strictly surveillance to more and more tactical roles as they now have the ability to be flown remotely and deploy armaments.  Today, the United States Air Force flies three times as many UAV's as they do manned vehicles.
Like many technologies, drones eventually trickled into the civilian marketplace.  Today, they are integrated into our society as retailers look to ways to use them for deliveries, and other uses are maturing at a fast pace.  Amazing, considering just a few years ago few had considered the technology for consumer use.
Less than five years ago, all of that changed when companies like DJI and Parrot began coupling the technologies needed to make small, unmanned aerial vehicles available for the everyday consumer.
Today, these small units are packed with technology.  Capable of both controlled and autonomous flight, today's consumer drones pack features such as global positioning guidance systems, broadcast quality cameras, first person view, and pre-programmable flight routes.  As such, the technology is ripe for a variety of civilian uses including wildlife and land management.
Learn more in the August issue of OKFR!