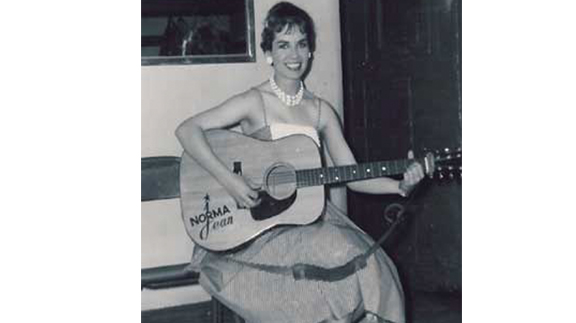 By Jan Sikes
It is a documented fact that some people are born with a natural ability and desire to sing, and Norma Jean Beasler is a perfect example. She brought that ability with her when she came kicking and screaming into this world in Wellston, Okla., in 1938. She started her education in a small country schoolhouse, but around 1945, they moved to Oklahoma City.
She recollects that she began singing as a child. "Living in the country, we didn't have any entertainment so we had to make our own."
And those around her quickly recognized her talent. She began singing at radio stations around Oklahoma City and by the age of twelve had landed her own show on KLPR-AM after winning a talent contest.
I asked about her parents, as it struck me they must have been willing to help her launch such an early music career.
"Well, my parents didn't play much music, she replied. "My mom played a little piano. But, they loved music and supported what I wanted to do. They liked to hear me sing and wanted me to sing. They allowed me to do a lot of things a lot of parents wouldn't."
While Norma Jean's parents couldn't afford to buy her a guitar. She wanted one so badly that she sold her bicycle and bought one from Sears & Roebuck. Through her growing-up years, she admired Kitty Wells and cites her at her biggest influence. But, she attended Capitol Hill High School in Oklahoma City along with country music star Wanda Jackson. They became lifelong friends and both girls sang at KLPR.
In 1955, Norma Jean landed a regular spot on Red Foley's Ozark Jubilee show. This laid the foundation for her early music career. And it was Red Foley who started introducing her as Pretty Miss Norma Jean on the show. That name stuck.