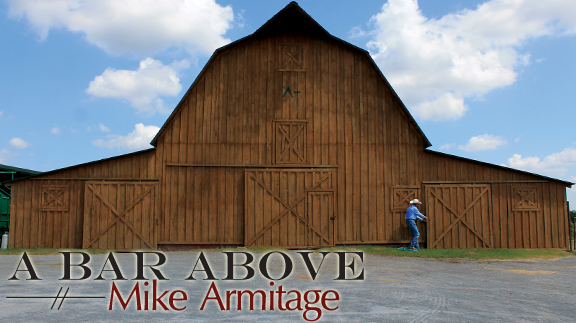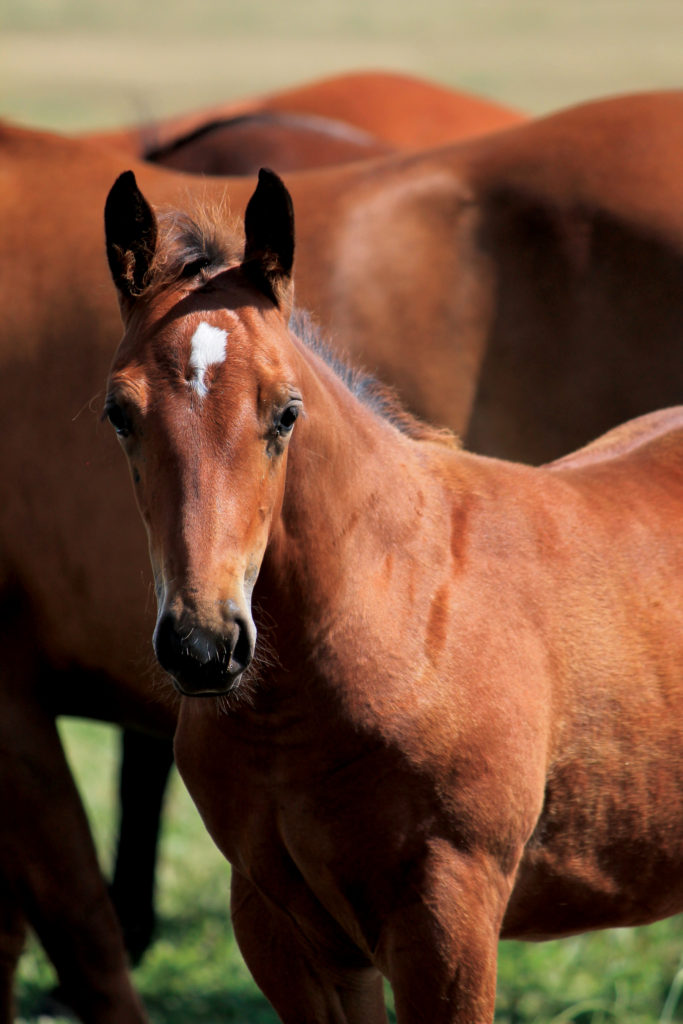 A Bar Ranch
By Laci Jones
It was a warm summer day with the relief of a slight breeze making the rolling bluestem grass sway. Horses and cattle gather under the few oak trees. The owner of this northeast Oklahoma ranch, Mike Armitage, continues to stay true to his traditions, remains actively involved in agricultural organizations and studies management techniques to improve livestock production.
"It is an exciting future for the beef industry," Armitage explained. "For those who are always evolving and willing to step to that forefront, I feel as though they will be justly rewarded."
Armitage was raised 10 miles north of Shawnee, Okla., in Meeker, Okla., on a cow-calf and alfalfa operation. His grandfather and father—Fred Frost and Vernon Lee Armitage—influenced Armitage from a young age.
"The biggest inspirations came from my father and grandfather who both found no hurdles too big to overcome, and their sheer determination and hard work made them undoubtedly the most impactful men in my life," Armitage added.
Broad-based agricultural experiences through the FFA organization led him to attend Oklahoma State University after graduating from Meeker High School. There, he was on the Livestock Judging Team while pursuing a Bachelor of Science degree in agricultural economics with a farm and ranch management option.
"Through this ag economics degree, we were taught everything from appraisal to statistics, to monthly analysis of project costs," he explained. "Many of those skills weren't utilized until 10 to 20 years later in life."
After graduating college in 1974, he landed a ranch management job at the McGuirk Hereford Ranch in Claremore, Okla. Armitage said he did not foresee him owning a ranch, but he knew he wanted to work in livestock production.
While working for the McGuirk family, he also owned a herd of purebred Hereford cattle. The Armitages had the opportunity to lease the operation and began purchasing the ranch after nine years of leasing.
"I was so blessed to end up owning the ranch that I managed out of college," Armitage added.
A Bar Ranch
The owner of A Bar Ranch said the ranch is comprised of four divisions—A Bar Ranch Headquarters in Claremore, Okla., Rock Creek in Adair, Okla., Squaw in Pryor, Okla., and V Bar Ranch in Welch, Okla. Overall, the ranch operates 45,000 total acres throughout nine Oklahoma counties.
The headquarters in Claremore, Okla., was once a part of the original Cherokee Indian Allotment to Frank and Dora Rucker during the 1880s. Famous trick roper Will Rogers built a friendship with the Ruckers while working as a ranch hand. They were later involved in Will Roger's traveling Wild West Show.
The ranch was owned by the McGuirk family then purchased by Mike and Martha Armitage in 1989. Armitage said the A Bar Ranch Brand has a unique history.
"The brand is an open 'A' or a rafter brand," Armitage explained. "It was the Rucker brand from the 1880s. Since our name is 'Armitage,' we continued to use the 'open A' and added the bar to it in the early '90s."
Cattle Production
"Our own fully-independent operation started in 1980," Armitage explained. "Originally, it was just a registered Hereford operation but had the fortune of leasing a 7,800-acre ranch that adjoined [the headquarters]."
After analyzing their month-to-month expenses, the cattle producer recognized the need to eliminate 60 percent of annual cost of their cow-calf business from the winter season. To reduce annual costs, they stocked their adjoining ranch with purchased bred cows. Armitage Livestock was founded in 1989 for the marketing of commercial females.
They sold cows and calves that fall in their first annual Fall Gathering Sale in 1989 at the Southern Oklahoma Livestock Auction in Ada, Okla., later moving to the Joplin Regional Stockyards in Joplin, Mo. Always held the first Saturday in November, A Bar Ranch will have their Fall Gathering Sale at OKC-West for the fourth year. Armitage Livestock has evolved to present day marketing of 10,000 to 15,000 bred commercial females annually.
"When we market, we have to be looking around the corner and adding value to producers' cow herds to remain competitive and in the forefront while offering more value for their dollar," he added.
With productivity of his cow-calf herd at the utmost importance, Armitage said the most important element of production is fertility. In the early '90s, he selected only the females that were pregnant in the first 30 days of exposure through ultrasound aging of females.
"It was new on the scene at the time in the commercial industry," he added. "It continues today as one of the most valuable tools in selection."
Changing their female selection criteria resulted in an increase of pregnancy rates in the first 30 days of exposure from 55 percent in their first year to 87 percent in 2016.
"This, in my opinion, is the most important economic trait for a cow-calf producer," Armitage explained. "The cow that calves first is the best cow in your cowherd and so are her daughters. It results in more uniformity in our calf crops, more predictable breed-ups and its selection."
However, Armitage said their personal production cowherd continues to grow. In the '90s, he acquired bred tigerstripe cows, the F1 cross between Hereford and Brahman breeds, from a producer in south Texas and grazed them on his leased property. The producers said grazing these tigerstripe cows resulted in an additional 50 to 100 pounds of weaning weight, but other producers valued this breed as well.
Read the September issue to learn more about Mike Armitage and A Bar Ranch!