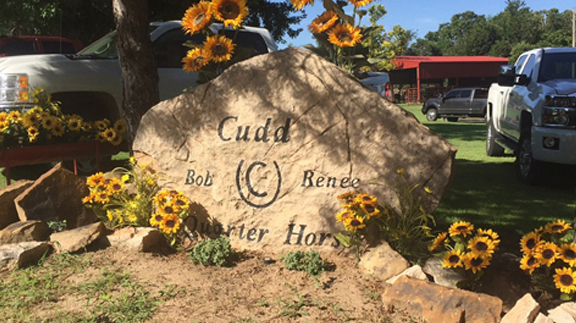 By Krista Lucas
Each summer, Woodward, Okla., draws a crowd from near and far for the annual rodeo and Cudd Quarter Horse production and consignment sale. This year, the sale featured stand out barrel and rope horse prospects as well as finished cow and ranch horses.
Cudd Quarter Horses is owned and operated by Renee Jane Cudd. Renee and her husband Bob have been leading breeders of American Quarter Horse Association ranch and roping horses for over 30 years. After the passing of her husband in 2005, Renee continued to raise horses that have the ability to do it all.
The ranch bases their breeding around two proven sires, Leo Goldseeker and King W Goldseeker. Both stallions are grandsons of the great Three Bars and pass down their super dispositions, big hips and pretty heads. Leo Goldseeker is a proven sire of halter and performance winners and has two halter points, one heading point and one western pleasure point himself.
The Goldseeker line prides itself in producing working horses with looks, speed, performance and brains. At the sale this year, over 60 two-year-olds from the Goldseeker lineage were offered for sale, along with 100 consignment horses.
Buyers at the 2017 sale were not disappointed. There was something for everyone of all sizes, colors and almost all were started to ride. Offspring by some of the biggest names in the horse industry were offered for sale. The high seller was a two-year-old red roan stallion named Metallic Charlie.
The young stallion came from the Cudd ranch and was sired by the famous Metallic Cat and out of a Freckles Playboy mare. During the sale, he showed his natural athletic ability and brought $20,000.
Another highlight of the sale was a three-year-old gray mare, Streakin Missle Glo. Consigned by Erica Baker, the mare was by popular barrel racing sire, A Streak of Fling, and out of a nice ranch mare, Red Missle Glo. A Streak of Fling bred horses are known to be able to go in any direction, whether it is roping, ranch work or barrel racing. Streakin Missle Glo brought $15,000.
Throughout the years, buyers have had plenty of success with horses from the Cudd sale. Goldseeker bred horses have won in the roping pen and barrel racing arena. Rhinestone Cowgirl, a product of the 2009 Cudd Quarter Horse Sale, has won or placed in a few Women's Professional Rodeo Association barrel racing futurities. Joe W Cowboy qualified for the AQHA World Show in the calf roping after coming through the Cudd sale.
Samuel Luchsinger purchased his horse, Kicking Ax Goldseeker, through the Cudd sale a few years ago. The pair went on to win a new truck and trailer at the Summer Shootout team roping in Glen Rose, Texas.
"Renee does a great job with those horses," Luchsinger said. "I went up and bought my horse from her in 2014. He has been great from the start, and she has a great sale."
Axle, as he calls him, is a son of Herman Goldseeker, another stallion standing at Cudd Quarter Horses.
The Cudd line of Quarter Horses continues to have a superior reputation in the horse industry. Whether you are seeking a performance horse, a young prospect or a family ranch horse, Cudd Quarter Horse production and consignment sale will have what you are looking for.
For more information on upcoming events and sales at the ranch, visit www.cuddquarterhorsesllc.com.