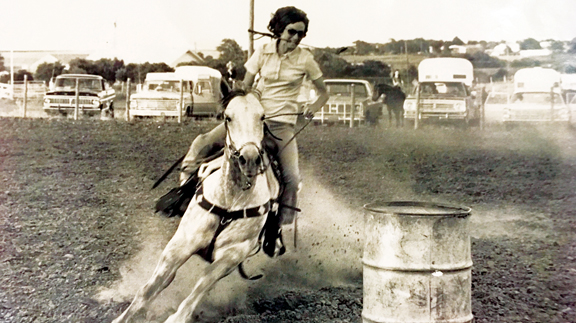 Mary Lou Barnard
By Ddee Haynes
Sitting between two of my long-time dear friends in the Leedey, Okla., gymnasium, we chatted quietly as the auditorium filled to capacity. As I watched the people file in and take their seats, my emotions ran from sadness to joy. My heart ached with sadness because we were not there to attend a school function. Instead we were all gathered to say "see you again" to a legend of a lady, Mary Lou Barnard. Mixed in with the sadness of saying goodbye, I felt joy for having been blessed to have known Mary Lou.
Mary Lou was a tiny thing, barely standing 5 feet 4 inches. Although small in stature, she was a giant of a person and left a boot print on this world that can never be filled nor forgotten. Mary Lou was born with an adventurous soul, a strong will and a special gift, which could not have been learned or taught, when it came to riding and training horses. I would bet my life savings that tiny little lady forgot more about training a horse than most will ever know. She was the real-deal, a true cowboy, and it showed even at a young age.
When Mary Lou was just a child, the horses would stand under the hayloft of the barn and eat. One of Mary Lou's favorite things to do was jump out of the loft onto the back of her horse while he was eating. One day instead of jumping onto her usual mount, she chose to jump onto another horse named Trixie. Trixie did not take kindly to this and took off running and bucking. With nothing but a mane to hold onto, Mary Lou held on with all her might and eventually rode Trixie to a stop.
Mary Lou met the love of her life, Eddie Barnard, when she was in high school. A few months after graduating, Mary Lou and Eddie tied the knot and began their life together. From this union they had two daughters, Monica and Jackie, and nine grandchildren.
Mary Lou was most happy in the saddle helping Eddie with their cattle and training horses. One of the first barrel horses she trained was a horse named "Waco." She and Waco were the team to beat and traveled many miles up and down the highway to rodeos. Not only was Waco a wicked barrel horse, Eddie also used him for team roping.
Eventually Waco was passed down to Monica and Jackie who began using him in junior rodeos. One day while changing his saddle at one of the junior rodeos, Waco dropped his head to graze. The reins were still on his neck and when he moved his foot he stepped through the reins. Startled, Waco reared and fell over backwards. When he got up he was blind and only able to see shadows. With speed events no longer an option, Mary Lou starting riding him at reining events, even competing at the Quarter Horse Show at the Oklahoma State Fair.
One day, Mary Lou told Eddie she was going to a horse sale "just to watch." Instead, she came home with a "cheap" bay mare she paid $900 for. When Eddie got home he was "not happy." It was one of the few times the girls could remember their parents fighting. Mary Lou's defense was the mare was pretty and she was out of a stud by the name of "Dr. Glover." That little mare that caused such a stink was registered as "Dr.'s Nurse," also known as "Nurse."
Pick up the December issue of OKFR to read more!