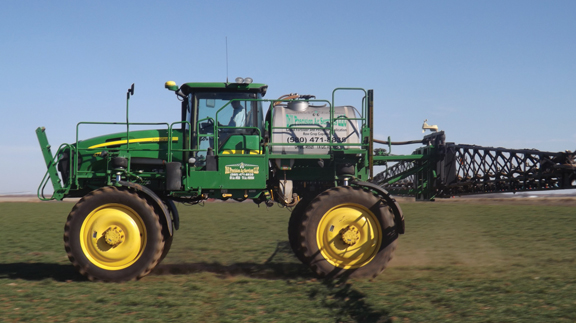 By Everett Brazil, III
Due in part to recent EPA label changes, product training is required for the use of dicamba herbicide on BollGard II XtendFlex Cotton and Roundup Ready 2 Xtend Soybeans in the 2018 season.
Monsanto imputed dicamba tolerance traits into the crops for increased weed control, which already feature tolerance to glyphosate, marketed as the Roundup herbicide. XtendFlex Cotton also features a third tolerance to glufosinate, found in the Liberty herbicide. The new dicamba is available under three brands: Xtendimax (Monsanto), Fexapan, (DuPont) and Engenia (BASF).
Monsanto created a new dicamba formulation of the herbicide, which was approved by the EPA for use in the 2017 season. The formulation was created to reduce the risk of volatility, which can lead to wind drift, potentially damaging off-target crops, especially crops not tolerant to the new formulation.
"As far as the product itself, it's actually better than the older products because it has new technology in it that's lowering the risk of physical volatization, and when applied according to the label, it should have lower risk of volatility than the original dicamba products," said Kenny Naylor, Oklahoma Department of Agriculture, Food and Forestry director of Food Safety & Consumer Services.
Problems arose in soybean fields in several neighboring states, especially concerning wind drift into non-tolerant crops, leading to those states restricting the herbicide. The issues led the EPA to create label changes to reduce further damage, including reclassifying it as a restricted-use pesticide, which requires certification before use.
"Arkansas, Missouri and Tennessee had a lot of problems with drift, which led to the change in labeling from the EPA," Naylor said. "As part of the requirements, each person who applies it has to be trained, and they have to have to be trained before use."
The ODAFF, in conjunction with the Oklahoma State University Cooperative Extension Service will be holding a series of training sessions across the state through the next few months.
Meeting attendees will learn all the new requirements, which include extensive record keeping and spraying between wind speeds of three mph and 10 mph, as well as boom height, checking for susceptible fields and drift prevention.
"Only those that are physically going to spray it, that is what the training is for, to tell them exactly what they are going to do," Naylor said.
The changes can be found on the product label as well as visiting the product websites.
Additionally, Oklahoma and Texas have reached an agreement to honor certification from both states.
"As of right now, whether you take it in Texas or Oklahoma, we're going to honor it, either way," Naylor said.
Several meetings will be held, starting Feb. 9, in Washita County, beginning at 11 a.m. The meeting site will be determined later. For more information, contact Washita County Extension Agriculture Educator, Brad Babek, at 580-832-3356.
A meeting will also take place on Feb. 13 in Enid, Okla., during the North Central Summer Crops Conference at the Chisolm Trail Expo Center.
Contact Garfield County Extension Agriculture Educator, Rick Nelson, at 580-237-1228 for more information.
For more meeting information, as well as label requirements, contact Naylor at 405-522-5879 or e-mail Kenny.naylor@ag.ok.gov.