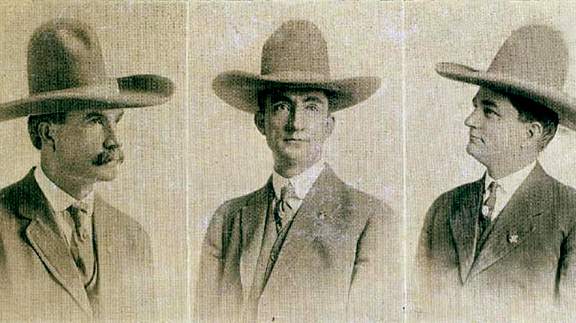 The Beginning of the End
By Laci Jones
After the height of the 101 Ranch, the days of the Miller empire were numbered. The success of the 101 Ranch came at a price as all three Miller brothers eventually became bachelors.
After Joe and Lizzie Miller's separation, Joe went back on the road to manage the great 101 Ranch Wild West Show in 1916 to 1918. He returned when his mother Mary Miller became ill. She was diagnosed with cancer. She later died on July 28, 1918, on the ranch surrounded by family.
Still, the ranch, along with the shows and movies, continued to thrive throughout the early '20s. However, the nearby Salt Fork River flooded the area in 1923 and again in 1926.
Then, the ranch succumbed to the Oklahoma drought following the 1926 floods, which caused crops like corn to fail. The Millers developed a new variety of corn to withstand Mother Nature's wrath, and they continued on.
By the mid-'20s, the 101 Ranch Wild West Show began to lose money despite the brother's best efforts. In 1926 the traveling wild west show lost a staggering $119,970, according to Michael Wallis, author of "Real Wild West."
During this time, 58-year-old Joe Miller married a woman half his age in Chicago. A Michigan native, Mary Verlin met the eldest Miller brother while visiting her aunt and uncle. After they were married, they traveled to the next performance on the road. They celebrated their new union on the road with a grand party with more than 700 guests, according to Wallis.
They returned in the spring 1927, where a Ponca Indian celebration took place recognizing the marriage of Mary Verlin and Joe Miller. Their son, Will Brooks Miller, was born in May that same year. However, the lavish parties and celebrations could not mask the fact the 101 Ranch was struggling across different fronts.
In October, Joe Miller was found dead in his garage. It became apparent the cause of his death was carbon monoxide poisoning. The funeral took place on October 24, and family and friends including the Ponca Indians mourned the death of Joe Miller. He was buried by his mother who died almost 10 years prior.
"The show will go out as usual – that is what Joe wanted," said George Miller in the famous 101 Ranch white house after his death.
Pick up the June issue to learn more!