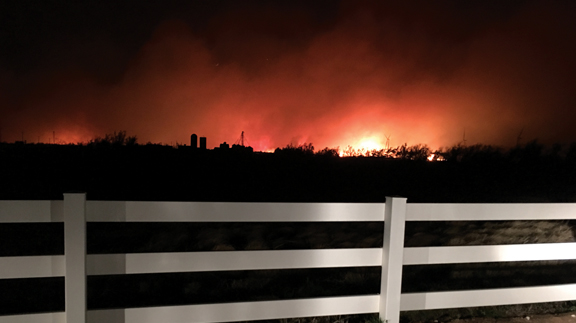 By Ralph Chain
I have seen a lot of things happen in my lifetime. While most were good, I have seen some things that were not so good. One of those was the terrible fire that we just experienced in April.
I have seen fires before. Several years ago one of our ranches in Kansas burned. All we did that winter was build fence, since it was destroyed by the fire. A year ago, my son-in-law, Brad, lost most of his ranch in Major County to fire. It burned up 26 miles of fence on his ranch.
But this fire — I cannot believe how many homes were lost, how many head of livestock were lost and how much land was burned.
The night the fire was headed our direction burning everything in its path, we just knew we were going to lose everything. My daughter, Andrea, came flying down the driveway and said we have got to move or we are going to burn up. She put my wife, Darla, and I in her car and said we have got to hurry because the fire is upon us. She just wanted to get us out of danger.
My son, Monte, sent his wife, kids, and grandchildren to Okeene, Okla., to stay with his daughter-in-law's parents. The rest of our family had other places to go. We headed east to get away from the fire, and we ended up 60 miles away in Enid, Okla. We knew when we left that we would never see our home or the other five homes on the ranch again.
We arrived in Enid about 1 a.m., got a motel room and tried to sleep, but there was no sleep. We kept worrying about things at home. About 5:30 a.m. I called my grandson, Newley, to see what had happened. To my amazement, he said that everything was still there. The fire went around us. It burned to the south, north, east and west, but our homes were all still there. That was the best news I have ever heard in my life.
While the nearby wheat fields helped the direction of the fire, the firefighters saved our homes. I cannot believe how many firefighters were there and how they risked their own lives to protect others. The firefighters came from many different states to help. When we got home, there were helicopters and airplanes dipping water out of the Canton Lake and one of our 30-acre lakes on the ranch.
Pick up the June issue to learn more!