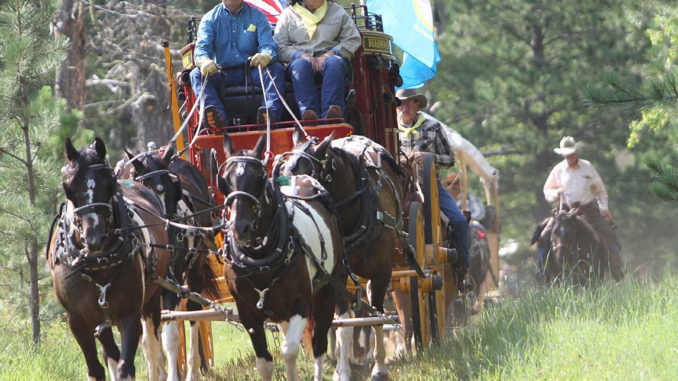 In the late 1800s, the Deadwood stage made the trip from Deadwood, S.D., to Medora, S.D., in three days, stopping frequently for fresh horses. In 2012, 2013 and 2015 the same trip by the Medora to Deadwood Wagon Train took 20 days.
This year a wagon train was held between Four Corners, Wyo., and Deadwood, known as the Deadwood to Cheyenne Stage Route. Between 200-300 people from 22 states and Canada, 46 wagons of all descriptions, each pulled by two or four equines recreated the famous stage route, covering approximately 85 miles.
Leading the group was the stagecoach and four black and white paint horses owned and driven by Kenny and Donna Bachand of Waurika, Okla. The Days of '76 in Deadwood is an annual event for the Bachands, with this marking the fourth year they have taken their stagecoach for the festivities and many other years of staging holdups and riding saddle horses.
Kenny was named Teamster of the Year in Deadwood this year. The pair even dressed as a bride and groom for two parades in 1971 and '72.
Kenny's family has been involved in the Days of '76 in some capacity every year since its inception 96 years ago. Donna's family has been raising black and white paints for four generations, making for a great combination.
To read more of Kenny and Donna's adventures, pick up the October issue of Oklahoma Farm & Ranch.