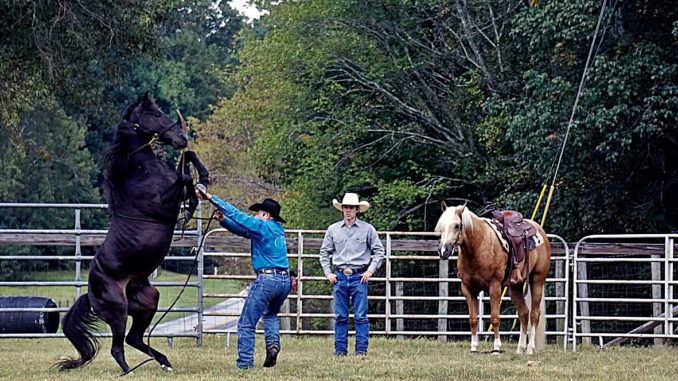 Dr. Lew Sterrett uses lessons he's learned as an accomplished horseman to demonstrate healthy relationships and resolutions across the globe.
Clinician. Counselor. Pastor. Master horseman. These are just a few of the ways to describe Dr. Lew Sterrett of Anadarko, Okla. Founder of Sermon on the Mount, a gospel-based outreach program. He has traveled across the globe in his 40-plus year career spreading his lessons of life and leadership through demonstrations with horses.
Born in Pennsylvania, Sterrett grew up learning from many master horsemen, and had earned three world titles by the time he began college at Penn State University. Still, the road to leadership wasn't easy. His father had died young, and his mother soon remarried. "I was trying to run away from a step father I didn't like. I was looking for a role model I could follow," he recalled.
One of his first mentors was Ward Studebaker, who managed the Penn State Horse Farm from 1968 to 2001. "He was someone whom I respected both personally and professionally, and he helped me recognize my need for Christ as my Savior," Sterrett said.
Sterrett had grown up learning from a variety of trainers, many who would use more aggressive and almost abusive methods when dealing with horses, and he wasn't happy with the process or results. Under Studebaker's guidance, he honed his methods to instill a trust and willingness instead of brokenness. "I wondered how I could ever use a horse to teach a Godly value system. In any case, I began to learn how to share and understand biblical truth through the horses I was working with. I thought it could be entertaining and if it made sense to people, it might help them see their relational composition and how to have healthy relationships with healthy outcomes," he explained. After graduation, Sterrett went on to earn his master's degree in Divinity and his doctorate in Leadership Training.
It was during this time he met his wife, Melodie, whose parents Dale and Opal Linebaugh were co-founders of the Miracle Mountain Ranch, a Christian youth ranch in Spring Creek, Pennsylvania. When Dale decided to step down from his position, directorship of the camp was turned over to Lew and Melodie.
Soon, the young people at the ranch, the staff, and their friends and family were responding to Sterrett's patience, vision, and lessons. "I've learned that the more you give something away, the more it grows. It's gotten way out of hand after 40-something years," Sterrett said with a laugh.
Just a few years after taking the reins of Miracle Mountain Ranch, Sterrett hosted a series of horse sermonettes in several public schools in Virginia, the beginning of what would become the Sermon on the Mount ministries.
Sermon on the Mount was naturally followed by Leaders by HEART (Human Equine Analogies in Relational Training). "Sermon on the Mount has always been a gospel-based outreach. Leaders by HEART is the secular version of leadership training, so we can go into schools and corporations with that umbrella. We use the biblical principles, which are our core values, and make illustrations of the world they live in," Sterrett explained.
Read more about Dr. Sterrett in the February issue of Oklahoma Farm & Ranch.