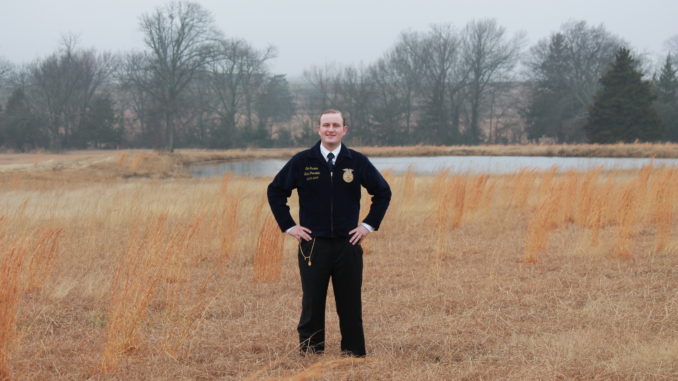 I believe in the future of agriculture, with a faith born not of words but of deeds – achievements won by the present and past generations of agriculturists; in the promise of better days through better ways, even as the better things we now enjoy have come to us from the struggles of former years.
I believe that to live and work on a good farm, or to be engaged in other agricultural pursuits, is pleasant as well as challenging; for I know the joys and discomforts of agricultural life and hold an inborn fondness for those associations which, even in hours of discouragement, I cannot deny.
I believe in leadership from ourselves and respect from others. I believe in my own ability to work efficiently and think clearly, with such knowledge and skill as I can secure, and in the ability of progressive agriculturists to serve our own and the public interest in producing and marketing the product of our toil.
I believe in less dependence on begging and more power in bargaining; in the life abundant and enough honest wealth to help make it so–for others as well as myself; in less need for charity and more of it when needed; in being happy myself and playing square with those whose happiness depends upon me.
I believe that American agriculture can and will hold true to the best traditions of our national life and that I can exert an influence in my home and community which will stand solid for my part in that inspiring task.
The words of the FFA creed, penned by E.M. Tiffany and adopted at the Third National FFA Convention, are held in the mind of every person who has ever worn the association's blue corduroy jacket. The nostalgic words bring back memories of livestock shows, white ag trucks, pig fries, conventions, contests, and more.
For some, however, those words are forever engraved on their heart.
Growing up as a fifth generation rancher in the small Southeast Oklahoma town of Bokchito, Cole Eschete is one of those people. For Eschete, there was never a doubt he would be involved in FFA; it's just a way of life for small-town boys in Oklahoma. He just didn't realize when he first became a member how much it would change his life.
The charismatic young man is now serving out his last couple months as the State President of Oklahoma FFA, having spent seven years involved with the Association.
"Just a small-town kid…"
Born and raised in Bokchito, just 20 miles east of Durant, Eschete's roots in agriculture run deep. Pure angus beef cattle are raised on his family's ranch, named the Lost Cajun Ranch in homage to his father's Louisiana roots. Like many country kids, Eschete spent countless hours working on the ranch driving tractors, building fence, doctoring and anything else the job required.
In his younger years, Eschete was heavily involved in 4-H, so FFA was just the logical progression.
"FFA was just the next step for me to show livestock. Little did I know at the time where it would lead," Eschete said with a laugh. "My uncle, Josh McDonald, was my ag teacher when I first joined FFA. He and my parents let me know really quick that I wasn't going to just show livestock and pushed me to get into the leadership side of things and all the many activities that Oklahoma FFA provide, and that's how I'm here today."
It's hard to believe, but when he was younger, Eschete had a difficult time speaking to people, even struggling with a slight stutter. "I couldn't look anyone in the eye, but I did livestock judging, public speaking, opening ceremonies and more. I did everything, but those are the main ones." He added, "Now I can talk your ear off!"
Although Eschete fulfilled his promise to do more than show livestock, he still was incredibly successful in the show pen. He spent his free time in the barn with his show pigs and raised and sold them as part of his Supervised Agricultural Experience, a major component of FFA membership. His fellow FFA and 4-H members would buy them, and he himself won numerous accolades and honors in the form of Grand Championships with his homebred hogs. Eventually, Eschete was awarded the Southeast District Star in Production.
The Journey to a State Office
It was in ninth or 10th grade that Eschete met two young men who would change the trajectory of his FFA career. During the State Officer Goodwill Tour, when state officers visit most every FFA chapter in the state, Eschete met Gatlin Squires and Garrett Reed. "Those two guys took time out of their day and showed interest in me. I thought it was the coolest thing in the world, and that's when I really started thinking about state office," he said. "That's when I decided I could do it."
There are many steps to becoming a state officer, but the real work begins long before the member's senior year, with networking at livestock shows, judging contests, speech contests and meetings. It involves tirelessly studying the association, learning everything you can about its history and members.
The mechanics of it are simple. It starts with an application and transcript that are sent to the state office. Then the candidates go through the nominating committee process, known as Non Com. There, they have an interview with not only adults, but also current FFA members. Next is a test of FFA knowledge, and finally a speech to explain why they want to become an FFA State Officer.
Oklahoma FFA is divided into five areas: Northwest, Southwest, Central, Northeast, and Southeast. After Nom Com, the top three candidates from each area are put on the ballot, and during the State FFA Convention in May, each area votes for their state officer, who is named as the Area's Vice President.
"When I found out I was one of the three, it was one of my most life-changing moments," Eschete said. Still, that moment paled in comparison to the emotions he felt when his name was called as the Southeast Area Vice President. "It's hard to explain. To be there in that moment – when I heard my name – it was amazing. It's hard to explain. I had fought with a small-town mentality a lot of my life, and I wanted to show that a guy like me, from a small town like I was, could do just as much as anyone else."
Read more about Cole Eschete in the March issue of Oklahoma Farm & Ranch.