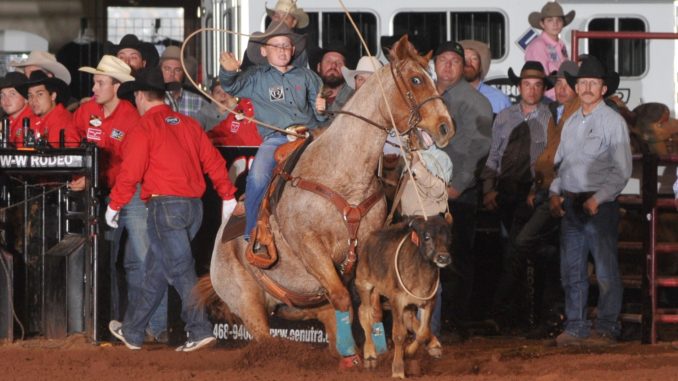 By Ddee Haynes
Located in western Oklahoma is the small town of Carnegie. With a population of less than 2,000, Carnegie doesn't even have a stop light or a blinking light. What Carnegie does have is the Liberty Theatre, one of the longest running theatres in the state of Oklahoma. Carnegie is also the home of a young cowboy by the name of Chizm Kuykendall.
Twelve-year-old Chizm is a stocky built, freckled face red head with a crooked smile and the talent and determination of someone three times his age. Chizm knows what he wants in life and isn't afraid to go after it. I have watched this young man in and out of the rodeo arena for over six years. From the first day I watched the little red-head riding his pony and swinging a rope, he became one of my favorite cowboys. I knew he was a force to be reckoned with and his name was one to remember.
Chizm, a sixth grader, is the son of Justin and Mandie Kuykendall, and big brother to eight-year-old Haze, who is also a talented young cowboy. Justin runs cattle and farms while Mandie is an elementary teacher. Both Justin and Mandie grew up in the rodeo world so it was only natural that both their boys took to the sport like ducks to water.
Chizm is a member of the Oklahoma Junior High School Rodeo Association (OKJHSRA) where he competes in the tie-down roping, ribbon roping, break-away roping and the boy's goat tying.  Chizm also enjoys competing in several well-known roping events such as The Rising Stars, Future Stars and Roy Cooper Junior ropings.   In 2017, Chizm qualified for the Junior World Finals held in Vegas. Just a few short months ago Chizm won the 12 and under break-away roping at the Joe Beaver Easter weekend roping.  Not only did Chizm walk away with a pocket full of cash, he also took home a beautiful trophy saddle. 
Read more about "Cowboy Chizm" in the June 2019 issue of Oklahoma Farm & Ranch.