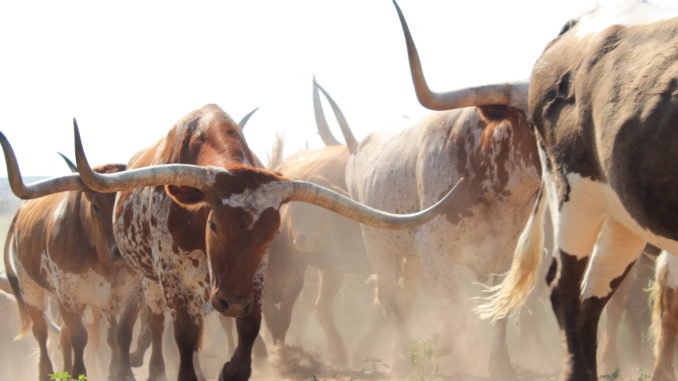 Longhorns made an indelible imprint on the 19th-century Western landscape. Between 1866 and 1890, more than 10 million cattle were driven on the Chisholm and other trails out of Texas. In his classic 1941 book The Longhorns, J. Frank Dobie wrote that the Chisholm Trail, from Texas to Kansas, "initiated the most fantastic and fabulous migration of animals controlled by man that the world has ever known or can ever know."
It was more than two decades ago that Wes Sander, of Woodward, Okla., was serving on the Woodward Elks PRCA (Professional Rodeo Cowboys Association) Rodeo Committee. He and fellow committee members were brainstorming ways for their rodeo to stand out from the others.
Sander grew up in Canton, Okla., on the family's historic Chain Ranch. "We always had a few longhorns stuck around, and my cousin Andrea and I had actually gone with Uncle Ralph (Chain) to Dodge City to buy our first longhorns. Andrea and I were little at the time, and that memory has always stuck in my mind," Wes recalled.
Living on the Chain Ranch meant working a lot of cattle, and Sander quickly grew adept at cattle drives. "I pretty much grew up driving cows in Dewey County. We always drove cattle. We didn't have a lot of pens set up at the ranch, so we drove the wheat pasture cattle and momma cows where we needed them," he explained.
Wes eventually moved north to Woodward. In addition to raising Angus and red Angus beef cattle, he also works as a cattle buyer. It was while he was at an auction in Shamrock, Texas, that an idea for the Woodward Rodeo formed. A set of 50 longhorn steers were up for auction. A packing buyer was bidding on the steers, but Wes outbid him to give the steers another chance. "I already had four big steers at the ranch, so I thought I'd do a cattle drive into Woodward from the ranch, and that could set the rodeo off," he said. "The rodeo would begin on Wednesday, so we'd have the cattle drive on Tuesday to kick off the week."
Wes purchased his herd in June, and the rodeo was held the third week in July. He'd planned to keep the steers through the rodeo, and then sell them after. "I just didn't think we could keep 50 head of longhorns around for no reason," he said.
Looking back now, that thought was laughable. The cattle drive was a resounding success. The steers made the front page of the Daily Oklahoman, and the News9 helicopter captured footage of the drive. It was the type of publicity that money couldn't buy, and soon calls were coming in.
"Bennie Beutler called me and said, 'Wes, whatever you do, don't sell those steers. You have something no one else has,'" Wes recalled. He didn't sell the herd, and soon had a couple of events scheduled for the fall. "It was just enough to pay the cake bill and get them through the winter, and then the next year we got a few more jobs, and it all started falling into place."
Now, Wes, his son Cody Sander, and the rest of the Slash -O- Ranch crew haul anywhere from eight to 150 steers across the Midwest, giving spectators the opportunity to be temporarily transported back in time to when dusty trails and resilient cattle were the norm. "We've been all over the country with them. We like to stay in Oklahoma, Texas, Kansas, Colorado, New Mexico, and Nebraska, but we've gone as far east as Detroit, Mich., for a commercial for Dodge Trucks, to Cheyenne for Cheyenne Frontier Days, and more," he said. "Now we travel to about 20 events each year."
For many years, the longhorns also made an appearance in Downtown Dallas. "We loved Dallas. They had a rodeo called the Texas Stampede, and we would take them down Commerce Street. They moved that rodeo to Allen, and we followed them. We still go to Lewisville every year. That's one of our favorite places to go," Wes said.
"We've driven them down the street where President Kennedy was shot, right in front of the Texas School Book Depository," Cody recalled. "There are many memorable drives we've taken them on, and that's one of them."
One of the biggest events they attend is in Colorado for the Greeley Stampede, where, for two weeks, the steers are driven every day. "Greeley is one of our favorite and longest stays. We've been there for more than 20 years," Wes's wife, Jill, noted.
At the time of this article, the steers were getting loaded to make the trek to Dodge City, Kan., for the rodeo. "Dodge City has the rodeo parade the first Saturday, and then has the cattle drive for our steers the next Saturday," Wes said.
"I'm not sure that I have a certain event that sticks out for me, but I love watching the loading and unloading of the longhorns, and how gracefully they move," Jill noted. "Another thing that stands out to me is the magic that comes alive when people see the longhorns walking down the street. You can just hear the people in the crowds saying, 'They're coming! They're coming!' The younger generations and even the adults are so excited, and it's almost like Christmas when they come down the street. Some of the parades can be small, and it doesn't seem to matter. That energy is alive, and people are enthralled."
Cody added, "For me, the most interesting aspect of this is getting to meet the people. We have gotten to know so many, and it's interesting because you get to go places you wouldn't normally go. We have great relationships with the people we have met over the last 20 years."
The Slash -O- Ranch herd has also been featured in a couple of movies, including one for the Chisholm Trail Heritage Center in Duncan, Okla., and one for the Western Heritage Museum in Abilene, Texas.
It's that history that the Sander family hopes will resonate with the crowds. "They're something from the past. We don't take the time to slow down, and it brings our history into the present. We hope that the people who come will see them and want to learn more about them. Maybe it will trigger someone from a different generation to research the history of the longhorns, or something that will bring our western heritage into the present," Jill explained.
Cody echoed that sentiment. "It gives people a taste of history and the old west. You'd be surprised at how many people have not seen cattle like that. I think it's important to keep the tradition alive of having them and showing people what it was like. It gives them, and us, a very small taste of what life was back then. I don't think we truly understand how tough those people were back in the day," he said. "The hardships they went through – stampedes, crossing rivers – they did dangerous things daily. I think it would be an eye opener for people."
The cattle drives are very much a family affair. The rule is that either Wes or Cody has to go, but most often both are part of the drive. "We travel with family to every event. Now some of our grandchildren will go and ride, too. Some of our older ones are so well-versed they could almost take care of it themselves," Jill noted. "It's interesting to see the grandkids now because a lot of times they'll be at the front, and Wes or Cody will be in the back. It's just a great feeling to be part of it. The grandkids are so responsible, and take it serious, but it's fun for everyone. We'll feed, water, and load the steers, and after the work is done, we'll relax and eat. It's definitely a family thing."
The size of the drive dictates how many cowboys will be working. "We will take three or four cowboys, or maybe a few more depending on the size of the event," Wes explained.
Read more in the September issue of Oklahoma Farm & Ranch.