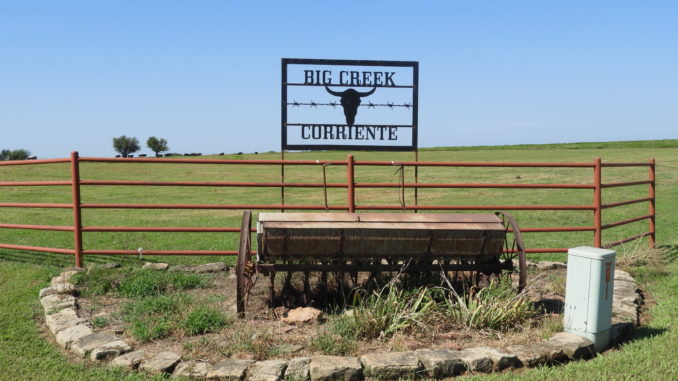 Saturday, October 12 at 10 AM – Cushing, OK
320 TOTAL ACRES
This is the one! A ranch with an ideal set up. Country home, barns, stalls, arena, ponds, fenced & cross fenced, great location – this one has it all! This property will be divided into 5 tracts and offered individually and in combinations using the multi-parcel method, giving you an opportunity to own it in its entirety or only the individual tracts you choose. Property will be surveyed and acreage adjustments will be made.
Tract 1: The heart of the ranch. 2005 move in ready ranch 3 bed, 2 ½ bath country home on 34 acres. Well cared for home with master suite, office nook, utility room, open kitchen, dining and living room. Full length front porch and multiple patio areas. Horse barn, machinery shed, storage barn, cattle pens, pipe and cable arena and stock pond make this the ideal setup for the country enthusiast. Included in the property is an additional 2 bed, 1 ¾ bath brick home w/ den, utility room & detached garage. Good home for the ranch hand or income producer.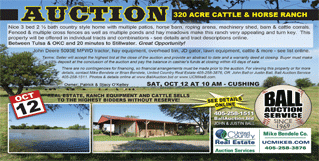 Tract 2: 34 acre corner tract with large pond, grass and multiple future home site locations.
Tract 3: 68 acres of rolling grassland with large 2.3 +/- acre pond, dotted trees, lots of productivity and just a mile and a half off the highway. A great place to build your farm or add to another tract.
Tract 4: 23 acres of rolling grassland and a great place to build or an additional acreage to other tracts.
In addition to the O'Kelley's ranch, Mr. Myers has made the decision to sell his 160 acres joining the O'Kelley's.
Tract 5: 160 acres, mostly grassland w/ large 2+ acre pond, live creek & dotted timber for deer, turkey and other wildlife. Multiple potential home sites. This will make a great place to call home or for an additional productive farm. Just 1 mile off of Hwy 18 with easy access to Cushing or Stillwater, Oklahoma.
REAL ESTATE SELLS AT 12:30 PM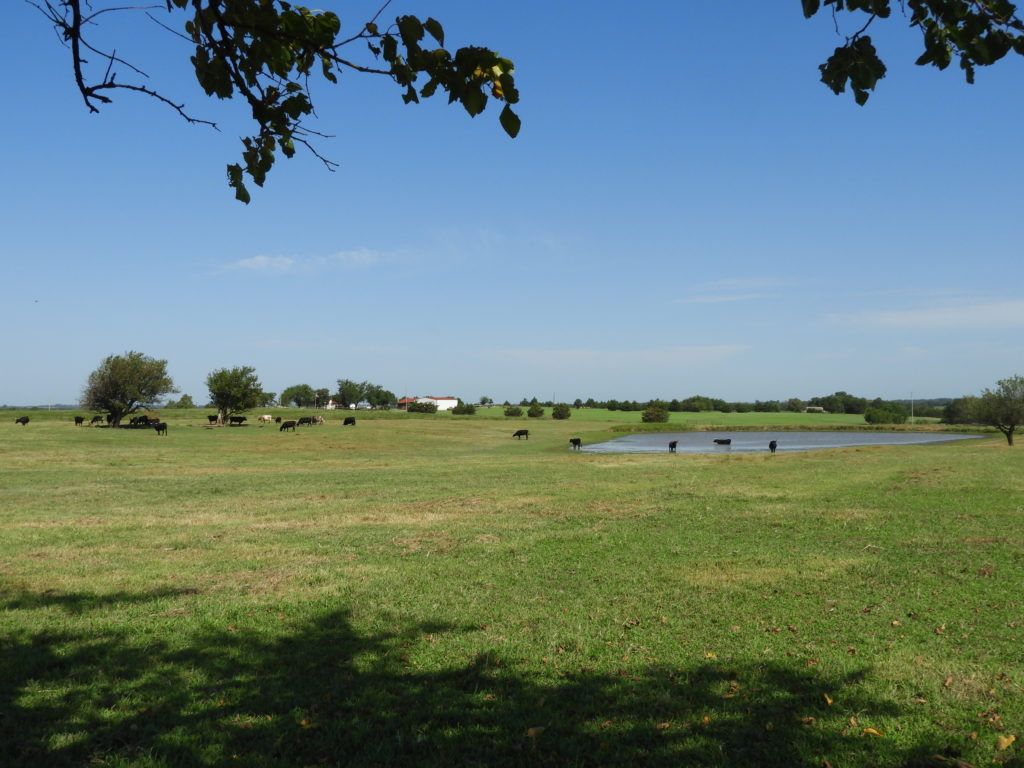 Terms: Seller will accept the highest bid or bids at the close of the auction and provide an abstract to date and a warranty deed at closing. Buyer(s) must make a 10% deposit at the conclusion of the auction and pay the balance in cashier's funds at closing within 45 days of sale.
There are no contingencies for financing, so financial arrangements must be made prior to the auction. For viewing this property or for more details, contact Mike Bendele or Brian Bendele, United Country Real Estate 405-258-3876, OR John Ball or Justin Ball, Ball Auction Service 405-258-1511. Photos & details online at www.BallAuction.bid or www.UCMikeB.com.
We will also be selling John Deere Tractors, Farm Equipment, Corriente Cattle, ATVs, Livestock Equipment, and Pine Furniture.  Be sure to check out our website for Photos, Videos, Interactive Maps, and the full Inventory.
**PAID PUBLICATION**