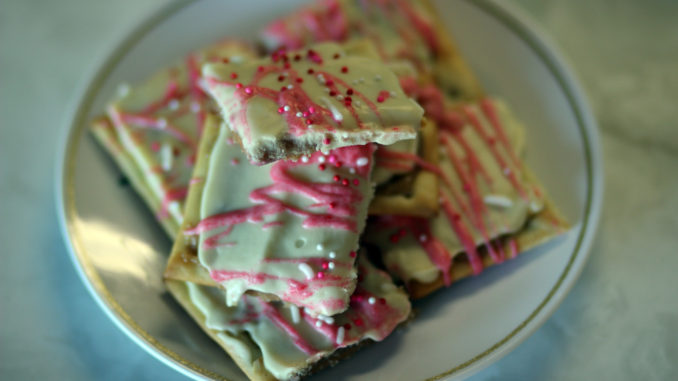 Servings: 30
Total Time: 13 minutes


50 Saltine Crackers
1 Cup butter cut into chunks to melt down, 2 sticks
1 Cup LIght Brown Sugar
2 Cups White Chocolate Chips
1/4 Cup Pink Chocolate Melts
Valentine's Sprinkles
Ingredients:
Preheat oven to 325 degrees. Line a large cookie tray with aluminum foil. Spray with cooking spray. Line saltines up neatly in rows.
In a medium sized pot melt your butter and brown sugar. Once butter is melted down, bring to a boil. Continue to stir the entire time and boil for about 2 minutes. It will look bubbly and look like caramel.
Pour over the top of the saltines. Gently spread across the saltines.
Place in oven and bake for about 7 minutes.
While in the oven melt your pink chocolate melts according to package directions.
Remove the pan from the oven and then sprinkle your white chocolate chips over the saltines. Your hot toffee mixture will melt the chips. You can put it back in the oven for a minute to move the process along. Once your chips are melting, spread across the top evenly with a spatula.
Mix your pink chocolate into the white chocolate by pouring it over the top in a decorative way. You can use a knife tip to help combine colors to your liking. Quickly decorate with sprinkles, the melted chocolate will act as your glue.
Once chocolate is completely hardened you are ready to serve.