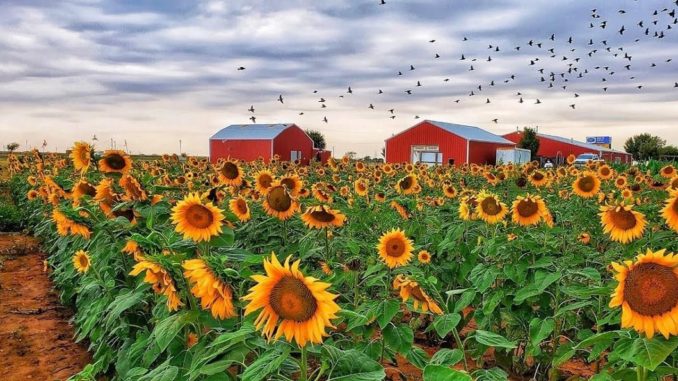 Fields that once were prolific with wheat have now found a new purpose at P Bar Farms in Hydro, Okla. Now, colorful sunflowers abound, attracting visitors from all across the state who come for photo opportunities. In another 10-acre section, specialty corn is grown specifically to be mowed to a specific pattern, transforming into a maze that sees upwards of 15,000[LM1] visitors annually.
It's not that Loren and Kim Liebscher couldn't make a traditional farm work; it's more that they were looking for something fun to do for a few years.
P Bar Farms is named for Travis Payne, Kim's father. "We used to farm traditionally here. We were farming and her dad got sick. I kind of lost my love to farm, so I began praying that God would give me something to put the fun back into farming," Loren shared.
It was just two weeks later that God delivered a sign that would change the course for P Bar Farm. "I read in a Progressive Farmer magazine about a guy doing a corn maze in Nashville, Tenn. We found out that the first Annual Corn Maze Convention was only two or three weeks after that," he said. "So, we drove to Salt Lake City for the first convention, and that's how we got started."
Loren and Kim admit they knew nothing about corn mazes, but they learned plenty during the convention. "The Convention was actually part of a franchise company that was looking to add farms. We joined, and for the fee they gave us all the secrets and designs for the maze and everything," Loren explained.
After a few years, the Liebschers opted out of the franchise. "We felt like we knew what we were doing by then," Kim said.
The first P Bar Farms corn maze was grown and cut in 2001, but then 9/11 happened. The uncertainty that plagued the country made its way to Hydro, and it wasn't a given that the corn maze adventure would even get out of the gate. "We thought that was going to be the end. We had hoped that if we got 1,000 people to come during that first season, at $5 a person, we'd be doing well. A $5,000 addition to your income is pretty good for a farmer," Loren said. "That first year we wound up having close to 5,000, even with 9/11. We had one customer explain it to us. She said, 'I've never felt so safe having my kids so lost, but it's a family farming operation, and nothing's going to happen here on the farm. It has that good feeling where people feel safe and comfortable."
Kim added, "We just wanted to have something fun that was light-hearted. We didn't anticipate being busy – we were just having fun. We thought we could do it, but if not, we don't have anything to lose."
With the success of the first year, the Liebschers knew they would do the corn maze again. They built a barn and added a new concession stand. They also interviewed some tough critics; teachers that came out to the farm. "We had a retired schoolteacher that worked for us, and she said if you want to get the truth to interview teachers. So, we created a survey that all the teachers filled out, and everything that came back said it was wonderful, a great concept, and a great idea," Loren said. "But, they added they weren't coming back until we got indoor bathrooms. That was the number one request from the teachers, so we definitely made that change."
As the interest in the corn maze grew, P Bar Farms continued to expand. First a petting zoo was added, and then a new barn. With more requests for parties, more buildings went up. The Liebschers wanted the property to resemble an old family farm, so they purchased an old home in Hinton, Okla., and moved it in. "We wanted to use it as a bed and breakfast. That never really worked out, but we rented it for a while. Now it's regularly booked as an Airbnb. People like to get away and get out in the country," Kim shared.
There have been very few noticeable failures in the past two decades. The only other memorable one was a venture with a greenhouse. "With the wind in Oklahoma, that didn't work for us. We had put asphalt in the bottom of our greenhouse, so we used that and put in a new party barn," Loren said.
Soon a pumpkin patch was added to compliment the maze and the rest of the farm. "We've always had a pumpkin patch. The problem is pumpkins can be really hard to grow if you don't rotate them, so we don't do that real well. Our first year we had more than we could sell, but after that we really were going through them. Now we're going through 15-20,000 pumpkins a year, and we can't grow that many, so we just buy them," Loren added.
It was only a few years ago that the Liebschers added a sunflower patch to the mix, taking up a few more acres covered by the pivot. "The first year they were fun and pretty, but we didn't have a lot of visitors. This year has been different, and I think our daughter is probably the reason for that success. She has a marketing degree and it's been unbelievable," Kim said. "Oklahoma Tourism did a post about a 'mystical sunflower patch.' Now people are here all the time while they're blooming to take photos."
The sunflower patch is just a few acres, but the Liebschers feel it's the perfect size. "We have found that the smaller the patch, the better people take care of it," he said. "Plus, sunflowers are tricky. They either make it or they don't, but this has been a very good year for them.
Read more in the October issue of Oklahoma Farm & Ranch.