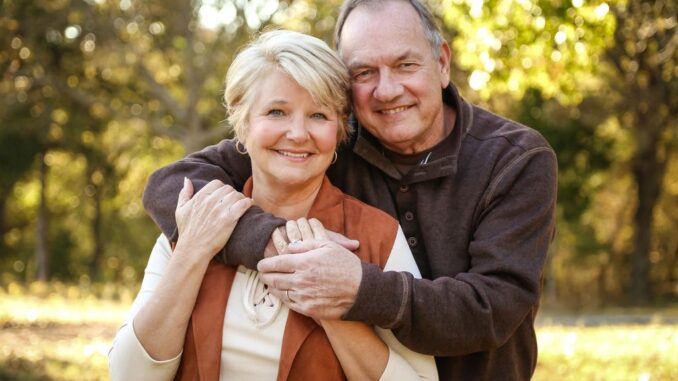 Speak with Roger and Leigh Gaddis for more than a few minutes, and you'll soon fall into the easy banter of longtime friends. The couple, of Ada, Okla., run their business and lives based on a couple key principals; value over valuables and family over fortune.
The couple not only own a successful wealth management business, they're active in the community on local and state levels, they're passionate about agriculture, hunting, conservation, and family.
Advocates of Action
For almost 35 years, Roger and Leigh have owned and operated Gaddis and Gaddis Wealth Management, which now has offices in Ada, Ardmore, Durant, and McAlester. Their clients come from a variety of backgrounds, but a large percentage are fellow farmers and ranchers. "I always tell our farm and ranch clients that they spend so much time managing their four-legged stocks, that we will help them manage their monetary stock," Roger shared with a laugh. "We do a lot more than just manage money. The bottom line is that we do financial advising, from budgeting to cash flows to savings, retirement and estate planning."
Leigh added, "Too many times we see people who are not protected and are heading for disaster. Even worse is when we have a client with a problem that could have been prevented."
The Gaddis' have seen a variety of scenarios play out, from families fighting amongst themselves due to perceived disparities in contributions to the land, or massive dispersals just to pay taxes after a death. "We have a high value system and believe in doing unto others as you'd have done to you," Roger said. "We have four sons between us, and I always think it is great when people who can help our sons and daughters-in-law to make better decisions step up and do so. Leigh and I want to be that kind of people, too."
Through their business, the couple guides clients through the ins and outs of estate planning – but one of the main tools they implement doesn't cost a dime. "Nationwide Insurance was started by farmers and ranchers, and have a love for those people. They have a program called 'Land as your Legacy,' and it's an estate planning process customized for farmers and ranchers. It is absolutely free to use and there are no strings attached," Roger explained. "We've run several clients through the process, and the company does it at no cost. Many people would pay up to $15,000 to have a lawyer do it.
"Of course, they hope that if families find they need some help that they (Nationwide) get to bid for any business, but they're doing it to help people."
Whether you're a client of theirs or not, Roger and Leigh encourage everyone to plan for the future. "I don't think there really is a minimum amount of assets a person needs to plan to protect their legacy," Roger shared. "It's more important as you get to multi-million dollar operations, but we can tell you plenty of sad stories about people with modest estates."
Look for estate planning information from Roger and Leigh in future issues of Oklahoma Farm & Ranch.
Love of Outdoors
Both Roger and Leigh came from families connected to agriculture. "My dad had a farm in Texas he took over from his father, but it wasn't his livelihood. Roger's grandfather had a farming operation here in Oklahoma. While farming and ranching were part of our life, it wasn't our bread and butter," Leigh explained.
"A large part of our ranching and hunting efforts really comes from the hunting background we both have. Both of our families were hunting families. We did a lot of recreational hunting, but that wasn't just for sport; it was a source of food for us," Roger said. "I love to hunt, but I'm more of a deer, turkey, and pheasant kind of guy. I love Oklahoma stuff, but Leigh has had a couple African hunting experiences."
Leigh took her first trip to Namibia, Africa, several years ago with another female hunter. "Through the years she has taken many groups of women to Africa. I had mentioned to her I'd like to go, and then she set it up. It was such an amazing experience – not only the hunting, but also the conservation efforts of the people in Africa. Not only is every part of the animal utilized in some way, but the professional guides make sure only the older, mature males are harvested," she explained.
"What many people don't understand is that without hunters, death for one of these animals can be slow and miserable. They lose their teeth and starve to death, or they're kicked out of the herd and killed by other animals. Sometimes the older males will turn on the young, and that can make a huge dent in the population," Leigh explained.
Roger joined his wife on a trip to South Africa a few years later. "The other thing is that in many cases, these hunts are the sole economy for the area. You can take the horns and the capes home, but else stays there and feeds the people and benefits that population," he said.
It was the couple's shared love of hunting that fostered their current farming operation. "We leased hunting property up in Osage County. Then we thought we ought to put some cattle on that property to help recover some of the lease cost, and to graze some of the grass that was growing." Roger laughed, and added, "Then we had to get more land, and of course, more cattle. Then we decided we didn't want to buy hay; we wanted to grow our own. We added some hunting property to our portfolio, too."
Roger and Leigh first focused on black Angus cattle, but a few years ago the color of the landscape began to change. "We decided we liked the red Angus better, so we switched to that," Roger said.