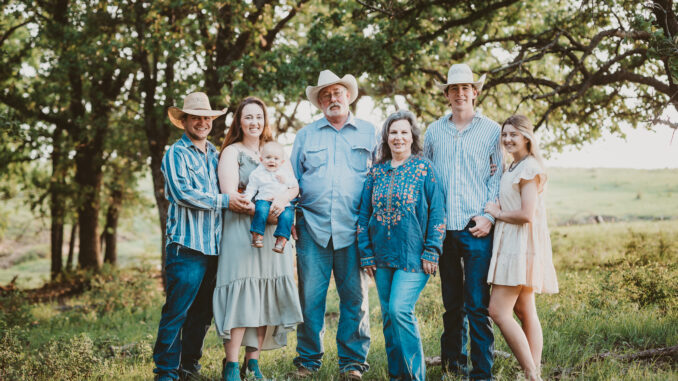 It all began in 1953, when Elvin Blevins moved east from his home in New Mexico to the south-central Oklahoma town of Wynnewood. At the time, the land he purchased was flush with corn, but soon long horn cattle could be seen grazing in the fields.
"Someone laughed at him about it, and he said, 'Well, boys, I didn't come here to raise corn. I came here to raise cattle,'" shared Donnie Blevins, Elvin's grandson and patriarch of the Blevins Family Ranch.
Although Elvin passed away in 1988, his legacy lives on. Donnie and his wife Candice, daughter Anderson and son-in-law Landon Baker, and son Blaze and fiancé Elly Cleveland still ranch on the land that became part of the family more than seven decades ago, although it boasts an even bigger footprint now.
"My granddad kept longhorns all his life, and my dad, Lee, did, too," Donnie shared. "Back in '05 we began to switch over to more Angus and crossbred cattle, and we made that changed strictly for the meat. We've kind of gotten completely away from the longhorns."
Donnie and Candice married nearly three decades ago, and their herd started with less than a dozen longhorns. Now they run approximately 130 head. "We've grown quite a bit," Donnie said with a laugh.
The Blevins' cattle are fed a lot of byproducts, as well as a special blend produced in Roff, Okla. "We feed grass hay and try to rotate pastures. It's important to us to keep good grass under them," Donnie explained.
He added, "We cannot always afford fertilizer, but weed spray is a must in our program."
Having raised their own beef for years, Candice and Donnie have pretty refined taste when it comes to their meat. "If we are somewhere that they purchased the beef, we could tell a difference, so we knew we had a good product," Candice explained. "Around the time that COVID-19 hit, I had begun contacting the USDA to learn about the rules and regulations about legally selling meat. We knew there were people in our community who would love to be able to enjoy the same quality that we do."
Candice learned that individuals could legally sell state-inspected meat, but there are few state-inspected processing plants around Wynnewood. Then she found out that Fischer's, located in Muenster, Texas, was USDA-inspected, meaning the meat could be brought across state lines.
Now the family sells their home-raised beef out of the ranch. "I know some other ranches have gotten into shipping, but we're looking into it," she said. "We've also set up at a few flea markets where we are able to plug in our freezers and sell out of the trailer. We've had a great turnout with that."
The Blevins' have a standing appointment at Fischer's every 21 days, and are able to drop off a new steer when picking up the meat. Although there have been a couple occasions where they've had to cancel an appointment, that's the exception rather than the rule.
"I think it was the second beef we had available for sale we sold out of in 24 hours," Candice recalled. "That told us there's quite a demand for that kind of product. Plus, our prices have not gone up in two years, because our processing cost hasn't gone up, either. I find it very interesting that some stores are charging so much."
So why decide to sell beef direct to consumers? "We just want to produce a good product. That's our main goal, to do that and to help the community along the way," Donnie said.
Candice added, "We want people to be able to enjoy a good, hormone free and all-natural product that they know is fresh and where it came from."
Recently Candice and Donnie purchased a building in nearby Elmore City. "It just kind of fell into our laps not quite a year ago. We would like to look into maybe opening a full-time store and meat market in our city," she said. "We haven't completely figured out what we want to do, but we will do something there."
Plans for opening a USDA processing plant are also in the books, although the pandemic and its lingering effects have put that on hold. "That is a dream of ours someday. Through the store and then the processing plant, we would be able to create quite a few jobs for this area, which would be wonderful," Candice said.
Read more in the June 2022 issue of Oklahoma Farm & Ranch.