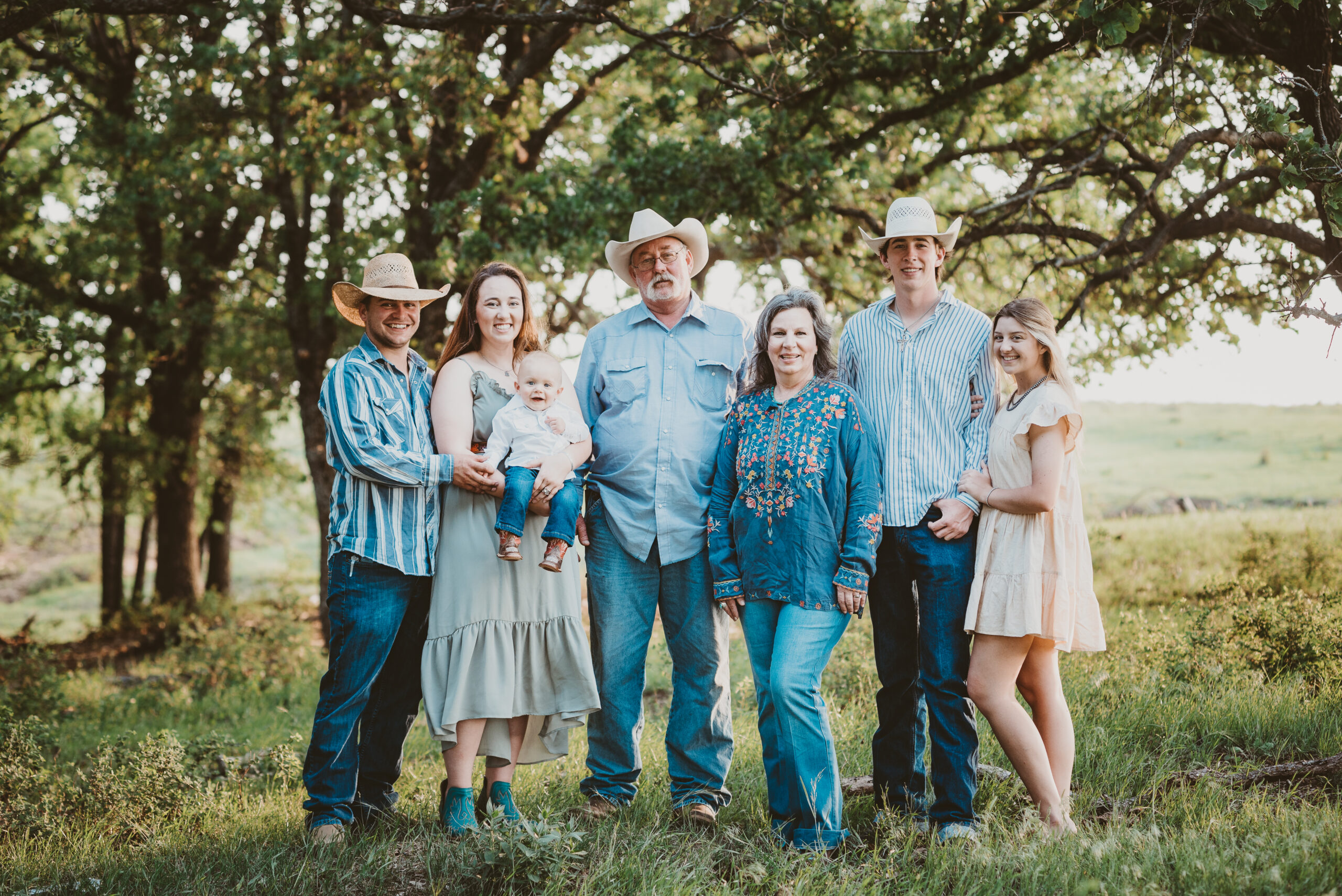 It all began in 1953, when Elvin Blevins moved east from his home in New Mexico to the south-central Oklahoma town of Wynnewood. At the time, the land he purchased was flush with corn, but soon long horn cattle could be seen grazing in the fields.
"Someone laughed at him about it, and he said, 'Well, boys, I didn't come here to raise corn. I came here to raise cattle,'" shared Donnie Blevins, Elvin's grandson and patriarch of the Blevins Family Ranch.
Although Elvin passed away in 1988, his legacy lives on. Donnie and his wife Candice, daughter Anderson and son-in-law Landon Baker, and son Blaze and fiancé Elly Cleveland still ranch on the land that became part of the family more than seven decades ago, although it boasts an even bigger footprint now.
"My granddad kept longhorns all his life, and my dad, Lee, did, too," Donnie shared. "Back in '05 we began to switch over to more Angus and crossbred cattle, and we made that changed strictly for the meat. We've kind of gotten completely away from the longhorns."
Donnie and Candice married nearly three decades ago, and their herd started with less than a dozen longhorns. Now they run approximately 130 head. "We've grown quite a bit," Donnie said with a laugh.
The Blevins' cattle are fed a lot of byproducts, as well as a special blend produced in Roff, Okla. "We feed grass hay and try to rotate pastures. It's important to us to keep good grass under them," Donnie explained.
He added, "We cannot always afford fertilizer, but weed spray is a must in our program."
Having raised their own beef for years, Candice and Donnie have pretty refined taste when it comes to their meat. "If we are somewhere that they purchased the beef, we could tell a difference, so we knew we had a good product," Candice explained. "Around the time that COVID-19 hit, I had begun contacting the USDA to learn about the rules and regulations about legally selling meat. We knew there were people in our community who would love to be able to enjoy the same quality that we do."
Candice learned that individuals could legally sell state-inspected meat, but there are few state-inspected processing plants around Wynnewood. Then she found out that Fischer's, located in Muenster, Texas, was USDA-inspected, meaning the meat could be brought across state lines.
Now the family sells their home-raised beef out of the ranch. "I know some other ranches have gotten into shipping, but we're looking into it," she said. "We've also set up at a few flea markets where we are able to plug in our freezers and sell out of the trailer. We've had a great turnout with that."
The Blevins' have a standing appointment at Fischer's every 21 days, and are able to drop off a new steer when picking up the meat. Although there have been a couple occasions where they've had to cancel an appointment, that's the exception rather than the rule.
"I think it was the second beef we had available for sale we sold out of in 24 hours," Candice recalled. "That told us there's quite a demand for that kind of product. Plus, our prices have not gone up in two years, because our processing cost hasn't gone up, either. I find it very interesting that some stores are charging so much."
So why decide to sell beef direct to consumers? "We just want to produce a good product. That's our main goal, to do that and to help the community along the way," Donnie said.
Candice added, "We want people to be able to enjoy a good, hormone free and all-natural product that they know is fresh and where it came from."
Recently Candice and Donnie purchased a building in nearby Elmore City. "It just kind of fell into our laps not quite a year ago. We would like to look into maybe opening a full-time store and meat market in our city," she said. "We haven't completely figured out what we want to do, but we will do something there."
Plans for opening a USDA processing plant are also in the books, although the pandemic and its lingering effects have put that on hold. "That is a dream of ours someday. Through the store and then the processing plant, we would be able to create quite a few jobs for this area, which would be wonderful," Candice said.
Read more in the June 2022 issue of Oklahoma Farm & Ranch.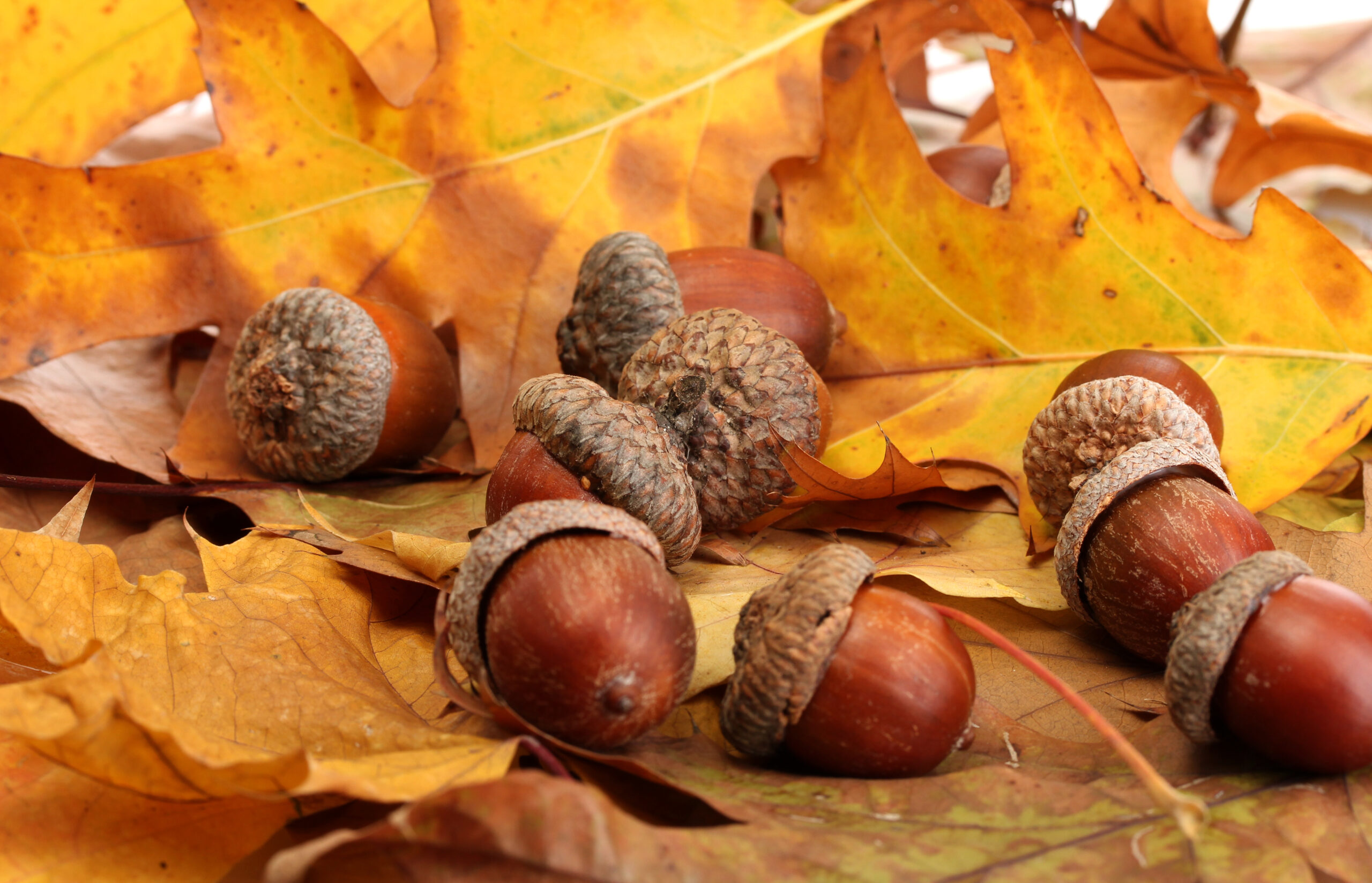 Barry Whitworth, DVM
Area Food/Animal Quality and Health
Specialist for Eastern Oklahoma
With the prolonged drought, most pastures in Oklahoma are in poor condition. With the lack of available forage, animals may go in search of alternative foods. If oak trees are in the pastures, acorns may be a favorite meal for some livestock this fall. This may result in oak poisoning.
Oak (Quercus species) leaves, twigs, buds, and acorns may be toxic to some animals when consumed. Obviously, acorns can be a problem in the fall and green acorns can be more toxic than mature acorns. When acorns form only a small portion of the diet, there are usually no signs of problems. However, consumption of large quantities may result in toxicity. Tannins in the acorns cause the toxicity. The most common tissue damaged by the tannins are the digestive tract and kidneys. Cattle and sheep appear to be more susceptible to toxicity than goats. Other animals such as horses, rabbits, and chickens have succumbed to the toxicity of oak poisoning as well. Interestingly, some individual animals are more tolerable of the toxins and show no ill effects when consuming acorns.
Clinical signs of oak toxicity usually appear a few days after consumption of acorns. Initially, the animals are weak, listless, emaciated, and anorexic. This is followed by ventral edema (swelling of lower parts of the body such as legs, chest, ventral abdomen), urinating large amounts of urine, abdominal pain, and constipation. The animal may pass hard mucus covered fecal material which may change to black tarry or bloody feces as the disease progresses. If the animal is not treated, kidney failure is likely.
A tentative diagnosis of acorn poisoning may be based on clinical signs and access to acorns. Blood tests that indicate kidney disease is another clue to the condition. A necroscopy with examination of tissues for characteristic lesions of the disease is the standard to confirm a diagnosis of oak toxicity.
Treatment of oak toxicity starts with removing the animals from the area where the acorns are located. Those animals displaying signs of the disease should be given fluids to correct dehydration and electrolyte imbalances. Mineral oil and/or activated charcoal may be given to reduce toxin absorption. If animals survive the initial toxicity, they may recover, but it may take several weeks for kidney function to return to normal.
As always, prevention is better than treatment. Producers should be very careful allowing livestock to graze in areas where acorns are present. Livestock should be fed plenty of hay and feed this fall to avoid over consumption of acorns. For those producers who cannot avoid grazing areas with large numbers of oak trees, feeding a grain mixture with 10% to 20% of calcium hydroxide has been successful in preventing problems with acorn poisoning.
Two thousand twenty-two has not been the best year for livestock producers. The drought has produced poor pasture conditions as well as very little hay. On top of those problems, feed costs continue to increase. The last problem a producer needs is a large number of sick cows. For those that graze an area with a large number of oak trees, prevention may be worth the cost this year. At the very least keep a close watch of your animals this fall. Producers wanting more information about oak toxicity, should consult with their local veterinarian or visit with their Oklahoma State University Cooperative Extension County Agriculture Educator.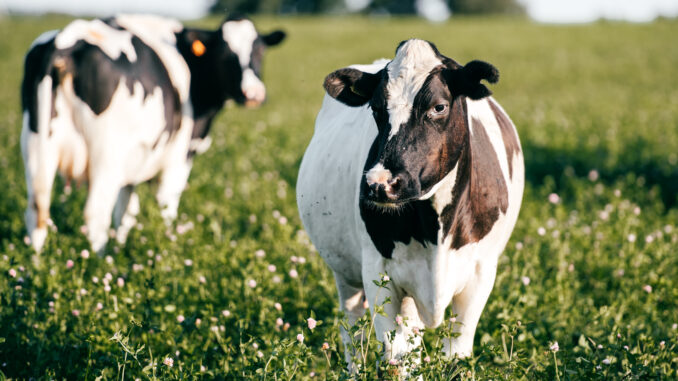 Barry Whitworth, DVM
Area Food/Animal Quality and
Health Specialist for Eastern Oklahoma 
Since most of Oklahoma experienced drought conditions and with fall fast approaching, producers with fescue pastures should closely observe their livestock for any signs of fescue toxicity. According to Mike Trammel, Pottawatomie County Ag Educator and Muti-County Agronomist, fescue toxins (ergot alkaloids) tend to increase in Kentucky-31 tall fescue pastures in the fall. Some reports indicate more problems with fescue toxins following a summer drought and limited fall rains. All of this may put Oklahoma cattle at a greater risk of fescue toxicity.
One issue that cattle experience with fescue toxins is fescue foot. Fescue foot is thought to be caused by ergot alkaloids such as ergovaline. These alkaloids are produced by endophyte fungus (Epichloë coenophiala) which is in tall fescue. Ergovaline has been proven to be a vasoconstrictor which might be responsible for fescue foot and heat intolerance also known as summer slump in cattle. Other issues that may be seen with the ergot fescue toxins are reduced milk production and reproductive issues.
Clinical signs of fescue foot appear within a few days of cattle being turned on to tall fescue pastures or it may take weeks if toxins in the pasture are low. Producers will initially observe cattle with arched back, rough hair coats, and sore feet. These symptoms are more noticeable early in the morning and with cold weather. This is followed by reddening and swelling in the area between the dewclaws and hooves. The lameness usually becomes more severe with time. If no action is taken, gangrene will result in loss of tissues distal to the coronary band and declaws. If the weather remains mild, other signs such as increase respiration rate, increase heart rate, and higher body temperature are more common.
Other causes of lameness in cattle must be differentiated from fescue foot. One simple method that will help differentiate fescue foot from footrot is to check the temperature of the foot. If the foot is cold, this is an indication that the problem is more likely fescue foot.
Since there is not a specific treatment for fescue foot, the condition must be managed. Cattle need to be observed daily for any signs of lameness or stiffness during the first few weeks on fescue pastures. This should be done early in the morning before cattle walk off the stiffness. Producers should pay close attention during cold weather, especially when rain, snow, or ice are present. Any animal showing clinical signs of fescue foot should be removed from the pasture and placed in a clean environment. The animal should be fed a ration with no fescue toxins.
The best but most costly solution to reduce fescue toxicity is to renovate old pastures with new endophyte friendly varieties. If this option is not possible, producers might try interseeding fescue pastures with clovers or other grasses. This should dilute fescue toxins. Nitrogen fertilization may increase ergot alkaloids, so producers should avoid fertilizing fescue pastures with high amounts of nitrogen. Researchers have demonstrated that feeding a supplement while grazing fescue pastures reduces clinical symptoms. Some studies indicate a difference in susceptibility to fescue toxicity in some cattle. Selecting cattle based on genetic tolerance of fescue toxins is an option. (For more information go to www.agbotanica.com/t-snip.aspx)
With large areas in Oklahoma covered with Kentucky-31 fescue pastures, fescue foot as well as other fescue toxicities are not going away any time soon. Livestock producers will need to watch their livestock closely for any signs of fescue toxicity and manage their pastures to keep toxins as low as possible. If producers would like more information on fescue foot, they should consult their veterinarian and/or visit their local Oklahoma State University Cooperative County Extension Agriculture Educator.
Dropping Like Flies-Prussic Acid in Cattle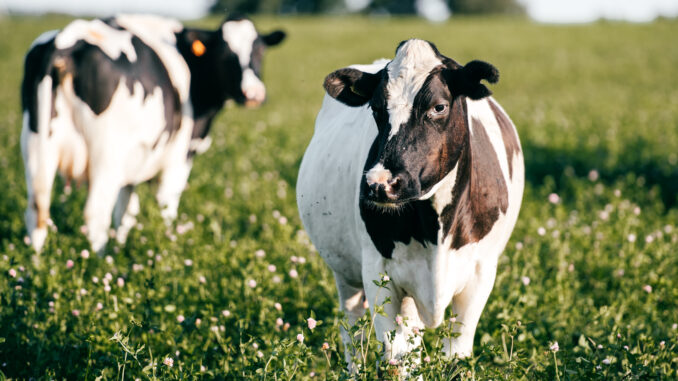 As the year progresses many producers look to move cattle to alternative pasture. Unfortunately, certain weather conditions, including drought or freezing, can set up some plants in the sorghum family, including Johnson grass, to become toxic. Even after limited grazing, deaths may be seen due to the ingestion of prussic acid, also known as hydrocyanic acid or cyanide. A classic call to the veterinarian is, "My cattle are dropping like flies."
Prussic acid toxin is created when the harmless hydrocyanic glycosides in plants are stressed and breakdown. Once the hydrocyanic glycosides in the plants are damaged through actions like cattle chewing or a swather and crimper, they quickly convert to prussic acid. Following ingestion, the prussic acid is released in the rumen and rapidly absorbed into the blood stream.
Once in the circulatory system, the toxin prevents cells from taking up oxygen. The blood therefore becomes saturated with oxygen leading to blood that appears bright cherry red. The clinical signs most often seen include excitement, muscle tremors, increased respiration rate, excess salivation, staggering, convulsions, and collapse. Asphyxiation at the cellular level is the cause of death due to deprivation of oxygen.
When producers encounter animals displaying clinical signs of prussic acid toxicity, they should immediately remove all the animals that appear normal to a new pasture and contact their veterinarian. The veterinarian will treat the sick animals with two drugs (sodium nitrite and sodium thiosulfate) that can reverse the toxicity. Treatment must be initiated quickly but can prove difficult due to the rapid progression of the toxin.
The drugs used to treat prussic acid toxicity can be difficult to obtain. It is advisable to contact your veterinarian before grazing potential toxic plants to make sure that your veterinarian will have availability to respond and the necessary drugs on hand to treat the cattle if a problem arises.
Read more in the August 2022 issue of Oklahoma Farm & Ranch.