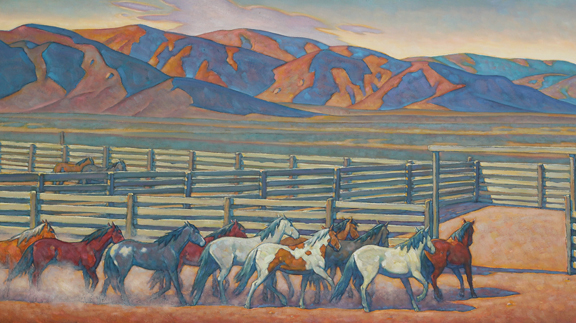 Museum offers volunteer opportunities during the Prix de West Invitational Art Sale & Exhibition.
The National Cowboy & Western Heritage Museum is seeking volunteer art sellers to support the Prix de West art sale, June 11 from 4:30 – 8:00 p.m.
The volunteer art sellers' role includes answering questions specific artists, their works and the process for purchasing individual pieces by drop-bid, drawing names of potential buyers, and verifying and posting buyers names.
The Annual Prix de West Invitational Art Exhibition & Sale, the Museum's largest fundraiser, features more than 300 Western paintings and sculptures by some of the nation's finest artists. Compositions range from historic representations to landscapes, impressionistic works along with sculpture in both stone and bronze. Prix de West generates an average of $1 million each year and supports the Museum's programmatic mission.
Prix de West weekend features artist demonstrations, seminars and other art-related topics, book signings, preview reception, awards dinner, along with the art auction and after-sale party.
Volunteer art sellers have the opportunity to network with 100 renowned Western artists and other art enthusiasts from across the country. Each volunteer receives five community service hours, two complimentary Museum passes, a 20 percent discount coupon to The Museum Store, and complimentary dinner on June 11 at the art sale's conclusion.
Volunteers are provided with a thorough orientation and training session about Museum sales and customer service procedures before the actual sale. The hour and a half training session is available on Friday, June 3 at 9:00 a.m. or Monday, June 6 at 6:00 p.m. To register as a Prix de West volunteer art seller, visit www.nationalcowboymuseum.org/pdwvolunteer/ to select the training date and to confirm participation on Saturday, June 11.
About the National Cowboy & Western Heritage Museum
Nationally accredited by the American Alliance of Museums (AAM), the National Cowboy & Western Heritage Museum is located only six miles northeast of Downtown Oklahoma City, at the junction of Interstates 44 and 35, the state's exciting Adventure Road corridor. The Museum offers annual memberships beginning at just $40. For more information, visit www.nationalcowboymuseum.org. For high-resolution images related to the National Cowboy Museum or this event, visit http://nationalcowboymuseum.org/learn-discover/media-room/.
###