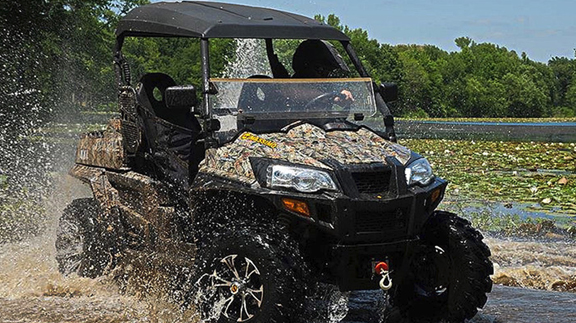 By Russell A. Graves
"Imagine coming to a distant foreign land with about a hundred bucks in your pocket, a suitcase with just a few personal items, and a couple of widgets you think might sell!" says Jon Bammann, director of special projects for Massimo Motor Sports,  a Garland, Texas, based manufacturer of all-terrain vehicles (ATV) and utility vehicles (UTV).
"You know no one, have no job, no place to live and can't even speak the language.  In fact, the only thing you have is a dream."
In a nutshell, that's the story of Massimo's beginnings.  Twenty years ago, founder and managing member David Shan moved to the United States from China, became a citizen, and opened a small retail business selling scooters and mini bikes.    Always being a fan of motor sports, he figured out a way to source parts and assemble his own product.  Early on, the ATV's shared a constant tenant: a feature-rich, Texas-made product that sources the best parts and assembles them into a final product.
When Shan first started assembling Massimo products, his warehouse was small.  In 2008, however, he moved into 220,000 square foot facility in Irving.  From there, the company grew incrementally as it formed a nationwide dealer network.
In 2011, Tractor Supply, a nationwide retail giant that specializes in rural lifestyle products in the farm, ranch, and outdoor sectors, took on the company as a dealer of their products.  That big break put the Massimo brand in nearly all of Tractor Supply's 1,600 retail locations and, in essence, put them on the map.  In 2015, Massimo began developing an international market and relocated their corporate headquarters across the metroplex to Garland, Texas.  In the move, they also expanded their assembly facilities into an enormous 7.5 acres-under-roof warehouse in which every unit is built and subsequently shipped.  In the works for their site is an immense test track in which dealers can put each and every model through its paces.
Learn more in the latest issue of OKFR!