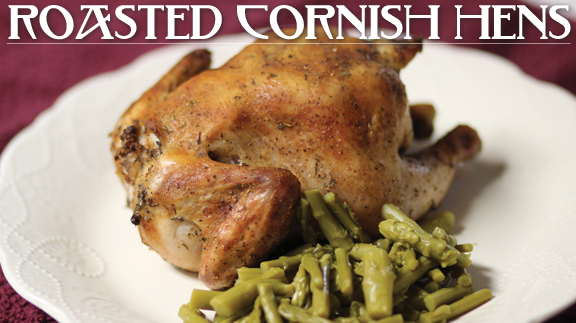 By Lacey Newlin
Serves: 8-12
Time: 70 Minutes
Ingredients:
6 Rock Cornish Hens, thawed
3/4 cup unsalted butter at room temperature
2 tsp garlic, minced
1/2 tsp fresh rosemary, chopped
1 Tbsp fresh thyme, chopped
1 Tbsp Kosher salt
1 Tbsp fresh ground black pepper
3 tbsp olive oil
Instructions:
Preheat oven to 450 degrees Fahrenheit. Remove birds from wrapping, remove gizzards and pat dry inside and out. Place a cooling rack on a baking pan. Place them breast-side up on the cooling rack inside of the pan.
In a bowl combine the butter, garlic, rosemary, thyme to make a soft, but spreadable herbed butter. Carefully separate the skin from the breast. Spread about two tablespoons of the butter between the skin and breast of each bird. Smooth skin back down to cover meat.
Rub the olive oil all over the birds and sprinkle with the salt and pepper. Roast at 450 degrees Fahrenheit for 20 minutes.
After 20 minutes, reduce heat to 350 degrees Fahrenheit and continue roasting about 40 more minutes or when the thickest part of the meat reaches 165 degrees Fahrenheit. Baste occasionally with pan juices. Let stand 10 minutes before serving.