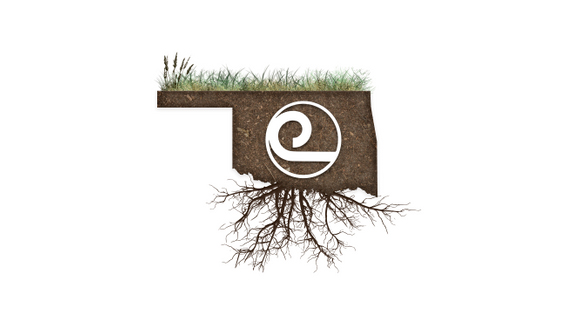 By Sarah Blaney
For more than 100 years, demonstration farms have been set up across the United States to give farmers and ranchers an opportunity to see practical application of new and evolving agriculture practices. From Seaman Knapp's first demonstration farm in Vinton, La., in 1884 to the T&T Ranch in Nevada that showed farmers how to set up an irrigation system in 1917, the belief that farmers/ranchers serve as the best teachers for each other still holds today.
The Oklahoma Healthy Soils Project is a voluntary effort to conserve natural resources that is also firmly rooted in Mr. Knapp's hypothesis that farmers and ranchers are the best folks to determine what adaptations can be made to improve their own operation. It is in this spirit of locally led leadership that the Oklahoma Association of Conservation Districts began the "Oklahoma Healthy Soils" demonstration farm project in 2014.
Through a generous grant from the United States Department of Agriculture Natural Resources Conservation Service "Regional Conservation Partnership Program," OACD is able to provide selected producers with cash incentives to try multi-species cover crops on their farm ground.
To date, the project has established five demonstration farms on privately held lands ranging in size from 45 acres to 80 acres. The farms are located throughout the state to allow for more learning opportunities in different communities and to showcase the effects that cover crops can have on the health of the soil across Oklahoma's diverse eco-systems. The project allows producers to try out a conservation practice in a low risk environment.
"The OACD Healthy Soils project was a great learning opportunity for me," said Phillip Adkins, Healthy Soils participant and farmer from Goldsby, Okla. "I was able to try a new approach to farming and after seeing the positive results, I'm using cover crops such as Sudan grass and soybeans following my wheat harvest."
OACD is currently seeking applications for four demonstration farms for 2018. The project is a one-year commitment that provides selected producers with up to $115 per acre in fair rental compensation, seed cost, equipment rental and technical assistance. To learn more about the project and to submit an application, please visit okconservation.org/healthy-soils or visit your local conservation district office. Applications are being accepted now through Dec. 31, 2017.
The Oklahoma Association of Conservation Districts is also committed to providing educational and leadership opportunities to those farmers and ranchers interested in soil health. This project offers a network of farmers and ranchers who have made or are thinking of making the change from conventional tillage to no-till to cover crops. The producer network hosts learning opportunities and forums to share ideas and ask questions. This soil health producer network currently has 112 members across the state and is open to any farmers/ranchers who are interested in learning more about improving their soils. To learn more about the producer network, visit okconservation.org/soil-health-producer-network.