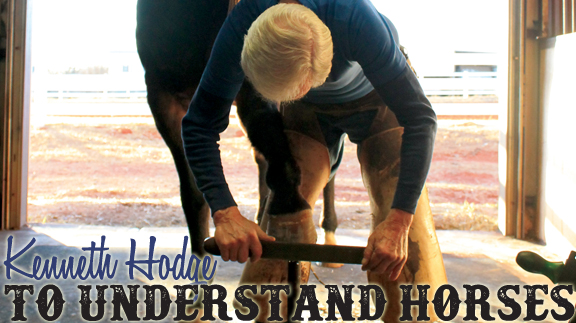 To Understand Horses
By Laci Jones
Kenneth Hodge brushes his 21-year-old brown quarter horse named "Huey" in his barn in Elk City, Okla. With passion and a hint of laughter in his voice, he said, "The only thing I've been able to count on is my horse."
Known by many as "Hodge," the Oklahoma native has worked in the horse industry for more than 40 years as a horse farrier and trainer. When asked how he's been able to continue working in a physically demanding position for more than four decades, Hodge said his body was built for shoeing horses.
"My size is a benefit to shoeing because I'm not big," Hodge explained. "I'm the right size, my body is built to be sound, and I'm just lucky."
Born in November 1946, Hodge was given a 50 percent chance to live because he was born pre-mature. Despite the challenges he faced early in life, the small boy had an ideal country-boy childhood in the small town of Willow, Okla. One of his first jobs was chopping cotton as a kid.
"We would go out and chop cotton and get 75 cents an hour," he added. "I started pulling bolls at six-years-old and that's how I bought my school clothes. I would spend eight hours chopping cotton, earning $6 a day."
His mother was given a Monarch piano by her father when she was 16 years old in 1929. That piano was used by Hodge's father, who made a living playing the piano by recording records and giving music lessons.
"He taught so many kids to play," he explained. "Some of the guys who would lead sing in the church, would get my dad to help them with their music."
One of four children, Hodge learned to play the piano. He said he enjoyed Elvis Presley's southern gospel music as well as Dixieland jazz and blues. His father thought the young piano player had enough talent to make a career performing, but his mother did not want him to pursue a career in the music industry because of the amount of traveling.
However, she did not want him to pursue a career in the horse industry either. His interest in horses began as a child when he started riding his neighbor's horses.
His passion for horses did not extend to his parents or siblings, but Hodge had a knack for working with horses. He said many of the "old-timers" taught the young cowboy about horses. Hodge started getting paid to break a Shetland pony at 12 years old.
"My teachers thought I was an outlaw because I worked with horses," Hodge said.
A couple years later he was training larger horses. Between working with horses and chopping cotton, the Willow, Okla., native earned $44 a week. Hodge saved his money and purchased his first horse in 1961 at 14 years old with an $85 bank loan.
"I rode him for eight months and sold him for $175," the horse trainer explained. "That was a lot of money back then."
The same year, Hodge learned how to trim the horse's feet that he was riding and training. An older gentleman by the name of George Wootton showed him how to trim and clean feet.
"My neighbors would have me trim their horse's feet," he added. "Sometimes they would pay me, and sometimes they would just thank me."
Hodge graduated from Granite High School in 1965. He didn't have the money to go to college, but he said he didn't have the desire to attend college. He decided to enlist in the U.S. Armed Forces, but a physical showed the recent graduate had a heart murmur. However, he was able to join the U.S. National Guard in 1965. Hodge remained stateside during his service, and was discharged in 1972. After he was discharged, a man from California advised Hodge to learn how to shoe horses.
"He said, 'Boy, you need to learn how to shoe horses. You have got a good eye and you understand this,'" Hodge recalled. "He showed me how to nail a shoe on."
The farrier started shoeing horses for friends and neighbors. He got 50 cents a head for trimming and $2 for shoeing in 1972. Three months later, he started charging $2 for trimming and $6 for a re-set and $8 for shoeing.
"I could trim four an hour, so that is $8," he explained. "I could shoe one in an hour, so that is $8. Manual labor then was $2."
Hodge also ran race horses in Oklahoma, Texas, Kansas and New Mexico from 1974 to 2004. He started training race horses when he was 25 years old at a racetrack in Sayre, Okla. He trained horses in the morning and shod horses all afternoon.
Two years later, he learned the anatomy of a horse's foot from a local veterinarian. Learning how to balance a foot, Hodge become the farrier he is today.
"One lady called and asked if I was a 'corrective shoer,' and I said, 'No, I'm a correct shoer,'" he recalled.
Hodge said many farriers do tricks where it looks good, but the foot is not balanced. The horse farrier said it is imperative to have the horse hit the ground flat by balancing the shoe around the structure inside the foot.
"To do that the correct way, you have to have an imaginary 3-D X-Ray vision," he added. "You have to know where the structure is at inside that foot and it has to be balanced on the inside of that foot."
While he wants a horse's foot to look good, Hodge's No. 1 priority is making sure the horse is supported.
"Each foot is taking care of a quarter of that horse," Hodge explained. "If it's hitting the ground wrong, it is hurting every joint and all the way up."
Hodge shoes horses by their conformation, then changes the shoes for the different events such as racing or cutting.
"A baseball player or football player wears cleats, like a racehorse, where they are trying to get the toe grip," he explained. "A basketball player wears a rubber soled tennis shoe because that rubber will get a hold of that floor. That is what we need to do with that horse. It's really technical, but it is really simple."
The horse farrier has worked with Walter Merrick for 30 years, Roy Cooper, Fred Rule, DVM, for more than 40 years among many others. Hodge has shod horses for five generations of Beutlers. Bennie Beutler, owner of Beutler Brothers Rodeo Company in Elk City, Okla., has known Hodge for his entire life.
"He's probably the best horseshoer I have ever seen," Bennie Beutler added. "Several years ago, people would fly him to Kentucky to shoe horses that were running those big races at Churchill Downs Racetrack and fly him back. That is how good he is."
David George of Crowder, Okla., has known Hodge for more than three decades. The horse farrier would travel more than 400 miles to shoe his horses. George said he appreciated all his efforts as a horse farrier and as a friend.
"He is as good [of a farrier] that I know of," George explained. "It's amazing because we would have a horse that wasn't quite right, and he would say, 'I'm going to do this, and that horse is going to do so-and-so.' When he would get through shoeing, that horse did what he said he was going to do."
Hodge said the support of his friends helped him become successful in the industry.
"I have the best friends in the world that I respect. I've been lucky to meet all these guys because they believed in me," he added.
Read the March issue to learn more!