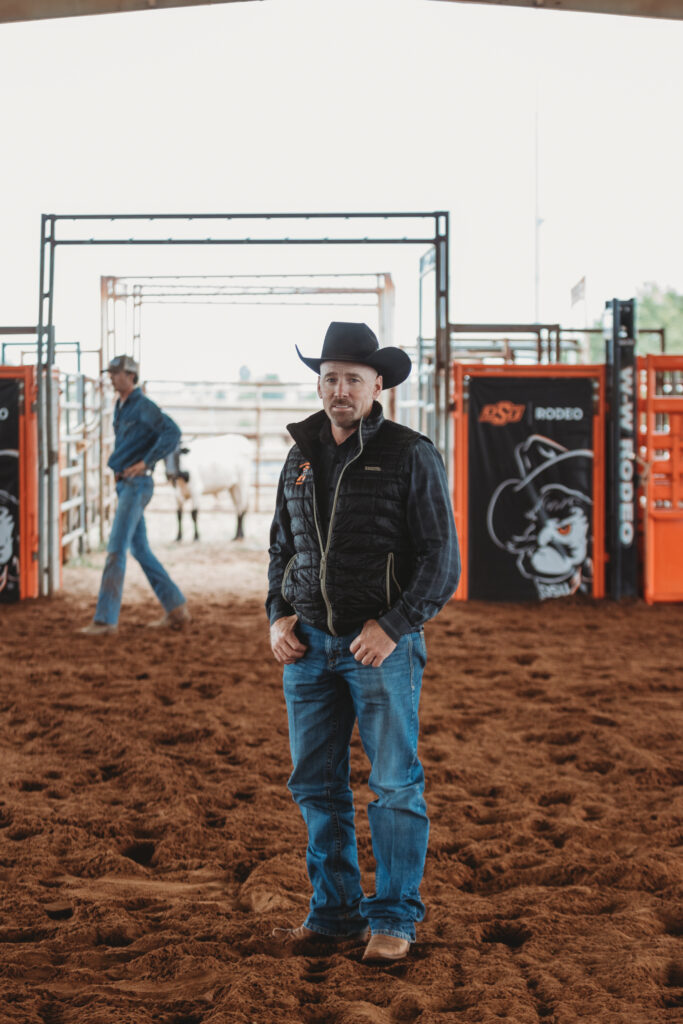 When Oklahoma State University Alumnus Cody Hollingsworth was first approached to take the reins of the college's rodeo team, the partnership was obviously a perfect fit.
The Colorado cowboy had attended Oklahoma State and competed as a bull rider on the rodeo team in the mid-1990s before transferring back to his home state, where he earned his Bachelor of Science degree in agricultural business and animal science.
The pull from Stillwater was strong, so in 2009, Hollingsworth, his wife Katie, and daughter Lyndsey packed their bags and moved south, settling in just miles from the campus. The Hollingsworths owned a marketing agency called Western Integrity Agency, which specialized in the equine and rodeo industry.
Shortly after the move, they were approached for a sponsorship by then OSU student and Rodeo Team member Courtney DeHoff. "Of course, with my ties to OSU rodeo, it was almost an immediate 'yes' when we saw what it was for. So, we agreed to sponsor, but said they had to let us help with the sponsor packets through our marketing company," he recalled. "We just volunteered to dive in to help with the sponsorships and other stuff. That started the relationship with the team."
Barely a year later, several rodeo team donors and supporters, requested a meeting to discuss officially running the program. "It all just fell into place after that," he said.
Day to Day
With the title of Rodeo Program Coordinator and Head Coach, Hollingsworth wears many hats throughout the day. Typically, each morning begins with office hours, during which time he handles program duties ranging from recruiting to fundraising to managing the facility.
He also works directly with students to ensure their academics are in order. "I also work with the Student Success Center in the Ferguson College of Agriculture doing academic advising," he explained. "As proud as we are of the students who compete on the rodeo team for the success they have in the arena, it's even more important that they find that success in a career when they graduate."
Shortly after lunch, he moves to the rodeo facility, located northwest of town. He and his two graduate students, Lariat Larner and Zane Grigsby, begin the regularly scheduled practice at 3 p.m.
The practices are scheduled Monday through Thursday, with every team member honing their skills. Practices for the various events are typically staggered throughout the afternoon, ensuring each member gets the time and coaching they need. "I try to be everywhere and help out as much as I can for each event, and luckily I have Lariat and Zane assisting with managing, organizing, and running practice," Hollingsworth explained.
The OSU Rodeo Team facilities makes practicing multiple events at one time relatively painless. The large outdoor arena is typically used for barrel racing and team roping, and an additional calf lane is utilized by the calf and breakaway ropers. There is also a smaller covered arena that houses the bucking chutes, although it is large enough to accommodate the other events in the case of implement weather.
Although a bull rider himself, Hollingsworth has developed a knowledge of all the events. "It's definitely been a challenge to learn as much about each event as possible so that I can be helpful to all the members of the team," he admitted.
There is one speed event that he's become even more well-versed at over the years – barrel racing. Both Katie and Lyndsey run barrels, and the family has raised and trained several of their own futurity and rodeo horses. "I have some techniques and knowledge in a few areas you might not expect," he said with a laugh.
Challenges & Accomplishments
While a dream job, Hollingsworth knew there would be challenges along the way. The first being the restructuring of how the program was ran. "It was entirely a student-run organization before I came on. They had a volunteer faculty advisor, and it was less organized. The students were used to just doing their own thing, and so that first year definitely demanded some work to get things organized and running smoothly so that the students could continue to improve," he shared.
The other obstacle? Funding.
"I would get comments like, 'Why doesn't the school just fund this or fund that?' It's just like anything else in that trying to create funding where there was no line item in the past for that was very difficult. Everyone does all they can to balance their budgets and make things work well, and then when something is added in that hasn't been funded before, it can be tough," Hollingsworth explained.
He gives a large amount of credit for the Rodeo Team's current financial situation to Cynda Clary, the Associate Dean of the Ferguson College of Agriculture, who was hired shortly after Cody. "She has given us a great bit of help and has tried to add that funding and find extra in the budget. Honestly, I don't know how long this position would have lasted if it wasn't for her and her work there," he said.
Now, the Rodeo Team is able to provide scholarships to worthy students, maintaining and developing the facility, as well as travel support for the students. Over the years Hollingsworth and the team has grown the fundraising efforts, which are highlighted by the Cowboy Ball held each February. "We are always looking for ways to expand scholarships and build on our facilities," he said. "Donor opportunities are currently available. If someone is interested in donating, they can contact me directly or visit with Dusty Bedwell at the OSU Foundation."
Finally, the incredible growth of the program has been a double-edged sword, causing logistical difficulties in practice and travel. When the National Intercollegiate Rodeo Association announced, as did the NCAA, that college seniors would have another year of eligibility, the number of team members increased even more.
"When I first started, there were maybe 20 students in the organization, and I never took more than a dozen students to the rodeos," Hollingsworth remembered.
This year the program boasts 54 students, with nearly 50 traveling to the first two rodeos of the season. "Everyone is a little bigger and busier than normal, but that's why it was important to develop the graduate assistant positions. We had one already, but we grew so much we were able to add a second one," he said.
Those challenges are worth it, as the OSU Rodeo Team has become a regular contender at all levels of collegiate competition. In 2019, the women's team won the Central Plains Regional Championship, punching their ticket to the Collegiate National Finals Rodeo. Each year, the Cowboys can boast of taking several students to the CNFR. "It is extremely gratifying to see the program grow so much. Embracing that growth and raising the bar in competition as high as the team has is very rewarding," Hollingsworth said. "When I got here, the students didn't have a lot of support. You'd have a few decent students every now and again, but now we are at the point where we always have competitive students, and we're able to build on that consistency."
Although Hollingsworth can be found across the country attending the major youth rodeo events such as the National High School Finals Rodeo and the International Finals Youth Rodeo to recruit members, the success of the team now regularly draws talented individuals to Stillwater.
While talent in the arena is an important component of a prospective student's resume, their performance in the classroom and drive for career success carries just as much weight. "The main thing a high school or junior high student – one that wants to compete on the rodeo team – needs to focus on is academics. We want to ensure we recruit students who are going to be successful," Hollingsworth said. "They are student athletes, but they know they can come to a Division One school, get a quality education, and still get to be on a competitive team."
He added that once those students begin to progress through high school, they can send in videos of their competition runs and their accomplishments. "We will look at those, and that will ensure they're on our list of students to watch and be aware of," he said.